The Atlantic Politics & Policy Daily: Nothing Important Happening Tonight
Except the first 2016 general-election debate at Hofstra University in Hempstead, New York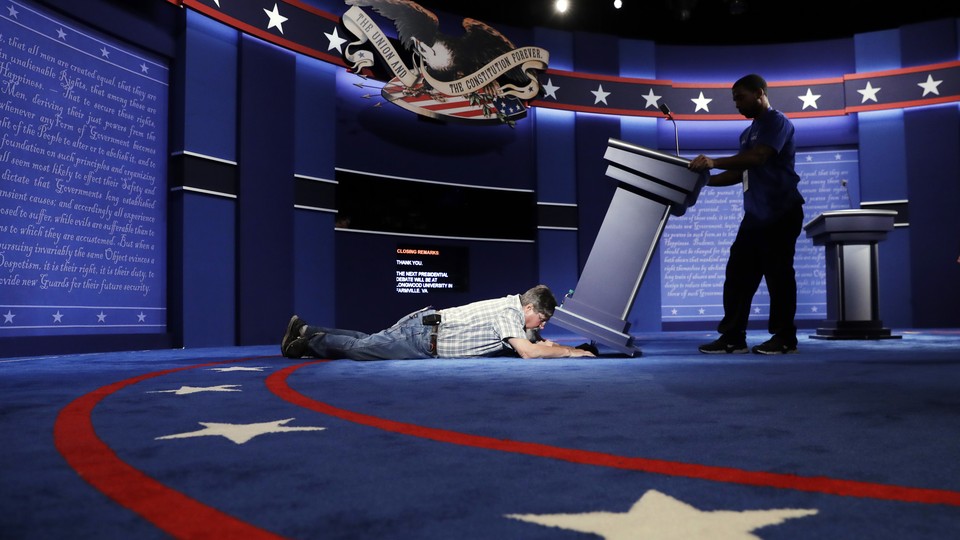 Today in 5 Lines
Hillary Clinton and Donald Trump will go head-to-head in the first general-election debate, which will begin at 9 p.m. ET at Hofstra University in New York. Senate Majority Leader Mitch McConnell said the chamber will vote on Wednesday to override President Obama's veto of legislation that would allow families of 9/11 victims to sue the Saudi government. Houston Police Chief Martha Montalvo said nine people were injured in a shooting at a mall, and Houston Mayor Sylvester Turner identified the suspect as Nathan DeSai, who died at the scene. Morgan Stanley, RBC, and 51 other investors signed an open letter calling for the "full repeal of HB2," the North Carolina law requiring transgender people to use the restroom corresponding to the sex on their birth certificates. The FBI announced that the number of murders reported in the United States rose by 10.8 percent in 2015 compared to the previous year.
---
The Presidential Debate
We're following the first general-election debate live here. For more, check out James Fallows's September cover story, "When Donald Meets Hillary," as well as Ronald Brownstein's preview on "what it will take to win the debate." David Graham explains how Trump successfully lowered expectations, and Russell Berman looks at the different approaches the Republican nominee might take on stage.
---
Today on The Atlantic
Hillary Clinton and 'Old-School Hysteria': Right-wing conspiracy theorists have repeatedly tried to raise public concern over Hillary Clinton's health, which plays into a long tradition throughout U.S. history of questioning women's mental and physical state in order to discredit them. (Nora Kelly)

Thanks, Obama: The Council of Economic Advisers released a report crediting President Obama with "the most aggressive and successful attempt to reduce inequality in half a century." Here's what makes Obama's economic record historic. (Derek Thompson)

A Case Study on Crime: The FBI released its annual report on crime Monday, and the numbers show that homicides and other violent crimes are up in cities across the United States. Juleyka Lantigua-Williams takes a look at San Antonio to better understand these trends.
Follow stories throughout the day with our Politics & Policy portal.
---
Snapshot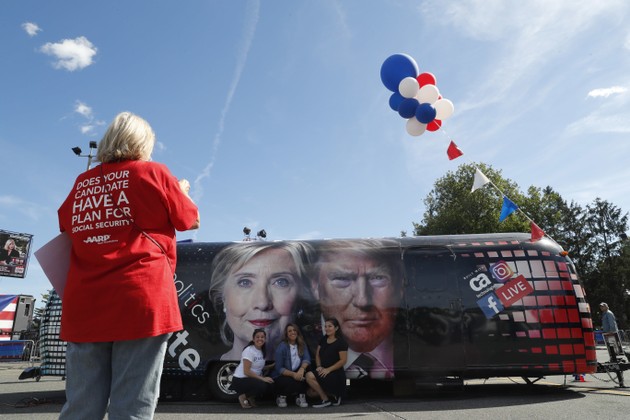 ---
What We're Reading
What Happens When Your Boss Loses?: Senate staffers will continue to get paid until March if their boss isn't reelected in November, while House staffers will stop receiving paychecks in January. So when is the right time to start looking for another job? (Alex Gangitano, Roll Call)
Cruzin' for Cash: While it took Ted Cruz more than four months to endorse Donald Trump, a new Politico report shows that Cruz "quietly began renting his vast donor email file to his former rival" a mere six weeks after he dropped out of the race. (Shane Goldmacher)
Is Kellyanne the Key?: Donald Trump has significantly toned down his rhetoric since the Republican pollster joined his campaign, earning her a reputation as a kind of "Trump-whisperer." But people close to the campaign suggest someone else might be behind the change. (McKay Coppins, BuzzFeed)
Setting the Record Straight: Donald Trump has spoken out against "sanctuary cities," which, he's argued, puts U.S. citizens in danger by showing leniency toward undocumented immigrants. The Marshall Project's Christie Thompson unpacks common misunderstandings about this contentious issue.
'Mo' Money, Mo' Problems': The next U.S. president, writes Nick Timiraos, "will enjoy far less latitude to spend money or cut taxes than any president since World War II." (The Wall Street Journal)
---
Visualized
Artful Dodgers: Politicians are great at deflecting tough questions. Take this quiz to see if you can guess what questions Hillary Clinton and Donald Trump are responding to based on their answers. (The New York Times)
---
Question of the Week
This month, our very own Megan Garber kicked off a reader discussion on political films in our Notes section—a virtual movie club, if you will—as a way to "embrace and to escape the day-to-day doings of this long-running campaign season."
What politics-related movie do you consider mandatory viewing for all Americans?
Send your answers to hello@theatlantic.com, and our favorites will be featured in Friday's Politics & Policy Daily.
-Written by Elaine Godfrey (@elainejgodfrey) and Candice Norwood (@cjnorwoodwrites)