The Atlantic Politics & Policy Daily: Clinton Relishing Brief Connection With Millennial Voters
The Democratic presidential nominee appeared on the satirical talk show Between Two Ferns.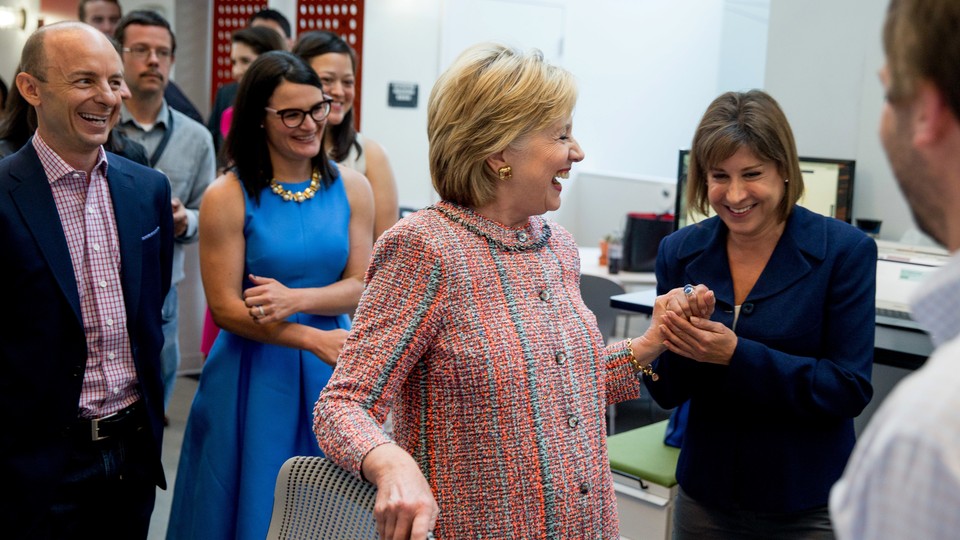 Today in 5 Lines
Charlotte-Mecklenburg Police Chief Kerr Putney said he does not plan to release video footage of the fatal shooting of Keith Lamont Scott "to the masses," but said he hopes that Scott's family can see the video. Tulsa County District Attorney Steve Kunzweiler announced that the officer who shot and killed an unarmed black man in Tulsa, Oklahoma last week will be charged with first-degree manslaughter. Yahoo confirmed that user information from at least 500 million accounts was stolen in a 2014 hack. Senate Majority Leader Mitch McConnell filed a short-term government spending measure that would fund the government until December 9. President Obama celebrated the 12 recipients of the 2015 National Medal of Arts at a White House ceremony, including Mel Brooks and Morgan Freeman.
---
Today on The Atlantic
Clinton Keeps a Straight Face: A recent appearance on the satirical talk show Between Two Ferns showed the Democratic nominee "at her most deadpan," writes David Sims, who also commended Clinton for fielding a ridiculous line of questioning with "polite indifference" and good humor.

The Town and Country Divide: Trump-like views about immigration have gained strength in rural areas around the world, but the leaders of several diverse large cities are pushing back against these perspectives and advocating for more acceptance. (Ronald Brownstein)

'The Rise of Anti-Muslim Violence': Last year, Donald Trump called for a temporary ban on Muslims entering the United States. A new report suggests that this type of anti-Muslim rhetoric might be contributing to an increase in hate crimes against Muslims in the United States. (Clare Foran)
Follow stories throughout the day with our Politics & Policy portal.
---
Snapshot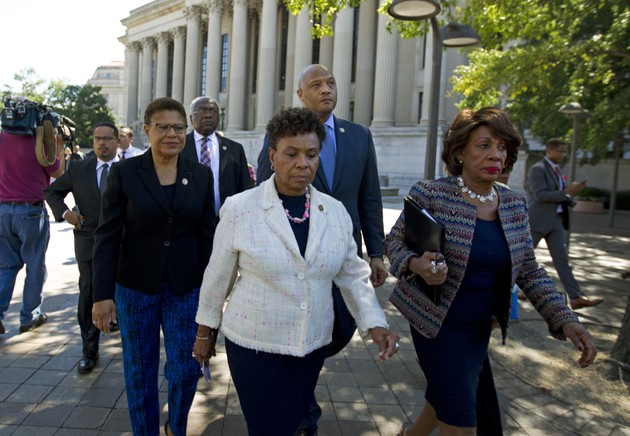 ---
What We're Reading
Wonks This Way: If elected, Hillary Clinton faces an "even less habitable political environment than Obama did." But she's got a band of policy "nerds" preparing to help her navigate through it. (Jonathan Cohn, The Huffington Post)
'The Ultimate Exit Interview': In a conversation with presidential historian Doris Kearns Goodwin, President Obama reflects on the decisions that have weighed most heavily on him throughout his eight years in office—and shares what he plans to do once his term is over. (Vanity Fair)
Analyzing the Clinton Foundation: The Democratic nominee's critics have shifted from trying to leak potential wrongdoings by her foundation, to asking whether the organization is effective at saving lives. The quick answer to this question, according to Vox's Dylan Matthews, is yes.
Chaos in Charlotte: Riots following the police shooting death of a black man in Charlotte could shape the presidential race in North Carolina, which has become a key state in the election. Here's how. (Margaret Newkirk, Bloomberg)
Trump Approves This Message: The Republican nominee's television advertisements have run sporadically throughout the election, and have become virtually nonexistent over the last week. Will his campaign's plans to launch a new limited series of ads make a difference? (Steven Shepard, Politico)
---
Visualized
'Anywhere but Washington': In the first installment of an eight-part video series, Guardian US spoke with a Trump campaign chair in Mahoning County, Ohio, who claimed racism did not exist before President Obama was elected. (Paul Lewis and Tom Silverstone)
---
Question of the Week
Jeb Bush, one of the Republican presidential candidates this year, made a cameo as a limo driver during the Emmy Awards on Sunday night. Rick Perry, who also briefly ran for the White House, is now a contestant on Dancing With the Stars. If you had to guess, where on television will the other former 2016 hopefuls pop up?
Here's a cheat sheet of the 2016 candidates to refresh your memory.
Send your answers to hello@theatlantic.com, and our favorites will be featured in Friday's Politics & Policy Daily.
-Written by Elaine Godfrey (@elainejgodfrey) and Candice Norwood (@cjnorwoodwrites)