The Atlantic Politics & Policy Daily: Obama to Netanyahu: See You Never?
The president met with the Israeli prime minister for what is likely to be the last time.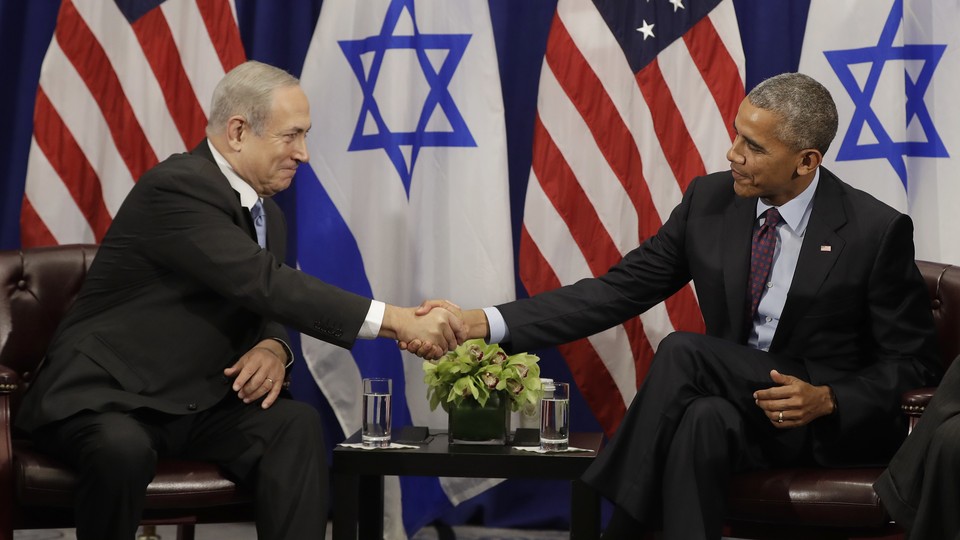 Today in 5 Lines
Heather Bresch, the CEO of Mylan, the drug company that sells the EpiPen, told congressional lawmakers that the company reaps $100 in profit for a two-pack, which is sold for $600. Charlotte-Mecklenburg Police Chief Kerr Putney said during a news conference that Keith Lamont Scott, the black man fatally shot by an officer on Tuesday, was armed and was repeatedly told by police to drop his weapon. Texas Governor Greg Abbott threatened to withdraw from the refugee resettlement program, one day after President Obama announced that the U.S. will accept 110,000 refugees in fiscal year 2017. Three couples said they will appeal a federal judge's decision to dismiss their challenge to a North Carolina law allowing magistrates to refuse to marry same-sex couples. Obama stressed the United States' "concerns around settlement activity" in what might be his last meeting with Israeli Prime Minister Benjamin Netanyahu.
---
Today on The Atlantic
Not a Coincidence: In a Twitter post on Tuesday, Donald Trump called out Hillary Clinton for "copying [his] airplane rallies" by speaking to supporters in front of a plane. But using this backdrop on the campaign trail is nothing new—candidates from Ronald Reagan to Jimmy Carter have done it. (Adrienne LaFrance)

The Partisan Divide: In a speech Wednesday, Hillary Clinton touted her plans to better support citizens with disabilities. While addressing the needs of those with disabilities used to be a bipartisan issue, a party gap has emerged in recent years. (David A. Graham)

A Troubling Friendship: Donald Trump and Russian President Vladimir Putin's relationship could have dangerous consequences for the United States, and Rob Glaser, a political donor, intends to warn voters about ties between the two using his new website PutinTrump.org. (David Frum)
Follow stories throughout the day with our Politics & Policy portal.
---
Snapshot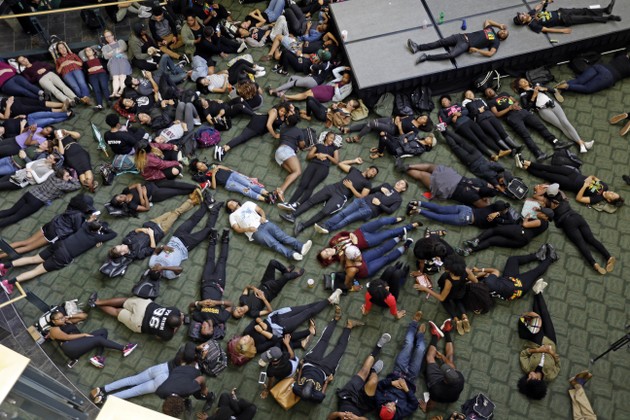 ---
What We're Reading
They Only Care About Trump: Down-ballot Republicans in swing states are depending on Donald Trump's supporters to help them win in November. But many of Trump's fans just aren't that excited about the Senate candidates running for re-election. (Tarini Parti and Kyle Blaine, BuzzFeed)
Why Russia?: A series of interviews with Russian Americans in Mayfield Heights, Ohio, revealed that while most of them tend to favor Donald Trump over Hillary Clinton, they are conflicted about Trump's praise for Russian President Vladimir Putin—and confused about why Russia has played such a big role in the 2016 election. (Matt Viser, Boston Globe)
'Let Trump Be Trump': Senate Democrats are advising Hillary Clinton to sit back, relax, and let Donald Trump do the talking during the upcoming presidential debates, an approach one lawmaker says will give the Republican nominee plenty of room to "say some cockamamie stuff." (Burgess Everett and Seung Min Kim, Politico)
'Liberty and Justice for All': What does it mean to pledge allegiance to the flag of a country that historically—and presently—struggles to address the marginalization of its minority communities? A black professor from Mississippi shares his thoughts. (Kiese Laymon, Fader)
Lady Problems: The Republican nominee's campaign denies that his rhetoric alienates women, but Cathleen Decker points out that "testosterone has infused Trump's candidacy from its inception," and he'll have to overcome a significant gender gap if he has any hope of winning in November. (Los Angeles Times)
---
Visualized
The Final Countdown: Early voting has changed the way politicians campaign during elections. In a series of charts, Bloomberg shows what could happen in key battleground states. (Sasha Issenberg and Steven Yaccino)
---
Question of the Week
Jeb Bush, one of the Republican presidential candidates this year, made a cameo as a limo driver during the Emmy Awards on Sunday night. Rick Perry, who also briefly ran for the White House, is now a contestant on Dancing With the Stars. If you had to guess, where on television will the other former 2016 hopefuls pop up?
Here's a cheat sheet of the 2016 candidates to refresh your memory.
Send your answers to hello@theatlantic.com, and our favorites will be featured in Friday's Politics & Policy Daily.
-Written by Elaine Godfrey (@elainejgodfrey) and Candice Norwood (@cjnorwoodwrites)