The Atlantic Politics & Policy Daily: Trump: Sorry Not Sorry
The Republican presidential nominee acknowledged that President Obama was born in the United States, but did not offer an apology for suggesting otherwise.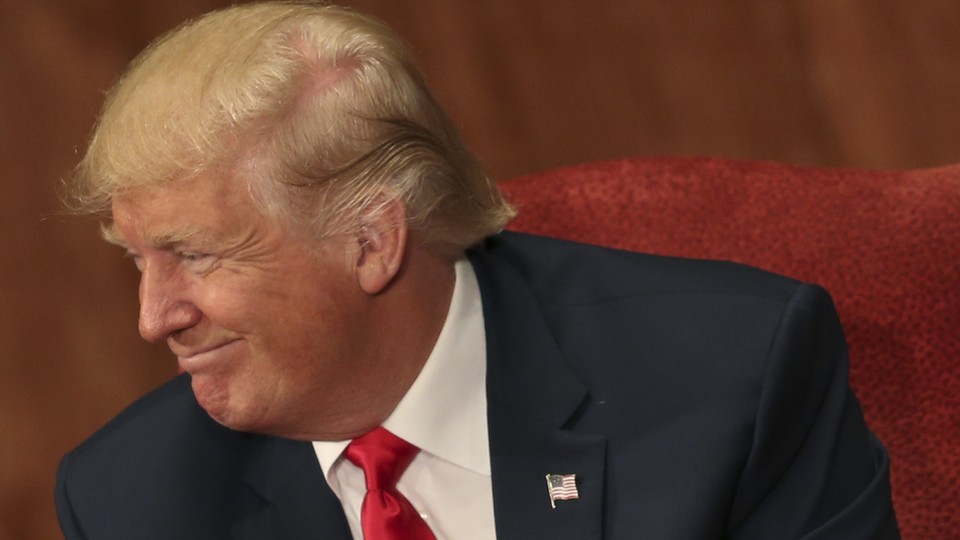 Today in 5 Lines
Donald Trump finally acknowledged that "President Barack Obama was born in the United States," backing away from his long-espoused conspiracy theory that he was not a natural-born U.S. citizen. The Commission on Presidential Debates said that Libertarian Party candidate Gary Johnson and Green Party candidate Jill Stein failed to qualify for the first presidential debate. Obama met with several political leaders, including Ohio Governor John Kasich, in the Oval Office to discuss the Trans-Pacific Partnership. Michelle Obama made her first campaign appearance for Hillary Clinton at George Mason University in Virginia. IRS Commissioner John Koskinen's lawyers told the House Judiciary Committee in a letter that they want to be able to call on witnesses and present evidence if the committee moves to impeach Koskinen.
---
Today on The Atlantic
Fighting the 'War on Truth': Matt Lauer's performance as moderator of NBC's Commander in Chief forum is an example of political journalists' failure throughout the election to call out candidates on their lies. Here is one way major television outlets broadcasting the presidential debates could turn this around. (Dan Gillmor)

Ann Coulter Is Back in Business: As recently as last summer, media-watchers noticed that the conservative political commentator's influence seemed to be waning, Michelle Cottle writes, as she struggled to garner her usual amount of liberal outrage. But after wholeheartedly backing Donald Trump for president, Coulter has once again found her spotlight.

The 'Bible' of White Nationalism: Forty years ago, the infamous Turner Diaries, a novel that depicts a fictional white nationalist revolution, was published. The book, created by a leader of a neo-Nazi group, continues to shape racial fears in the United States decades later. (J.M. Berger)
Follow stories throughout the day with our Politics & Policy portal.
---
Snapshot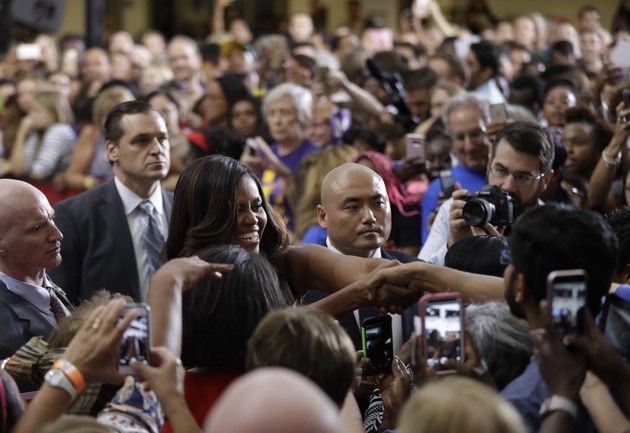 ---
What We're Reading
When Hillary Shut Down: The Democratic nominee wasn't always so secretive: She used to share her deepest thoughts with the American people during speeches and speak candidly in interviews with reporters, but, little by little, she developed a hard shell as a result of extreme media criticism. (Todd S. Purdum, Politico)
The Blame Game: A funding bill to combat the Zika virus is stalled in Congress and there's one member to blame for the "legislative deadlock." The problem: No one will name that person. (Emma Grey Ellis, Wired)
Clinton's Third-Party Problem: In 2000, the Green Party's presidential candidate Ralph Nader polled at a mere 2.7 percent nationally, but many say he's the reason Al Gore lost Florida—and, ultimately, the presidency. In such a tight race, could Hillary Clinton face a similar fate? (John Fund, National Review)
Eight Years of '(Non)Transparency': President Obama entered the White House promising "the most transparent administration in history." Now, nearing the end of his term, how does the American public go about evaluating this claim? Yahoo decided to give it a try. (Oliver Knox)
Trump Is On To Something: The economic anxiety and racial tension gripping the United States contributed to the rise of Donald Trump, according to Robert Reich, the former Labor Secretary under Bill Clinton. He shared his thoughts on the candidate's appeal with Vanity Fair. (Abigail Tracy)
---
Visualized
Follow the Money: New data from the U.S. Census Bureau shows that household incomes tend to be increasing in Democratic-leaning states, while income is more stagnant in red states. Check out these graphs to see where each state stands. (Amber Phillips, Ted Mellnik, Chris Alcantara, and Lazaro Gamio, The Washington Post)
---
Question of the Week
Critics pounced on Today Show host Matt Lauer for his handling of NBC's Commander in Chief forum featuring Hillary Clinton and Donald Trump, foreshadowing the level of scrutiny the moderators will face during this fall's general-election debates. Anderson Cooper of CNN, Lester Holt of NBC, Martha Raddatz of ABC, and Chris Wallace of Fox News will moderate the debates, and they are already feeling the heat. This week, we asked readers to offer their thoughts on who might make the best debate moderator—and why.
Several readers suggested MSNBC's Rachel Maddow. Here's reader Marguerite Beaudoin's reasoning:
It is my opinion that Rachel Maddow would be a great moderator, despite the fact that she is a Democrat. She is capable of conducting herself in an unbiased and professional manner and can "handle" both of them without doubt.
A particularly great suggestion came from reader Steven Durham, who really wishes Judge Judy could moderate the presidential debates:
She would destroy Trump for having no substance; she would destroy Clinton for her terrible campaigning skills; and she'd be entertaining, which is what the American voter apparently needs in order to be engaged.
Finally, thanks to Joe Bookman, who suggested The Atlantic's very own Molly Ball. From Joe: "[Ball] is smart, fair, has demonstrated knowledge of the issues as well as the candidates, and is likely not well-known by the candidates themselves."
Check out our Notes section to see more great reader responses, and read next week's Politics & Policy Daily to enter our Question of the Week contest.
-Written by Elaine Godfrey (@elainejgodfrey) and Candice Norwood (@cjnorwoodwrites)