The Atlantic Politics & Policy Daily: Sorry Congress, Summer Vacation Is Almost Over
It's the last long weekend before Congress is back in session.
Today in 5 Lines
The FBI released documents related to its investigation into Hillary Clinton's use of a private email server. The Commission on Presidential Debates announced this fall's moderators, which include NBC's Lester Holt, Fox News's Chris Wallace, and CNN's Anderson Cooper. The Labor Department reported that the U.S. economy added 151,000 jobs in August. President Obama told CNN he will ask Chinese leaders to restrain aggression over territories in the South China Sea at the G20 Summit. Hurricane Hermine, the first hurricane to make landfall in Florida in more than 10 years, has left hundreds of thousands without power.
---
Today on The Atlantic
A Campaign Based on Fear: Molly Ball argues that the success of Donald Trump's campaign relies on his ability to harness people's fear, and although Hillary Clinton is still leading in the polls, the more unease Americans feel between now and Election Day could turn the tables in Trump's favor.

No Questions, Please: Hillary Clinton has a "famously icy" relationship with the media; in fact, it's been 273 days since she last held a press conference. But Clinton is running out of excuses, and if she fails to open up, she might have a lot to lose. (David Graham)

Why Can't America Track Its Visitors?: The U.S. Department of Homeland Security has invested $600 million in pilot programs for an entry-exit system, but the "exit" part of these proposals have never been successful. Why? It's really, really hard to do. (Steven Brill)
Follow stories throughout the day with our Politics & Policy portal.
---
Snapshot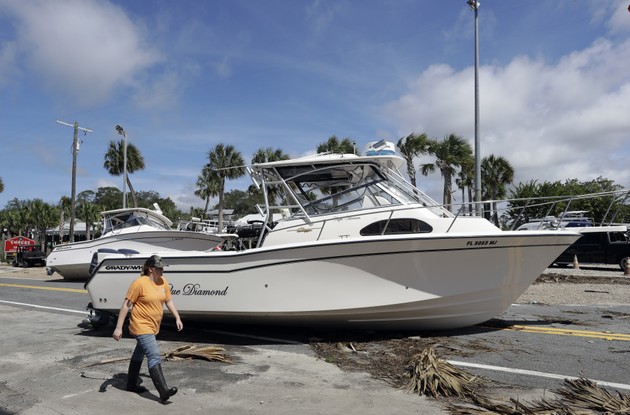 ---
What We're Reading
The End of Roger Ailes: One of the most powerful—and most ruthless—figures in the media industry was brought down by several of the women he allegedly harassed during his tenure at Fox News. And it all began with a lawsuit. (Gabriel Sherman, New York Magazine)
Trumpettes U.S.A.: This group of high-society women is backing the Republican nominee not because of party loyalty, but because they value the "perfection" of his brand, his penchant for political "incorrectness," and his "Superman"-like ability to strike fear in the hearts of terrorists. (Katie Glueck, Politico)
Crime and Punishment: In Dearborn County, Indiana, more people are sentenced to prison per capita than almost any other county in America. But that rate doesn't seem to be based on crime levels; rather it highlights a deep divide between cities and rural areas on how harshly crime should be punished. (Josh Keller and Adam Pearce, The New York Times)
Is Immigration Bad for Business?: Donald Trump has boasted a hardline stance on immigration throughout the presidential primary. But despite his heated rhetoric on the issue, a bipartisan research group found that legal immigration actually boosts the economy. (Gerald F. Seib, The Wall Street Journal)
The Story of a Soldier, Killed by Lynchers: In 1941, a 19-year-old black serviceman from Alabama was murdered on Ft. Benning army base in Georgia. The federal government never solved the crime—and newly disclosed documents from the investigation show they might not have tried very hard. (Alexa Mills, The Washington Post)
---
Visualized
Lockup: Kids Edition: The United States is the only country outside of Somalia that sends minors to prison for life, according to Scott Budnick, the founder of the Anti-Recidivism Coalition. This short video examines the consequences of doing so. (Erica Moriarty and Nicolas Pollock, The Atlantic)
---
Question of the Week
The presidential debates are fast-approaching, and this week, we asked who you think could cleverly portray Hillary Clinton during Donald Trump's debate prep. We had a handful of great responses, but our favorite came from Howard Cohen, who suggested actress and comedian Jane Curtin.
Howard explains his reasoning. Some of you may remember this 1979 sketch:
Since Trump is liable to borrow the famous Dan Aykroyd line ("Jane, you ignorant slut") from the old Saturday Night Live's "Weekend Update" segment (which was a parody of the old 60 Minutes "Point-Counterpoint" with Shana Alexander and James J. Kilpatrick), there is no one better to play Hillary than Jane Curtin.
Thanks, Howard. Head on over to our Notes section to see more great reader responses. Keep an eye out for next week's Politics & Policy Daily to enter our "Question of the Week" contest.
-Written by Elaine Godfrey (@elainejgodfrey)