The Atlantic Politics & Policy Daily: Obama: Thanks, Obama
The president touted newly released data from the U.S. Census Bureau.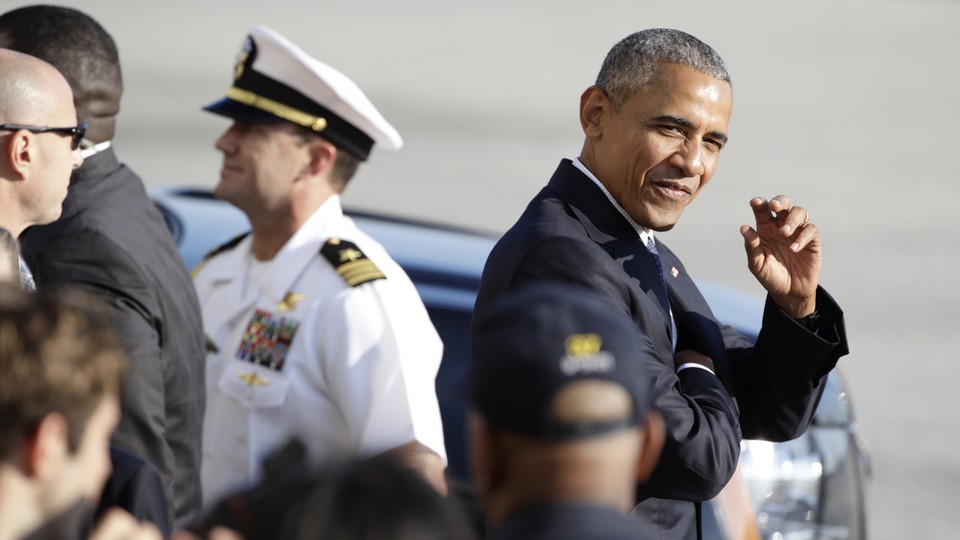 Today in 5 Lines
Donald Trump's running mate Mike Pence spent the day with Republican lawmakers on Capitol Hill in an attempt to unite the party ahead of November. The Census Bureau released new data showing that the median household income in the United States rose from roughly $53,700 in 2014 to $56,500 last year, and the poverty rate fell to 13.5 percent. President Obama hit the campaign trail on behalf of Hillary Clinton in Philadelphia. Trump, alongside his daughter, Ivanka, will formally unveil his plan to provide federally-subsidized child care to Americans in a speech Tuesday evening. Senator Kelly Ayotte is expected to win her primary in New Hampshire, one of three states holding contests today.
---
Today on The Atlantic
Trump's True Test: Donald Trump's approach served him well throughout the primary season, but will this strategy hold up against Hillary Clinton when the two go head-to-head in the presidential debates? (James Fallows)

A Serious Look at Trauma: The Department of Veterans Affairs estimates that one in five female veterans who use its health-care program screens positive for military sexual trauma. Here's how a California court system is working to help these women cope. (Juleyka Lantigua-Williams)

The Zika Outbreak in America: A funding bill to fight the Zika virus is stalled in Congress, but the virus has already infected 20,000 people in Puerto Rico and could wreak further havoc if the government fails to act more quickly. (Vann R. Newkirk II)
Follow stories throughout the day with our Politics & Policy portal.
---
Snapshot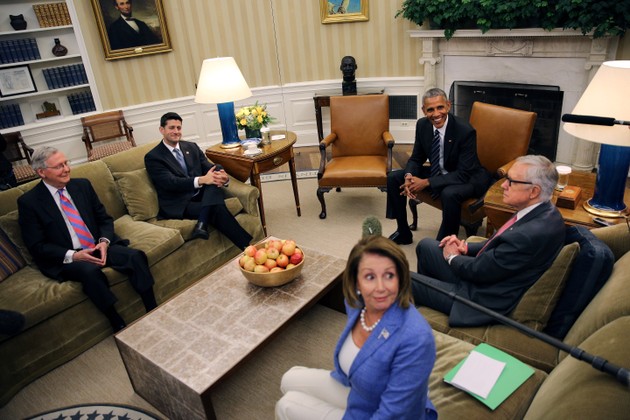 ---
What We're Reading
Throwing Money at the Problem: Republican donors concerned that Donald Trump's campaign will threaten the Republican majority in the House are donating record amounts to a super PAC. CNN reports "the reason the outside group is pulling in more money this year is because donors are more comfortable with the wonky House speaker than the unpredictable billionaire nominee and want to ensure Ryan keeps his gavel." (Deirdre Walsh)
Rob Portman Is Crushing It: The junior senator from Ohio is doing unexpectedly well in what was supposed to be a competitive race against the state's former Democratic governor, Ted Strickland, proving that being part of the GOP establishment might not be so bad after all. (Eliana Johnson, National Review)
Securing a Place 'In the Room': Women working in the White House face special challenges when it comes to making contributions to their male-dominated teams. And while there have been changes over times, women continue to fight for power in the White House. (Juliet Eilperin, The Washington Post)
Republicans in the Fetal Position: A new report from BuzzFeed reveals a "quiet panic" among several members of the GOP establishment: What will they do if Donald Trump actually wins the White House? At least one Republican says he'll be "watching 'The West Wing' and drinking a basketful of deplorable liquor." (McKay Coppins)
A 'Fatal Encounter': Police officers in the United States have killed more than 2,000 people since the 2014 shooting of Michael Brown in Ferguson, Missouri. Vox provides a comprehensive list of these individuals and graphics visualizing the data. (German Lopez and Soo Oh)
---
Visualized
Why Don't People Vote?: An estimated four out of 10 voters stay home on Election Day. Take a look at these charts to see turnout rates based on age, race, education, election competitiveness, and a host of other factors. (Alicia Parlapiano and Adam Pearce, The New York Times)
---
Question of the Week
Critics pounced on Today Show host Matt Lauer for his handling of NBC's Commander in Chief forum with Donald Trump last week, foreshadowing the level of scrutiny the moderators will face during this fall's presidential debates. Anderson Cooper of CNN, Lester Holt of NBC, Martha Raddatz of ABC, and Chris Wallace of Fox News will moderate the debates, and they are already feeling the heat.
Who do you think would make the best moderator—and why?
Send your answers to hello@theatlantic.com or tweet us @TheAtlPolitics, and our favorites will be featured in Friday's Politics & Policy Daily.
-Written by Elaine Godfrey (@elainejgodfrey) and Candice Norwood (@cjnorwoodwrites)