The Atlantic Politics & Policy Daily: Hispanic Republicans Say Adios to Trump
Jacob Monty, a member of Trump's Hispanic advisory council, resigned because he was disappointed with the Republican nominee's immigration speech on Wednesday.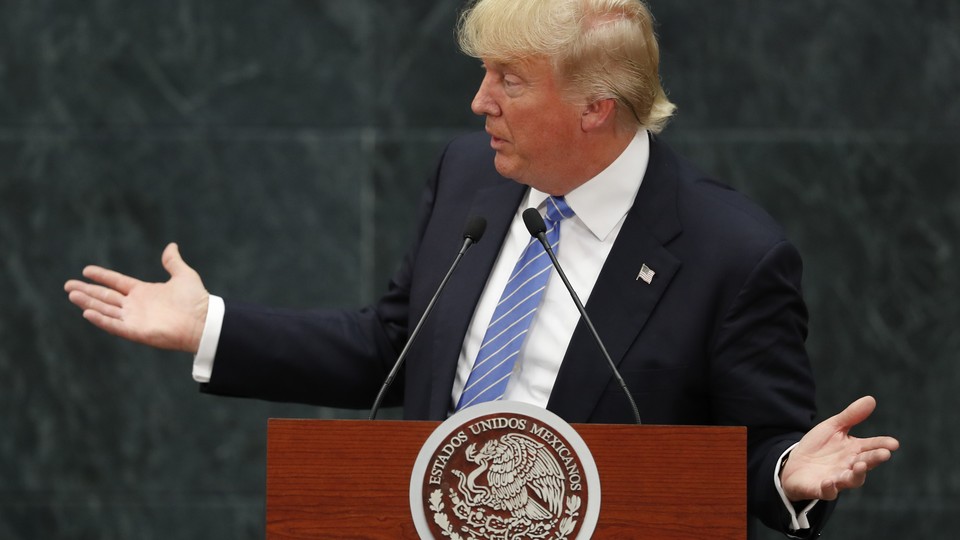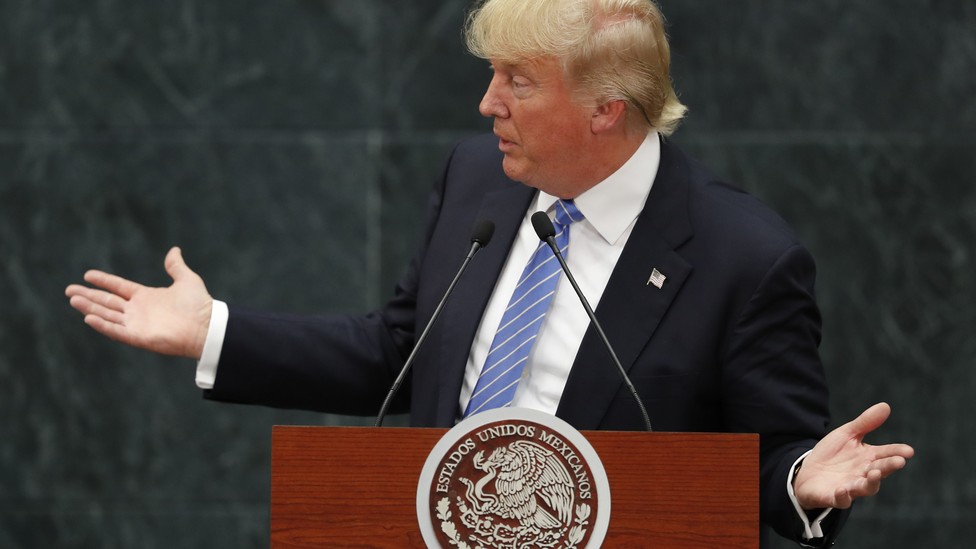 Today in 5 Lines
Jacob Monty, a member of Trump's Hispanic advisory council, resigned, citing disappointment with the Republican nominee's speech on immigration Wednesday; others are expected to follow suit. Dallas Police Chief David Brown, who was thrust into the national spotlight for his response to the killings of five police officers in July, announced he is retiring. Georgetown University announced it will give admissions priority to descendants of slaves as a way to atone for its ties to slavery. Hillary Clinton raised $143 million in August for her campaign and joint fundraising committees. A SpaceX rocket exploded during test firing on the launch pad at Cape Canaveral Air Force Station in Florida.
---
Today on The Atlantic
Minimum Wage on the Ballot: Four states will vote on whether to increase their minimum wages in November, but each of them have legislatures that are controlled by Republicans to some extent. Still, Democrats remain hopeful the proposals will pass. (Russell Berman)

Colin Kaepernick's Political Misstep: The football player has a unique opportunity as a professional athlete to help people understand the scope of police violence. By choosing the national anthem as the target of his protest, he alienated those who most need to hear his message. (Peter Beinart)

Trump Could Have a Point: Donald Trump's speech in Phoenix Wednesday has been widely criticized for its strict views on illegal immigration. But David Frum writes these statements should not be seen as shocking or offensive.
Follow stories throughout the day with our Politics & Policy portal.
---
Snapshot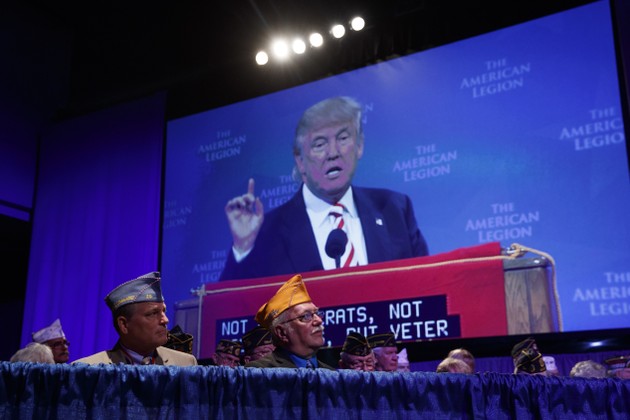 ---
What We're Reading
Trump's 'Impromptu Focus Groups': How has the Republican nominee managed to garner support from wealthy party donors on the campaign trail? He pulls up a chair, leans in, and asks them for advice. (Matea Gold, The Washington Post)
Blurred Lines: A Politico investigation found that Bill Clinton's staffers used federal funds to purchase equipment at the Clinton Foundation, as well as to pay several aides who are now at the center of Hillary Clinton's email scandal. (Kenneth P. Vogel)
The Troll of Election 2016: On Wednesday afternoon, Donald Trump touted his relationship with Mexican Americans, hours later he was emphasizing the threat of "murderous immigrants" and the need for a wall on the U.S.-Mexico border. This, Charles Blow argues, is classic bully behavior. (The New York Times)
Democrats Should Be a Little Worried: The party faces some stiff competition this fall in its efforts to gain the 30 U.S. House it needs to reverse the Republican majority. To secure a victory, they'll need to harness Trump's unpopularity. (Billy House, Bloomberg)
The Birth of a Movement: The "alt-right" had been growing in numbers and attention even before Hillary Clinton criticisms. Here's the story of the movement's uprising. (T.A. Frank, Vanity Fair)  
---
Visualized
Before and After: Initially, Donald Trump promised mass deportations and a new wall on the U.S.-Mexico border. Then, he suggested he'd soften his tone. Check out these side-by-side graphics to see Trump's evolution on immigration. (Nick Corasaniti, The New York Times)
---
Question of the Week
Donald Trump is preparing to face off against Hillary Clinton in a series of presidential debates this fall, and his campaign manager Kellyanne Conway has promised that, as an "unconventional" candidate, Trump will approach the debates in an unconventional way. Some reports suggest that conservative political commentator Laura Ingraham has been tapped as a stand-in for Clinton.
But who do you think could best play Clinton in Trump's debate rehearsal?
Send your answers to hello@theatlantic.com or tweet us @TheAtlPolitics, and our favorites will be featured in Friday's Politics & Policy Daily.
-Written by Elaine Godfrey (@elainejgodfrey) and Candice Norwood (@cjnorwoodwrites)