The Atlantic Politics & Policy Daily: Hillary Clinton Turns in Her Doctor's Note
The Democratic presidential nominee's campaign released a letter from Clinton's physician confirming that she is "healthy and fit to serve as president."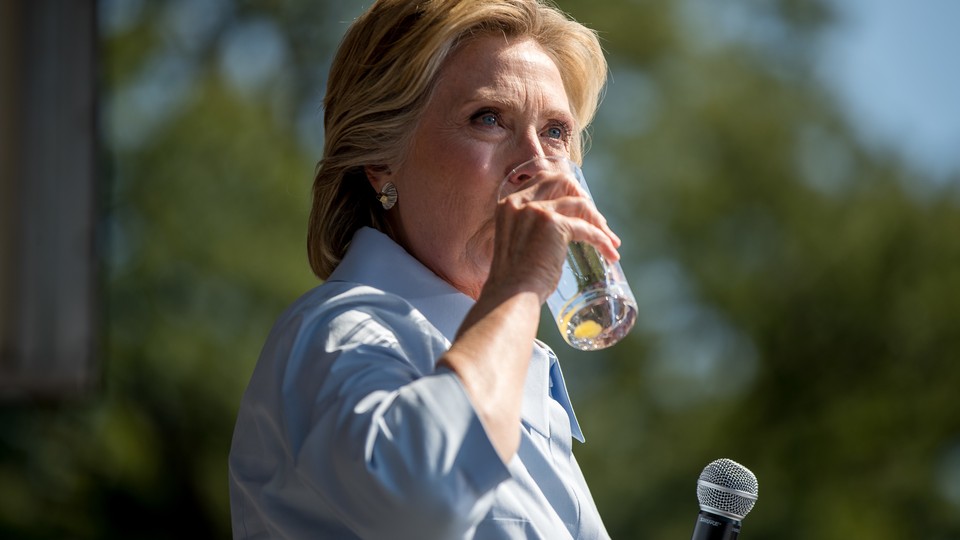 Today in 5 Lines
Hillary Clinton's campaign released additional medical information about the Democratic nominee and her running mate Tim Kaine. An aide to Colin Powell confirmed the former secretary of state's personal email was hacked, after multiple news reports published information about his private exchanges. Libertarian Party presidential nominee Gary Johnson's campaign announced that he will be on the ballot in all 50 states plus the District of Columbia in November's presidential election. Donald Trump reportedly revealed the results of a physical exam during an appearance on The Dr. Oz Show that will air on Thursday. President Obama said the U.S. plans to lift sanctions against Myanmar "soon" during a joint news conference at the White House with Myanmar's de facto leader, Aung San Suu Kyi. Ford Motor Company announced it will move its U.S.-based small-car production to Mexico "over the next two to three years."
---
Today on The Atlantic
Wanted: Better Political Trolls: Trolling, the practice of intentionally angering individuals or groups, has historically been an effective way to make a point. More recently, however, trolling has been hijacked by the "alt-right" and hate-mongers on anonymous internet forums, and used as an excuse for bigotry. (Emma Green)

Colorado Is 'Falling Off the Map': It was a major swing state in the 2008 and 2012 presidential elections. But, as Molly Ball writes, it no longer appears to be a key battleground state in 2016, as an influx of new voters are causing the state to lean left. If the Democrats succeed in Colorado, it could affect the GOP long after 2016.

What Might Dr. Oz Ask Trump?: Dr. Mehmet Oz sat down with the presidential candidate for an hour-long interview, which is expected to touch on "security, money, and more." The interview will air on Thursday, but here's a conversation James Hamblin imagined between the two.
Follow stories throughout the day with our Politics & Policy portal.
---
Snapshot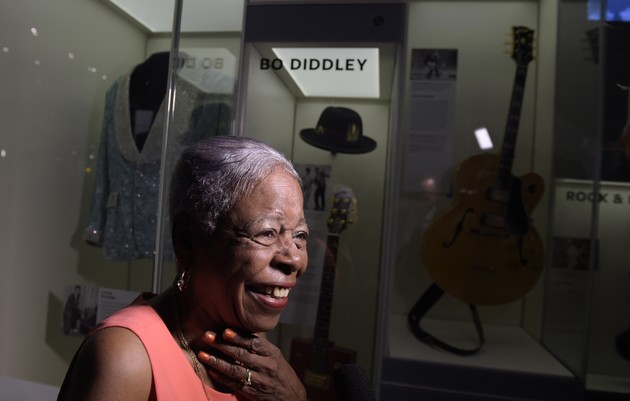 ---
What We're Reading
Did Trump Wake a 'Sleeping Giant'?: Pundits have speculated that the Republican nominee's comments about Mexican immigrants will prompt an unprecedented wave of Latino voters to head to the polls in November. But, Marcela Valdes writes, the bloc's political power might be "more myth than reality." (The New York Times)
Scott Walker and the John Doe Files: A batch of leaked documents from an investigation into alleged campaign finance violations in Wisconsin reveals the inner workings of U.S. elections in the wake of Citizens United. Does even the appearance of a quid-pro-quo system throw America's democracy into question? (Ed Pilkington, Guardian U.S.)
Why Are America's White People So Upset?: Trump's unexpected success this election season shed light on the grievances of white, working-class Americans. To understand the root of their discontent, Politico spoke with four scholars. (Susan B. Glasser and Glenn Thrush)
Trump's 'Ethical Quagmire': The Republican presidential nominee has business ties with American allies and enemies around the world. If Trump becomes president, and his family continues to stay at the helm of the Trump Organization, will his ties pose a conflict of interest and compromise U.S. foreign policy? (Kurt Eichenwald, Newsweek)
Plan B: The Constitution offers a clear protocol for what to do when a sitting president dies, but what happens if a presidential nominee either dies or voluntarily withdraws from the election? (Joshua Tucker, The Washington Post)
---
Visualized
'Who Will Win?': Hillary Clinton and Donald Trump's debating styles are distinct, which could make the upcoming presidential debates even more interesting. In this video, The Atlantic's James Fallows dissects their strategies and tells us what to expect from each of the candidates.
---
Question of the Week
Critics pounced on Today Show host Matt Lauer for his handling of NBC's Commander in Chief forum with Donald Trump last week, foreshadowing the level of scrutiny the moderators will face during this fall's presidential debates. Anderson Cooper of CNN, Lester Holt of NBC, Martha Raddatz of ABC, and Chris Wallace of Fox News will moderate the debates, and they are already feeling the heat.
Who do you think would make the best moderator—and why?
Send your answers to hello@theatlantic.com or tweet us @TheAtlPolitics, and our favorites will be featured in Friday's Politics & Policy Daily.
-Written by Elaine Godfrey (@elainejgodfrey) and Candice Norwood (@cjnorwoodwrites)