The Atlantic Politics & Policy Daily: Hillary Clinton Is Feeling Good
The Democratic presidential nominee returned to the campaign trail after taking time off to recover from pneumonia.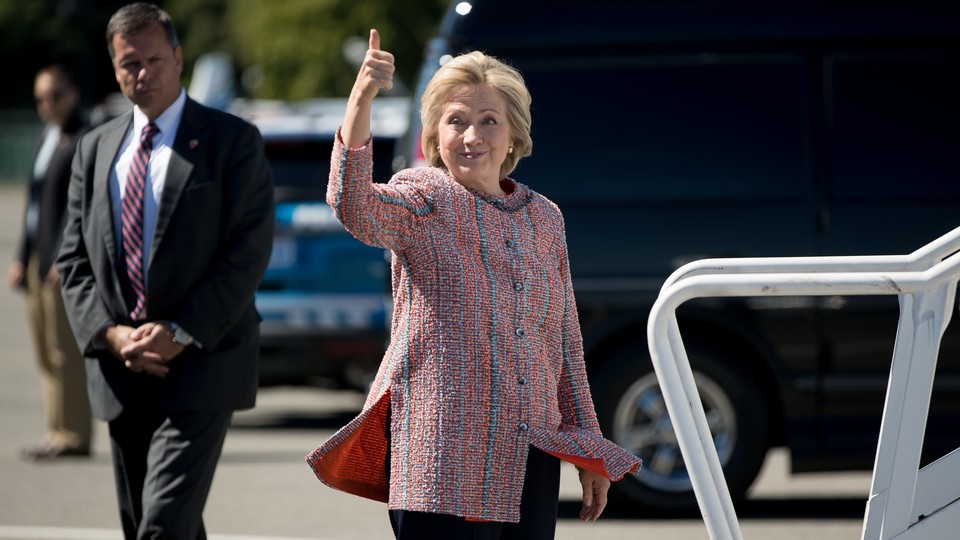 Today in 5 Lines
Hillary Clinton returned to the campaign trail to the tune of James Brown's "I Feel Good" after taking three days off to recover from pneumonia, a break she described as "a gift." Donald Trump released a letter from his doctor that said the Republican nominee is in "excellent physical health." Trump revealed changes to his proposed tax plan during an address at the Economic Club of New York, saying the new plan will cut taxes by $4.4 trillion in the first decade. The family of Sandra Bland, who was found dead in her jail cell in July 2015, reached a $1.9 million settlement in a wrongful death lawsuit. President Obama announced the designation of the first national marine monument in the Atlantic Ocean.
---
Today on The Atlantic
The Isolated Voting Bloc: Trump's blue-collar white supporters find themselves on the front lines of "America's cultural civil war" as ideological and demographic trends in the United States favor Hillary Clinton. (Ronald Brownstein)

Forgive and Forget?: A group of human-rights organizations have asked President Obama to pardon NSA whistleblower Edward Snowden, who faces espionage charges. But with lawmakers from both major parties calling Snowden a traitor, what would move Obama to grant him clemency? (Kaveh Waddell)  

Latinos Aren't Holding a Grudge: The majority of Latino voters in battleground states aren't entirely aware of Senate candidates' positions on immigration. Could this give Republicans the opening they need to win? (Priscilla Alvarez)
Follow stories throughout the day with our Politics & Policy portal.
---
Snapshot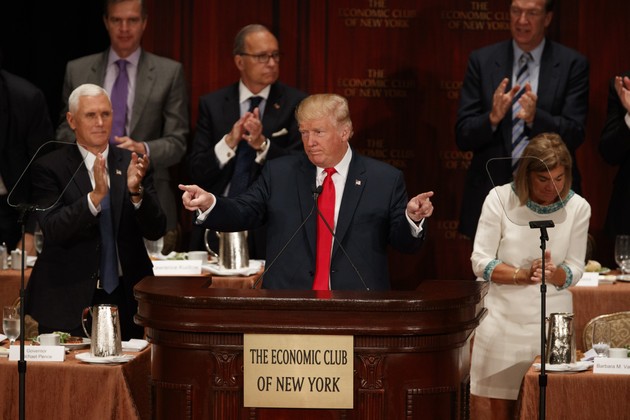 ---
What We're Reading
Harry Reid's Farewell Tour: It's the Nevada Democrat's last term in the U.S. Senate, and he has mixed feelings about it. In a tour of his old Las Vegas stomping grounds with The Washington Post's Ben Terris, Reid shared his distaste for palm trees and Donald Trump.
The Boxing Ring and the Courtroom: Televised debates have played a major role in presidential elections since 1960. But, due to the rise of social media and more protected speech on college campuses, Jill Lepore writes, "political argument has been having a terrible century." (The New Yorker)
Ivanka Gives Specifics: In a tense interview with Cosmopolitan, Ivanka Trump touts her father's "revolutionary" new childcare plan, stresses the importance of paid family leave, and defends her father when asked to respond to his 2004 comments that pregnancy is an "inconvenience" for businesses. (Prachi Gupta)
The American Dream's Decline: Springfield, Ohio has seen more of its middle class fall economically than any other metro area in the United States. The town reflects how grim perceptions of the country's economic future are shaping the 2016 election. (Jeremy Borden, Christian Science Monitor)
How Do You Define a Refugee?: Despite the Obama administration's new plan to help curb illegal immigration by identifying Central American migrants who are eligible for refugee status, a surge in the number of family apprehensions at the U.S.-Mexico border is expected. What gives? (Franco Ordonez, McClatchy DC)
---
Visualized
Ch-ch-ch-ch-changes: Since the last week of August, Hillary Clinton's lead in the polls has shrunk, and Donald Trump's chances at the White House have doubled—at least, according to The New York Times. Stay up to speed by checking out how five major presidential forecasts have shifted in the past three weeks. (Josh Katz)
---
Question of the Week
Critics pounced on Today Show host Matt Lauer for his handling of NBC's Commander in Chief forum with Donald Trump last week, foreshadowing the level of scrutiny the moderators will face during this fall's presidential debates. Anderson Cooper of CNN, Lester Holt of NBC, Martha Raddatz of ABC, and Chris Wallace of Fox News will moderate the debates, and they are already feeling the heat.
Who do you think would make the best moderator—and why?
Send your answers to hello@theatlantic.com or tweet us @TheAtlPolitics, and our favorites will be featured in Friday's Politics & Policy Daily.
-Written by Elaine Godfrey (@elainejgodfrey) and Candice Norwood (@cjnorwoodwrites)