The Atlantic Politics & Policy Daily: Chris Christie Is in a Jam
Prosecutors said the New Jersey governor knew of his associates' involvement in the 2013 George Washington Bridge scandal by the third day of lane closures.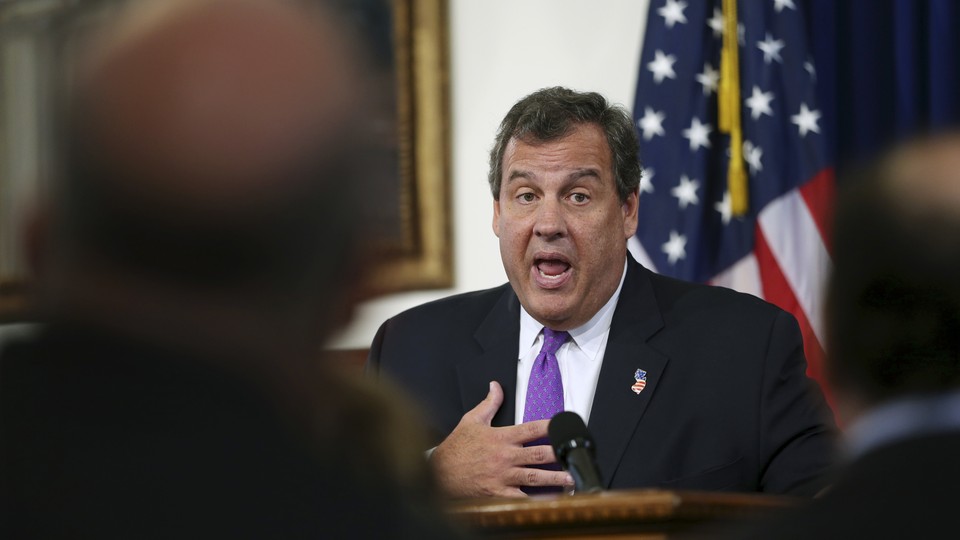 Today in 5 Lines
Law enforcement officials said Ahmad Khan Rahami, a 28-year-old man wanted in connection to this weekend's explosions in New York and New Jersey, was taken into custody after a confrontation with police in Linden, New Jersey. President Obama, who is in New York for the United Nations General Assembly meeting, encouraged Americans not to "give in to fear" in the wake of the blasts. During opening statements in the Bridgegate trial, prosecutors said Chris Christie knew of his associates' involvement in the 2013 George Washington Bridge scandal by the third day of lane closures. Hillary Clinton pitched her candidacy to Millennial voters at Temple University in Philadelphia, saying "the next 50 days will shape the next 50 years." The U.S. government mistakenly granted citizenship to at least 858 immigrants, according to an internal Homeland Security audit.
---
Today on The Atlantic
Kicking Tradition to the Curb: A New York Times article published last Saturday about Donald Trump's acknowledgement of President Obama's U.S. citizenship signaled the "death of 'he said, she said' journalism" by deviating from its longtime practice of attributing controversial political statements directly to the speaker. (Peter Beinart)

The Millennial Challenge: Throughout the election, Hillary Clinton hasn't been able to attract the support Barack Obama saw among young voters during his presidential campaigns. Will they come around by November? (Ronald Brownstein)

The Toll of Working Women: Women have long volunteered their time to organizations that sought to improve American communities—from organizing voters to advocating for the elderly and poor. But as more women entered the workforce, the United States lost important leaders in civil society. (Emma Green) 
Follow stories throughout the day with our Politics & Policy portal.
---
Snapshot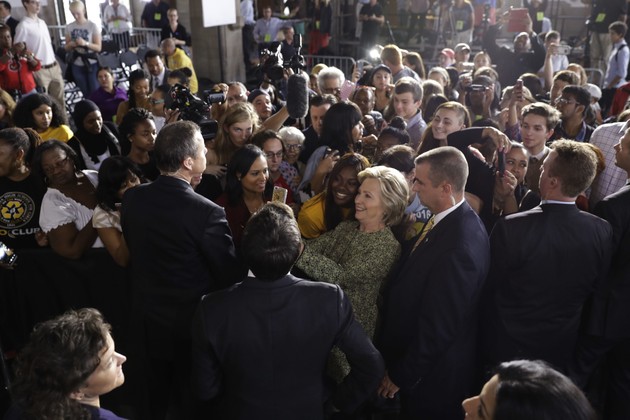 ---
What We're Reading
Imagining a Trump Presidency: The New Yorker's Evan Osnos spent the summer interviewing historians, campaign advisers, and other experts to learn what America could expect from Donald Trump's first term in office. The way the candidate has run his campaign says a lot about how he would act as president.
Biden Looks to the Future: In a Q&A with STAT, Vice President Joe Biden said he will continue working on the "cancer moonshot," a cancer research initiative, "as long as I'm alive," but he won't be part of Hillary Clinton's administration if she's elected. (Dylan Scott)
Why Trump Should Worry: A recent gaffe and speculation about her health have dogged Hillary Clinton, while Donald Trump has gained momentum in the national polls. But the Republican nominee is still a "decided underdog" with no clear path to winning the 270 electoral votes needed to win the White House. (Tim Alberta, National Review)
A Political Takedown: Former Port Authority official David Wildstein is the "star witness" in the Bridgegate trial. Wildstein also happened to go to high school with Chris Christie. Here is their story. (Andrew Rice, New York Magazine)
Americans are Living in Fear: More Americans are buying a wide range of handguns to protect themselves from other people, according to a new survey. The findings indicate a shift in the reasons people want guns, as well as the type they are choosing, all of which are likely to have significant consequences for public health and safety. (Kate Masters, The Trace)
---
Visualized
Watching the White Vote: While Hillary Clinton has the support of most of Florida's black and Hispanic voters, her lead might be offset by white working-class voters backing Donald Trump. Check out these charts to see how the presidential race is playing out in the Sunshine State. (Nate Cohn, The New York Times)
---
Question of the Week
Jeb Bush, one of the Republican presidential candidates this year, made a cameo as a limo driver during the Emmy Awards on Sunday night. Rick Perry, who also briefly ran for the White House, is now a contestant on Dancing With the Stars. If you had to guess, where on television will the other former 2016 hopefuls pop up?
Here's a cheat sheet of the 2016 candidates to refresh your memory.
Send your answers to hello@theatlantic.com, and our favorites will be featured in Friday's Politics & Policy Daily.
-Written by Elaine Godfrey (@elainejgodfrey) and Candice Norwood (@cjnorwoodwrites)