The Atlantic Politics & Policy Daily: Bill and Donald Make a Racquet With Old Picture
The Clinton Presidential Library released photos of Donald Trump mingling with former President Bill Clinton.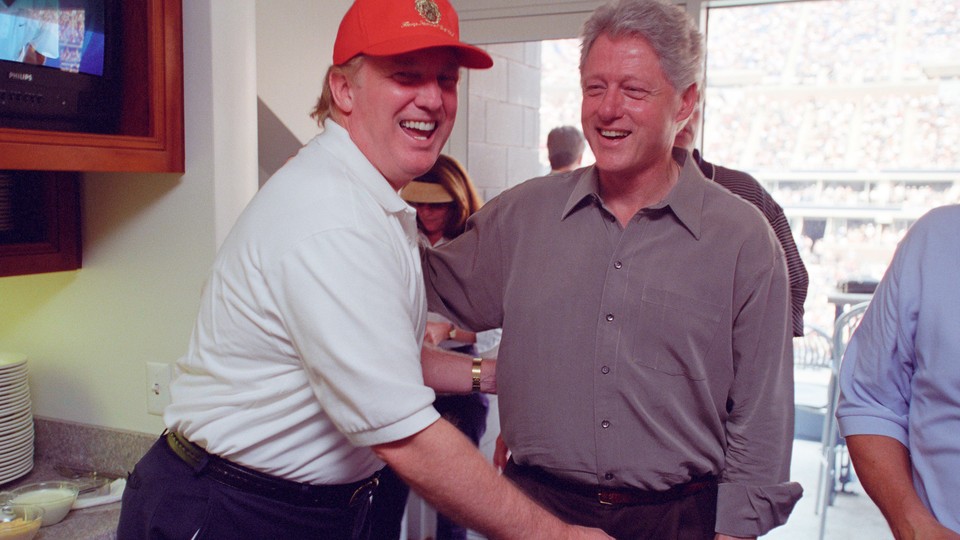 Today in 5 Lines
The U.S. House of Representatives approved a bill that would allow 9/11 victims' families to sue Saudi Arabia, but President Obama is expected to veto. A federal judge denied the Standing Rock Sioux Tribe's request to stop the construction of the Dakota Access pipeline. Thomas Frieden, the director of the Centers for Disease Control and Prevention, said the government is "essentially out of money" to combat the Zika virus. Obama condemned North Korea's launch of its fifth and most powerful nuclear missile test on Friday morning, calling it a "grave threat to regional security and to international peace and stability." And the Clinton Presidential Library released photos of Donald Trump mingling with former President Bill Clinton.
---
Today on The Atlantic
'There's Nothing Better Than a Scared, Rich Candidate': In an election year where the biggest spenders ran the most ineffective campaigns, and inexperienced advisers ran some of the most successful, Molly Ball explores the world of political consulting and asks whether it actually makes a difference.

This Land Is My Land: The century-old Antiquities Act allows President Obama to declare a swath of Utah's public wilderness a national monument. But Republican lawmakers in the state are challenging this authority. (Michelle Cottle)

Trump and Putin, A Love Story: Donald Trump has praised Russian President Vladimir Putin throughout his presidential campaign. But just four years ago then-Republican nominee Mitt Romney warned that Russia was "our No. 1 geopolitical foe." The shift might give voters a sense of a Trump administration. (David A. Graham)
Follow stories throughout the day with our Politics & Policy portal.
---
Snapshot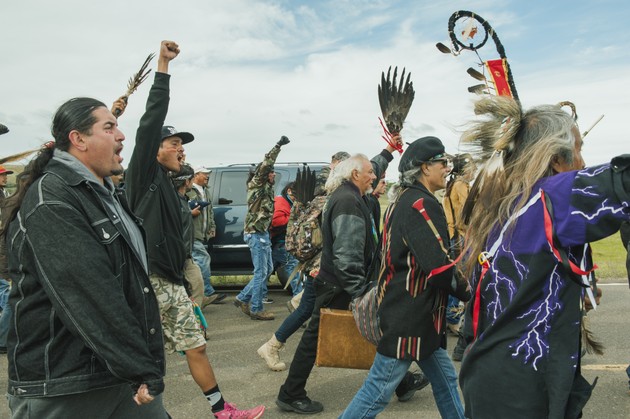 ---
What We're Reading
A Social-Security Switch: This year's presidential race has highlighted a major change in the conversation surrounding Social Security: Both the Republican and Democratic presidential candidates are changing the way their parties have traditionally stood on the issue. (Sahil Kapur, Bloomberg)
The Layers of a Movement: Members of the Standing Rock Sioux Tribe and activists in North Dakota are protesting the construction of the Dakota Access pipeline, which they argue could threaten the surrounding water supply. Vox's Victoria M. Massie looks at the racial component of these environmental disputes.
'We're the Only Plane in the Sky': A collection of interviews with top aides, the Secret Service, reporters, and White House staff chronicles former President George W. Bush's 8-hour journey on Air Force One immediately after the 9/11 attacks. (Garrett M. Graff, Politico)
Hannity Is Just Doing Hannity: Conservatives and liberals alike have criticized the conservative radio and television host for supporting Donald Trump, but BuzzFeed's Rosie Gray argues that Sean Hannity hasn't changed. Instead, he's broken with the party establishment to avoid risking irrelevance.
The Teen Accused of Terrorism: In November 2015 the FBI arrested and jailed Peyton Pruitt, an Alabama teen with mental functions "at the level of an eight-year-old child," whom they believe attempted to aid members of ISIS. Jessica Pishko unpacks the events leading to his arrest and the fight for his release.
---
Visualized
Behind 'Falling Man': One of the most widely circulated images from the 9/11 attacks is of a man falling from the burning World Trade Center. In this short video, photographer Richard Drew tells the story behind the photo. (Time)
---
Question of the Week
Congress returned to Capitol Hill this week, and we asked: What book should be required reading for every senator and representative? We got an overwhelming number of responses, but here are a few of our favorites:
Martha Allen was the first of many to suggest Just Mercy, Bryan Stevenson's widely acclaimed memoir detailing his career as a young lawyer, fighting against injustice in America's criminal justice system.
Another popular submission was The Prince, Niccolo Machiavelli's 16th century manual on manipulating your way to power. Props to Jerry Purmal for being the first to suggest it.
Finally, Dirk Bloemendaal—a repeat Question-of-the-Week winner—suggested Robert Fulghum's All I Really Need to Know I Learned in Kindergarten
Head on over to our Notes section to see more great reader responses, and keep an eye out for next week's Politics & Policy Daily to enter our "Question of the Week" contest.
-Written by Elaine Godfrey (@elainejgodfrey) and Candice Norwood (@cjnorwoodwrites)