Voters Don't Split Tickets Anymore
Republican senators hoping for the support of constituents who aren't backing Trump may be in for an unpleasant surprise.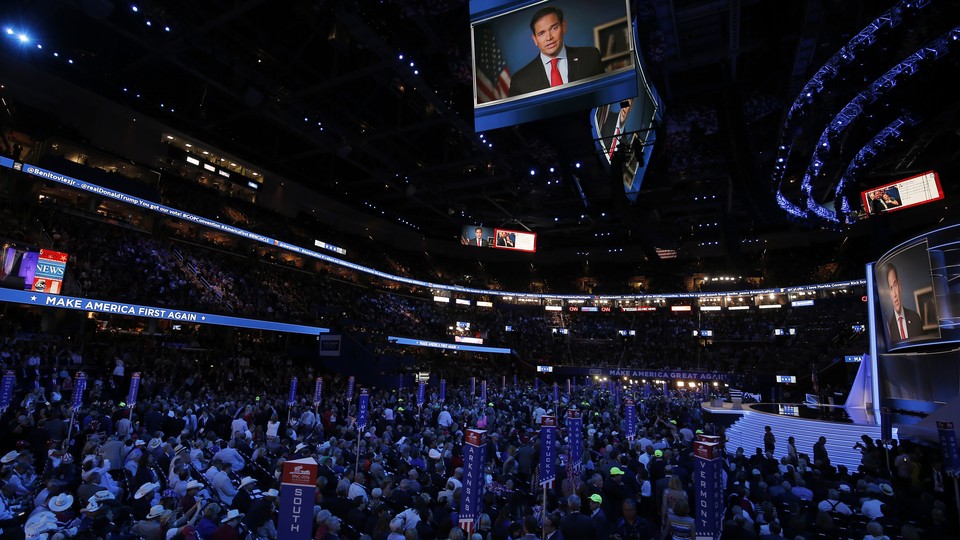 Holding the Senate was always an uphill climb for Republicans this year because they are defending so many more seats than Democrats. But Donald Trump's polarizing candidacy is converging with long-term shifts in voting patterns to make the hill even steeper.
Since the 1970s, the share of voters who split their tickets—supporting one party for president and the other in Senate races—has steadily declined. If that pattern persists in November, Republicans will likely lose their slim upper-chamber majority because the most competitive Senate races are clustered in blue or purple states where Trump faces the greatest resistance. To maintain control, Republicans will need either a dramatic Trump recovery in states such as Illinois and Wisconsin—or to convince more voters to split their ballots in Senate races than either side has typically persuaded lately. Neither will be easy.
In one respect, Democrats have helped Republican candidates to escape any Trump undertow. Although some individual Senate candidates have linked their opponents to the blustery nominee, Hillary Clinton has mostly chosen not to tie Trump to conservative thought but rather to define him as a fringe departure from it. Republicans are hopeful that will help conservative-leaning voters who can't stomach Trump revert to their usual party loyalties in Senate races. "Voters are [receiving] multiple messages telling them that you can vote a different way down the ticket," says Alex Lundry, co-founder of the GOP voter-targeting firm, Deep Root Analytics.
But those messages are competing against a long-term evolution in voters' behavior that has made it tougher for all senators to survive in effect behind enemy lines—in states that usually prefer the other party for president. As party-line voting inside Congress has reached near-parliamentary levels, voters have responded by treating congressional elections less as a choice between individuals and more as a parliamentary-style referendum on which side they prefer to control the majority.
That's a big change from even the 1970s and 1980s, when conservative Democratic senators still dominated Southern states stampeding toward the GOP in presidential elections, just as moderate Republican senators thrived in coastal states trending toward the Democrats. In the modern apex of cross-pressured voting, fully 28 percent of voters supported one party's presidential nominee and the other's Senate candidate during Richard Nixon's 1972 landslide, according to data from the National Election Studies analyzed by the Emory University political scientist Alan Abramowitz.
Since then, as Abramowitz has calculated, the share of voters who back one party for president and the other for Senate has fallen relentlessly. It declined to 23 percent on average during the 1980s, 16 percent across Bill Clinton's two races, 13 percent in 2008 and just 10 percent in 2012.
With fewer voters dividing their loyalties, Senate results have increasingly followed the presidential map. After the reelection victories of both Richard Nixon (in 1972) and Ronald Reagan (in 1984), Republicans controlled only about half the Senate seats in the states that voted for each man twice. After President Obama's reelection, Democrats held over four-fifths of the Senate seats in the 26 states that backed him twice (although the party lost some of those seats in 2014).
That history is especially relevant this year because Republicans are defending seven (of the 11 total) Senate seats they still hold in the two-time Obama states. Of those, Clinton is solidly leading in Illinois, Wisconsin, Pennsylvania, and New Hampshire; the Democratic Senate nominees also lead in those states. The presidential race is much closer in Iowa, Ohio, and Florida—where the Democrats' Senate prospects are also cloudier.
---
The Senate-Presidential Connection
---
The final margin between Clinton and Trump will shape all of these contests. In 2012, exit polls showed that about 85 percent or more of both Obama and Mitt Romney voters also supported their party's Senate candidates in almost every competitive state. Recent public polling shows that at least 82 percent of Clinton and Trump supporters are also backing their party's Senate candidate in Wisconsin, Pennsylvania, New Hampshire, and Florida, as well as in North Carolina which Obama won once. (Those numbers are likely to rise by Election Day because they still include undecided voters.) If Trump slips further, these dynamics suggest he could endanger GOP senators in Arizona and Missouri.
Some talented, or well-entrenched, politicians have always defied these patterns and more undoubtedly will in 2016. Public polls show Republican Senators Rob Portman in Ohio and Chuck Grassley in Iowa drawing large crossover votes from Clinton backers and leading comfortably overall. Conversely former Democratic Senator Evan Bayh leads in Indiana despite Trump's solid advantage there. Still, it's more common now for attitudes toward the presidential nominees (or incumbent president) to tip close Senate races.
If Trump can't close the gap, Republicans will likely encourage more ticket splitting by explicitly urging voters to maintain a GOP Senate as a check on Clinton. Republicans raised that argument with some success late in Bill Clinton's 1996 victory, and party strategists hope it may resonate again with ordinarily Republican college-educated white voters who dislike both Trump and Hillary Clinton. "Those are precisely the voters…who could split their tickets this year," said the GOP pollster Whit Ayres.
But Jim Jordan, former executive director of the Democratic Senatorial Campaign Committee, says those voters are equally likely to be "pretty disgusted" by the refusal of most Republican candidates to renounce Trump—or may simply stay home if the presidential race looks decided. Most Republican candidates have tied themselves in knots to separate, but not break, from their tempestuous nominee. After all those contortions, many may still find their fate uncomfortably intertwined with his.