Can a Police-Misconduct Lawsuit Lead to Reform?
Several legal experts say the settlement awarded to Sandra Bland's family could potentially yield substantive jail changes.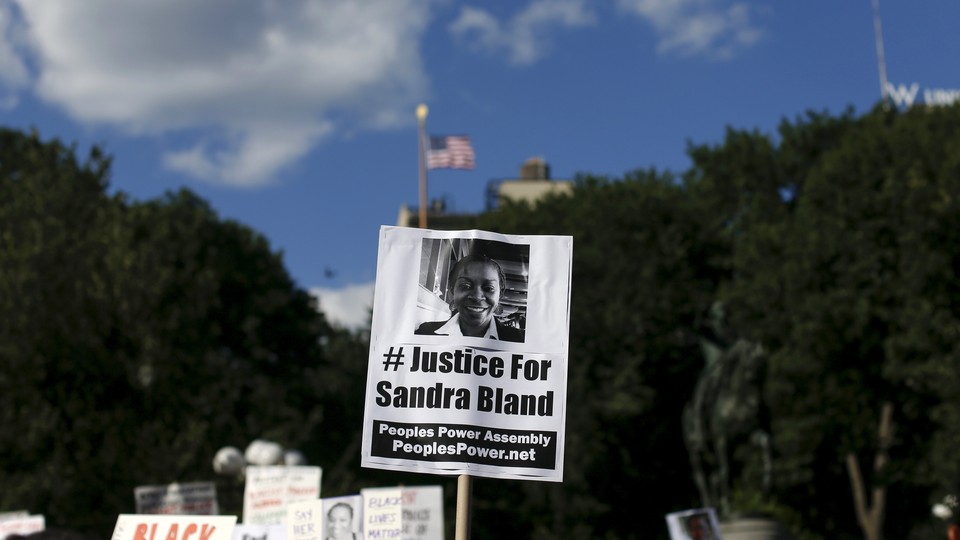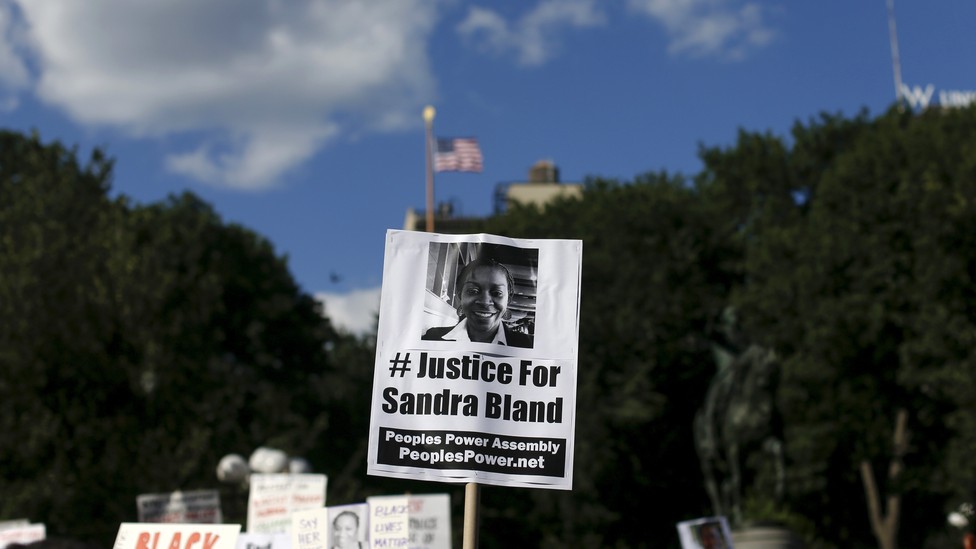 Last week, the lawyer representing the family of Sandra Bland, a black woman who died in a Waller County, Texas, jail last year, announced the settlement of a wrongful-death lawsuit with state and county officials. As with other highly visible cases, the settlement garnered mixed reaction. Some critics saw it as an attempt by the county to buy the family's silence, while others appeared to fault the family for bringing a lawsuit from which they could receive compensation for their personal tragedy.
These opposing perspectives underscore a key question citizens and authorities must grapple with in police-misconduct cases: What does justice look like for Sandra Bland's mother, or Eric Garner's children, or the family of Terence Crutcher, who was fatally shot by an officer last week? The criticism also shows a profound misunderstanding of why families file lawsuits like this in the first place.
Bland was arrested in July 2015 following an exchange with an officer who had stopped her for failing to signal before changing lanes. Police found her hanging in her jail cell three days later, and her death was ruled a suicide. The details of the settlement awarded to her family are still being finalized, but Waller County officials reportedly approved $1.8 million to give to the family. The final agreement may also require reforms to police practices within the Texas Department of Public Safety and Waller County itself—though defendants emphasize the settlement is not an admission of responsibility or guilt.
The particulars of the settlement are not beyond public concern. The Bland family's case is one of several legal battles surrounding widely publicized police-related deaths over the last two years. More families may soon follow suit after this summer saw a string of officer-involved shootings and subsequent protests. Future cases could generate similar public criticism, but according to Ranjana Natarajan, director of the Civil Rights Clinic at the University of Texas School of Law, both sides make faulty arguments.
While a monetary payout may seem distasteful, it is often the only way to compensate for something truly irreversible: the loss of a life. Ultimately, the choice for families to file a suit following a police-involved death is a deeply personal decision with a range of motivations, she said. Some families may be looking for an apology or recognition of wrongdoing. Some want to bring wider attention to their case. And for many families, going to court may be the only way to find out the details of their loved one's death.
Texas law, for example, requires jail operators to investigate deaths that occur when a person is in police custody. But "the law doesn't require the county jail to provide that investigatory report or other additional material to the family members," Natarajan said. "So family members will struggle for months sometimes to try and figure out what happened."
In the case of a jail suicide, like Bland's, a civil wrongful-death suit is often the best course of action for families to take. Although authorities may not have done anything criminal, they can still make amends for any circumstances that may have contributed a death. That includes failure to provide a mental-health assessment or proper supervision for those who express challenges, said Michele Deitch, a civil-rights attorney and lecturer at the University of Texas Lyndon B. Johnson School of Public Affairs.
In Bland's case, one example of police inaction surfaced when a now ex-guard with the Waller County jail admitted to falsifying a jail log to indicate he had checked on Bland within an hour of her death—in fact, he did not check on her at that time. And Bland was by no means an outlier: My colleague Juleyka Lantigua-Williams reported in July that nearly 7,000 other people died in legal custody in the state of Texas between 2005 and 2015, and 11 percent of those deaths were suicides. That decade, suicide was the leading cause of non-natural deaths for those in custody in Texas.
Deitch, who specializes in prison oversight protocol, said she hopes the Bland settlement will lead to more discussion about jail safety and suicide prevention in jail facilities. Deitch said she recognizes that criminal prosecution tends to better appease the public in police-misconduct cases, but successful civil settlements can lead to substantive policy changes. The Bland agreement in particular looks poised to yield such improvements, given its expected proposals for jail reforms in Waller County. As the Texas Tribune reports:
Legislation in Bland's honor is a term of the lawsuit settlement, and state Rep. Garnet Coleman, a Houston Democrat and chairman of the House County Affairs Committee, said he will introduce the Sandra Bland Act during the 2017 session. The bill will address protocols for dealing with mental-health issues in the criminal justice system, look for ways to divert people to treatment over incarceration and emphasize police de-escalation.
For Cincinnati civil-rights attorney Alphonse Gerhardstein, the Bland settlement "is an excellent example of what can be done positively out of a tragedy," but change will not happen overnight. Gerhardstein has worked police-misconduct cases for more than 30 years, and won the landmark 2015 Supreme Court case in favor of same-sex marriage. In his work, Gerhardstein often finds that settlements stipulating jail reforms require a commitment by the defendants to follow through on policy recommendations, in addition to effort by the plaintiff team to ensure the changes are implemented.
But beyond bringing attention to suicide-prevention efforts and the conditions inside jails, both undoubtedly necessary and overdue, Sandra Bland's interaction with police—as well as that of Eric Garner, Walter Scott, and many others—demonstrates how minor infractions in the United States can lead to deadly encounters with law enforcement, especially for minority citizens. As studies and data suggest, a police stop can often open a black person up to scrutiny, prosecution, and incarceration at a harsher level than a white citizen would receive. This is a reality for people of color today and will continue unchanged without giving proper attention to police training and biases.
Gerhardstein seems optimistic about future systemic changes—noting a renewed spotlight on American policing and increased efforts by the Department of Justice to open civil-rights investigations into instances of police misconduct. But ultimately, lasting change will take more than investigations and more than policy reform; there is no single solution. It requires a deliberate effort throughout the country, on multiple levels, to prevent the death of someone else like Sandra Bland.