Does Immigration Matter in Down-Ballot Races?
Latino voters in battleground states aren't familiar with Senate candidates' policies on reform. That could give Republicans an opening.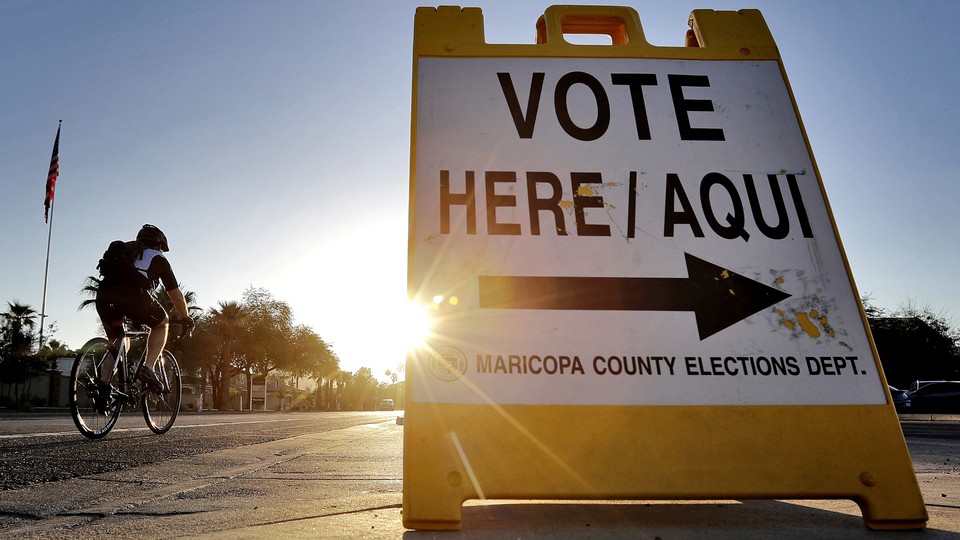 Following its 2012 election loss, the Republican Party placed a greater emphasis on Latino outreach—commissioning an "autopsy" report to serve as a blueprint for recruiting these voters in future cycles. That effort has since been compromised: With a polarizing and anti-immigrant candidate at the top of the GOP ticket, some in the party are worried they'll lose Latinos up and down the ballot. But according to a new survey from a Latino polling firm, they may not need to worry too much: Latino voters aren't translating their frustration with Donald Trump's immigration policies to the down-ballot candidates in his party.
Immigration is a top issue among Latino registered voters, a Latino Decisions poll confirmed last week. Nationally, 38 percent of respondents said "immigration/ deportations" is the top issue facing their community, and one of the most important subjects "that [they] think Congress and the president should address." But it seems Latino voters aren't entirely aware of Senate candidates' positions on immigration—a possible advantage to Republicans praying for the Latino vote as they try to retain their control of Congress.
Take the survey respondents' opinions on President Obama's 2014 executive action on immigration. That proposal aimed to shield millions of undocumented immigrants from deportation, but it was effectively blocked earlier this year in a split decision by the U.S. Supreme Court. The poll found that Latino registered voters viewed Obama's actions favorably, but the majority of respondents in battleground states didn't know which Senate candidates support or oppose his policies.
To Lynn Tramonte, the deputy director of America's Voice, these results show a failure on the part of Democrats. "The fact that the Democratic candidates have done such a poor job of explaining their positions and explaining their opponents' positions is pretty alarming, given how Democrats really need the Latino vote to get them over the top in a lot of battleground Senate races," said Tramonte, whose group advocates for immigration reform and also commissioned the poll.
Florida, which has one of the largest Latino populations in the country, provides a useful example of how unfamiliarity with candidates' immigration policies could affect a Senate race. Democratic Representative Patrick Murphy and Republican Senator Marco Rubio are vying for the same seat. Murphy supports a path to citizenship for undocumented immigrants, and supports the DREAM Act. Rubio, who worked on comprehensive immigration reform in 2013 as part of the Senate's Gang of Eight, has since backed away from that work.
Presumably, many Latino voters would support Murphy if they favored reform and considered it a top priority. According to the poll, however, 63 percent of Latino voters don't know where Murphy stands on reform and 47 percent don't know Rubio's position. This isn't inconsequential: Latino voter support for each candidate changed when pollsters spelled out their policies. Forty-seven percent of Latino registered voters said they were backing Murphy, while 43 percent said they were supporting Rubio. But in response to a separate question that described the candidates' positions, Murphy garnered 67 percent support among Latino voters, while 56 percent said they were less likely to vote for Rubio.
"The latest data tells us that Latinos of every demographic believe immigration is a top issue that the next administration and Congress need to resolve, and they are willing to make electoral decisions based on the immigration positions of candidates. This is why Sen. Marco Rubio avoids discussing his past votes and positions on immigration. If Patrick Murphy engages Latinos on the issues, he could have a shot at beating the incumbent," said Elbert Garcia, the state director of Florida's Voice, a project of America's Voice, in a statement last week.
Party affiliation, too, seems to affect which candidates Latino voters support. In each battleground state—excluding Florida—more than 40 percent of Latino registered voters believe "the Republican Party doesn't care too much about Latinos," according to the poll. By comparison, more than half of respondents in the battleground states think "the Democratic Party truly cares about the Latino community." In the survey, voters preferred unnamed Democratic congressional candidates over unnamed Republican congressional candidates across the board.
Latino registered voters are expected to make up 12 percent of the electorate this year. Though Republicans might catch a break if Latino voters don't connect immigration issues to down-ballot candidates, these voters might still have problems with the GOP's standard-bearer and, as a result, those who support him. The poll also found that Latino voters were less likely to support a candidate who backs Trump than one who doesn't. That might not be surprising given Trump's low support among Latino voters, which hovers around 20 percent. That's less than Mitt Romney's level of support among these voters in 2012, and less than the 70 percent support Clinton claimed in the new Latino Decisions poll.
For those working to maintain Republicans' congressional majority, the stakes are high. The New York Times has reported that "Republicans have more seats up for re-election this year—and more where the outcome is uncertain—than Democrats do." But Democrats might be vulnerable to losing votes from the Latino community, too—if their candidates' positions on immigration continue to go unnoticed.