Colin Powell, the Last Reasonable Man
Hacked emails show the former secretary of state is frustrated with Hillary Clinton, thinks Benghazi was a non-story, is still angry about Iraq, and hates Donald Trump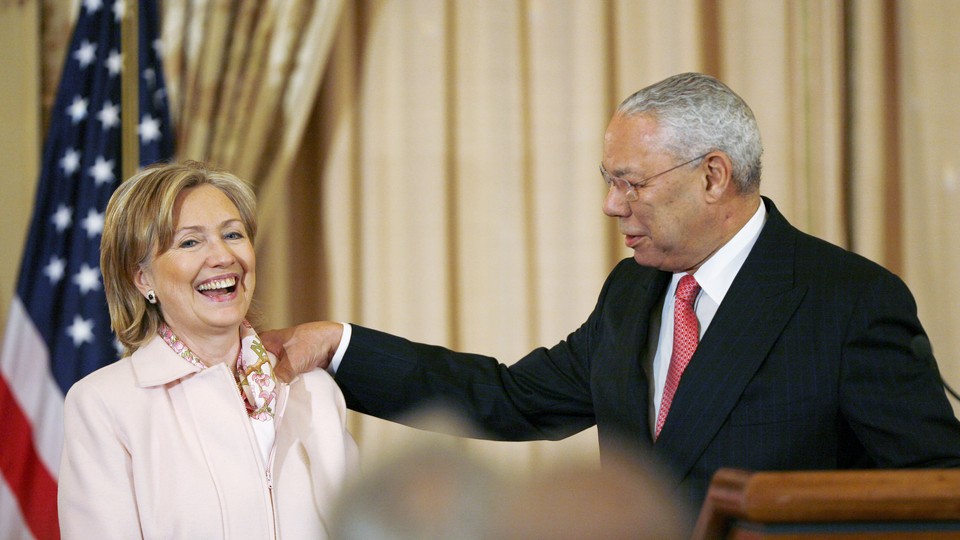 Sometimes bad advice can be given with good intentions.
Writing to Hillary Clinton just after she took office as secretary of state, Colin Powell explained to Clinton in an email why and how he had used a personal email address during his time as secretary. Powell said that the intelligence community had been staunchly against him having a personal digital assistant, and so he'd just stopped asking and done it. He wrote that he was never satisfied about the security risk. However, he warned, the "real danger" is that "if it is public that you have a BlackBerry and it is government and you are using it, government or not, to do business, it may become an official record and become subject to law …. I got around it all by not saying much and not using systems that captured the data."
Powell's advice was prescient in that he foresaw how the emails could create a public-records snafu. But now he is getting a lesson in the dangers of assuming personal email is secure.
An organization called D.C. Leaks, which has been alleged to have ties to Russian intelligence, has hacked some of Powell's emails and released them publicly. Powell confirmed to NBC that the messages were authentic, saying, "The hackers have a lot more."
If the provenance of the emails is dubious, and reading them seems a bit prurient, some of them sketch an interesting portrait of Powell in late career. Despite an extraordinary record, and frequent references to hobnobbing with other foreign-policy luminaries, the Powell that emerges in the emails is a sort of everyman—the last rational American, maybe. He hates Donald Trump, finds Hillary Clinton bumbling and foolish, sees the Benghazi scandal as generally a farce, and remains angry about the Iraq War.
In the case of Iraq, it was Powell's dramatic (and later debunked) testimony before the United Nations that helped clinch the case for war, at least with the American populace, thanks to Powell's reputation. That moment has generally been treated as a stain on his record ever since. In July, Powell sent Condoleezza Rice, who was national security adviser at the time and later succeeded Powell at State, a link to a news item in which former Defense Secretary Donald Rumsfeld said he was skeptical of waging war to bring democracy to Iraq. BuzzFeed reports Rice's reaction:
First, we didn't invade Iraq to bring democracy—but once we overthrew Saddam, we had a view of what should follow. If Don and the Pentagon had done their job (after claiming the rights to lead post-war rebuilding—things might have turned out differently)… Don should just stop talking. He puts his foot in his mouth every time.
Powell replied, agreeing: "Doug [Feith] and Paul [Wolfowitz] claims [sic] they had a plan (turn Iraq and our Army over to [Ahmed] Chalibi) and leave …  43 knew what had to be done, specifically rejected the Chalibi crowd and as you say the boys in the band were brain dead."
Powell was similarly skeptical of efforts to turn the September 11, 2012, attacks in Benghazi, Libya, which killed Ambassador Chris Stevens and three other Americans, into a political bludgeon.
"Benghazi is a stupid witch hunt. Basic fault falls on a courageous ambassador who thoughts Libyans now love me and I am ok in this very vulnerable place," he wrote to Rice in December 2015, though he added, "But blame also rests on his leaders and supports back here. [Under Secretary of State] Pat Kennedy, Intel community, DS and yes HRC." Rice agreed.
Despite dismissing that flap, Powell shows himself to have little patience for Hillary Clinton in the email flap, and particularly for her public-relations approach and her small cadre of closely held, extremely loyal aides, willing to go to great lengths to defend her.
In August 2015, as The Intercept reported, Powell complained, "Everything HRC touches she kind of screws up with hubris." At the time, he seemed most annoyed about the effects of the scandal on communications internally, adding, "They are going to dick up the legitimate and necessary use of email with friggin record rules."
Over time, however, he seems to have become increasingly annoyed at what he viewed as the Clinton team's attempts to draw him into the story. A month later, in September 2015, Powell wrote to his former aide Lawrence Wilkerson. "HRC and her mishandling of this has really given her a major problem I do not wish to get involved in, despite the best efforts of her team to drag me in," Politico reports.
In February, apparently alluding to his BlackBerry advice, Powell wrote to former Reagan aide Ken Duberstein, "I didn't tell Hillary to have a private server at home, connected to the Clinton Foundation, two contractors, took away 60,000 emails, had her own domain." He added, "Stupid State Department dragged me in and I had to take care of myself. I warned them. Don't say these unclassified messages are classified or should have been classified."
In mid-August, journalist Joe Conason, who is close to the Clintons, reported that Powell had advised Clinton to use private email. On August 23, according to screenshots posted by The Intercept, Powell wrote that Clinton "should have done a 'Full Monty' at the beginning." He also said:
I warned her staff three times over the past two years not to try to connect it to me. I am not sure HRC even knew or understood what was going on in the basement.
A few days later, he wrote that he had "spent last week with [Clinton aide] Cheryl Mills and the HRC team burying the email flap."
Powell's greatest anger, however, was reserved for Donald Trump. Powell said in various emails first reported by BuzzFeed that Trump "has no sense of shame," and is "a national disgrace" and "international pariah."
Writing to a former aide, Powell condemned the movement that questioned whether Barack Obama was born in the United States.
Yup, the whole birther movement was racist. That's what the 99% believe. When Trump couldn't keep that up he said he also wanted to see if the certificate noted that he was a Muslim. As I have said before, "What if he was?" Muslims are born as Americans everyday.
Repeatedly in the emails, Powell reveals himself as an amateur press critic. In December 2015, for example, he explained to the journalist Fareed Zakaria why he wasn't speaking out.
"You guys are playing his game, you are his oxygen," Powell wrote. "He outraged us again today with his comments on Paris no-go for police districts. I will watch and pick the timing, not respond to the latest outrage." In another email, Powell wrote, "To go on and call him an idiot just emboldens him."
When the news emerged that Roger Ailes, the former Fox News boss ousted for serial sexual harassment, was advising Trump, Powell wrote, "Ailes as an advisor wont heal women, don't you think?"
One of the more intriguing comments came in the same June email where he called Trump a "national disgrace." He wrote that the Republican nominee was "in the process of destroying himself, no need for Dems to attack him."
Certainly that seemed true at the time. But these days, Trump is running much stronger. Though most polls still suggest Clinton has a lead, her advantage has narrowed both nationally and in several swing states.
Although he has always been a Republican, Powell crossed over to endorse Democrat Barack Obama in both 2008 and 2012. This year, however, he has not backed a candidate. Nor has Rice. McKay Coppins reports that many Republicans are privately in a state of "panic" about the prospect that Trump might actually win. Behind closed doors on Capitol Hill on Tuesday, congressional Republicans reportedly hammered Trump's running mate, former Representative Mike Pence, over the campaign's stances and rhetorics.
If Powell comes out of the emails as a sort of everyman, his dilemma over the coming few weeks also mirrors the choice faced by many of those Republicans, from Condoleezza Rice and George W. Bush to members of Congress. Do they back a Democrat who they see as flawed and error-prone, and in many cases with whom they have bad blood? Or do they keep quiet and pray that she's able to beat a "national disgrace" without their help?