'Are Syrians the Only Muslims Indiana Fears?'
A three-judge panel proves skeptical of Indiana's efforts to turn away Syrian refugees.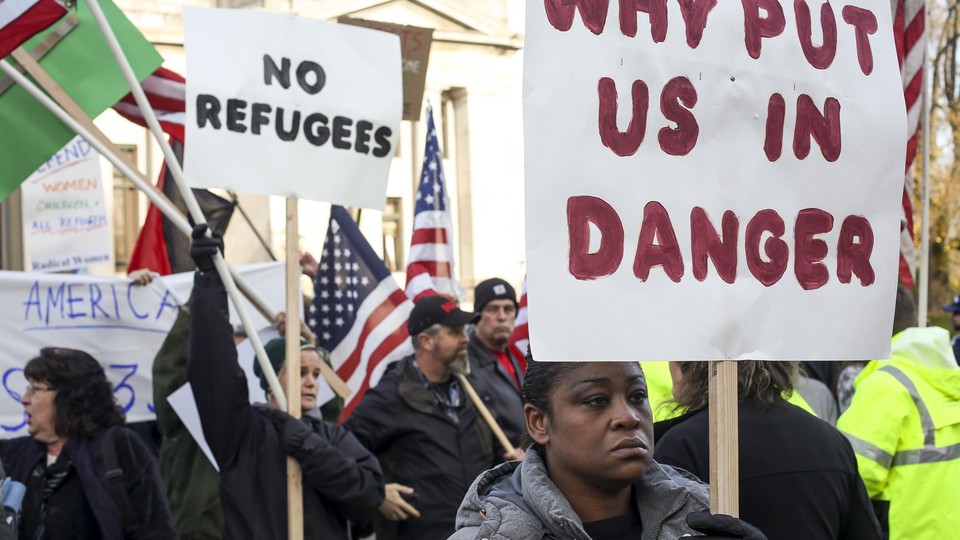 In a heated session in Chicago on Wednesday, two of the nation's most prominent federal judges eviscerated the legal rationale for Indiana Governor Mike Pence's efforts to block the federal government from resettling Syrian refugees there.
Judges Richard Posner and Frank Easterbrook in the Seventh Circuit Court of Appeals clashed with Indiana Solicitor General Thomas Fisher during oral arguments in Exodus Refugee International v. Pence, one of the legal battles surrounding the Obama administration's Syrian refugee program.
"Honestly, you are so out of it," Posner told Fisher at one point after a lengthy back-and-forth about whether refugees from Syria had been unfairly singled out. "You don't think there are dangers from other countries?"
At stake was an executive order issued by Pence, now the Republican nominee for vice president, last November after the Paris terrorist attacks. The governor's directive barred state agencies from disbursing federal grant money to refugee resettlement organizations that assist Syrian refugees. Exodus, one of the organizations affected, sued Pence and the state shortly thereafter, alleging equal-protection and civil-rights violations. A federal district court sided with Exodus in February.
After appealing the case to the Seventh Circuit, the two sides drew perhaps the highest-profile three-judge panel possible. Sitting across from them in court were Posner, an idiosyncratic jurist and the nation's most frequently cited legal scholar; Easterbrook, an erudite textualist who Justice Antonin Scalia once said should replace him on the Supreme Court; and Diane Sykes, whom Donald Trump has more than once cited as his potential choice to fill Scalia's seat.
Fisher's efforts may have been doomed from the start. Other Republican-led states have also waged futile legal battles over the past year over Syrian refugee resettlement. A federal judge in Texas dismissed the state's lawsuit against the Obama administration in June; one week later, his counterpart in Alabama did the same with a similar complaint there.
But he defended the governor's order nonetheless. Among the lower court's more significant rulings was that the order violated Title VI of the Civil Rights Act of 1964, which forbids discrimination "on the basis of race, color, or national origin" in federally funded programs. Fisher tried to argue before the panel that the order was guided by security concerns, not by geography.
Easterbrook sounded unimpressed. "When a state makes an argument that's saying, 'we're differentiating based on whether someone is from Syria, but that has nothing to do with national origin,' all it produces is a broad smile," he told Fisher.
Also central to Indiana's argument were statements by FBI Director James Comey before Congress last October that Syrian refugees would be harder to vet because the U.S. had a smaller presence in Syria than in other countries. This comment, as well as similar ones by other U.S. officials, justified Pence's order blocking the refugees, Fisher argued.
Easterbrook again seemed skeptical about the logic. "Wait, the governor of Indiana knows more about the status of Syrian refugees than the U.S. State Department does?" he asked. "And that's the ground for the decision?"
"No, what he's saying is that based on the testimony before Congress, we don't know enough about these refugees and we need to find out more," Fisher countered as Easterbrook audibly sighed.
For Posner, the unspoken context in which the order was issued also stood out. "Are Syrians the only Muslims Indiana fears?" he asked at one point.
Fisher paused briefly. "Well, this has nothing to do with religion," he began to protest, but Posner continued. "Oh, of course it does," he told the solicitor general.
"Oh, I object to that, Your Honor," Fisher said, with a hint of indignation.
"Look, if you look at the terrorist attacks in the United States—9/11, Boston, San Bernardino—they're all by Muslims. ISIS is Muslim. Al-Qaida was Muslim, alright? You understand that, don't you?" Posner continued.
"I do," Fisher replied, raising his voice slightly.
"Do you understand that?" Posner asked again, his voice also slightly raised, before continuing, "Now my question is…"
"I do understand that. I just said I did," Fisher interjected. "The governor's directive…"
"Don't interrupt me, please," Posner said. "Attempting to argue over a judge is not a productive method of argument," Easterbrook added.
Posner then continued to hammer Fisher on Pence's decision to single out Syrian refugees when possible attackers could also come from within the U.S. or from non-Muslim countries like France and Germany. The solicitor general, unwilling to concede the point, repeatedly referred back to Comey's statement until Posner abandoned the line of questions in exasperation.
Easterbrook then jumped in again. "It is the position of the governor of Indiana that the FBI director is higher in the hierarchy that the president of the United States, who thinks we do have enough information?"
Sykes, whose questions largely focused on the national-origin question and some of its more intricate aspects, avoided terse exchanges with both Fisher and Kenneth Falk, the lawyer representing Exodus. Falk's portion of the argument also went without incident.
Oral arguments can be a flawed indicator for how judges might rule on a case. But the back-and-forth between the solicitor general and the panel offered little hope for Indiana. At one point, Easterbrook challenged Fisher on whether Indiana could only partially comply with the Refugee Act of 1980, or whether the state had to be all-in or all-out, like Medicaid.
Fisher pointed to regulatory language that, in his view, suggested federal agencies had envisioned partial participation in refugee resettlement. But Easterbrook focused again on the text of the law itself, not the regulations surrounding it.
"Is there some language in the statute—any language in the statute—that you're relying on?" he asked. Fisher hesitated before answering.
"No," he replied.