How Ohio's Marquee Senate Race Turned Into a Dud
The battle between Rob Portman and Ted Strickland was supposed to be a barn-burner.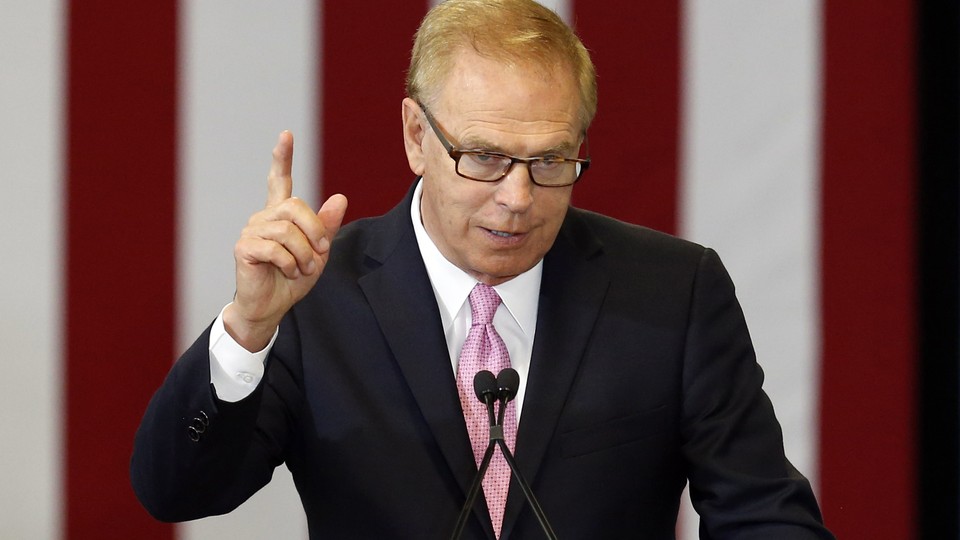 A year ago, the Ohio race between Rob Portman and Ted Strickland was shaping up to be the marquee Senate campaign in the country, a contest between two popular politicians in a perennial swing state. In Portman, Republicans had a rising star who had become an immediate power player during his first term in the Senate and was one of Mitt Romney's running mate runners-up in 2012. To challenge him, Democrats had landed their prized recruit: former Governor Ted Strickland, perhaps the Buckeye State's best-known Democrat after John Glenn.
Ohio was already going to be a crucial presidential battleground in 2016. With the Portman-Strickland battle, it could have the added significance of determining control of the Senate.
Yet two months before Election Day, the vaunted match-up is looking more like a dud. Portman is ahead comfortably in the polls after outside groups spent millions blanketing the state in ads hammering Strickland. Some Republicans are already banking an early victory, and national Democrats are redirecting money to other Senate races in the first signs they might abandon the under-funded Strickland altogether.
"It's over," proclaimed Mark Weaver, a veteran Republican strategist in Ohio. Portman's lead in the RealClearPolitics average is now 7.5 percentage points after a string of strong surveys in August. Weaver, who worked for Portman's first race in 2010 but is not involved with the current campaign, argued that margin was enough to protect him against the drag of a Hillary Clinton victory over Donald Trump at the top of the ticket. "If Hillary wins Ohio big, it will narrow the margin of Rob's victory, but it will not overturn the race," he told me.
Democrats aren't publicly conceding the race, of course. But their spending moves over the last two weeks indicate they are losing hope that Strickland can recover. Both the Senate Democrats' official campaign arm and the Senate Majority super PAC have scrapped millions of dollars in ads reserved for the next several weeks supporting Strickland's bid. That money will likely be sent to other priority races in New Hampshire, Pennsylvania, Florida, or North Carolina. But the decision to pull back has angered Ohio Democrats who believe the party is cutting Strickland loose too soon and hurting his chances for a comeback.
"I think it's a big mistake," Representative Tim Ryan, a Strickland ally in the Ohio delegation, told me in a phone interview on Wednesday. "They'll be kicking themselves if $5 million or $10 million would have made the difference."
In theory, the Portman-Strickland contest could have been a strong one for Democrats. Portman is the consummate Beltway insider, having served six terms in the House and then as President George W. Bush's trade representative and budget chief before arriving in the Senate.* He's been a champion of free trade despite its unpopularity in the Rust Belt, and while Strickland has been out of office for six years, he actually began the race with a considerably higher name recognition than Portman, the incumbent senator. Strickland, meanwhile, has long stressed his humbler roots as the son of a steelworker and the first in his family to go to college.
Ultimately, the former governor has been felled not by scandal but by money. Portman has raised and spent more than twice as much as Strickland, and an armada of Republican-aligned outside groups have been airing ads since January reminding Ohio voters why they ousted Strickland as governor in 2010. Strickland, meanwhile, has only recently begun to air television spots.
Strickland won election in a Democratic wave in 2006 and was swept out in the GOP wave four years later. In the years between, Ohio's economy tanked along with the nation's, and Republicans have harped on Strickland's decision to tap—and drain—the state's rainy-day fund to maintain services when tax revenue fell off. According to a tally by Democrats, Portman and GOP-backing outside groups, including the U.S. Chamber of Commerce, the Koch brothers, and the NRA, have spent over $45 million against Strickland—a total that exceeds Republican spending against any Democratic candidate in the nation, including Hillary Clinton.
"They all, smartly, for the first time, zeroed in on one or two key messages," said one Democratic strategist who is watching the Ohio campaign closely and offered a more candid assessment of the campaign on the condition of anonymity. "I don't know any candidate on the Democratic side who could have taken this as long as [Strickland] did."
Yet for all the complaints that Strickland was swamped by conservative cash, Democrats shouldn't have been surprised. This was always going to be an expensive race, and it's not as if the party has had trouble raising money of its own this year. Strickland, however, struggled to build a war chest in 2015, and while he dispatched a much younger Democratic rival, P. G. Sittenfeld of the Cincinnati city council, officials in both parties say the primary challenge hobbled him financially and politically.
"I think that blocked out a lot of national money," Ryan said.
Democrats also grudgingly credit Portman with running a strong campaign. Their efforts to use his rather unenthusiastic support for Trump as an anchor around his neck haven't succeeded like similar bids in Pennsylvania and New Hampshire, where polls show that Trump is dragging down first-term Republican Senators Pat Toomey and Kelly Ayotte.
Portman has thus far threaded the needle between running on a boilerplate GOP platform and the more populist Trump appeal. He's come out against the Trans Pacific Partnership and run ads touting his work in the Senate to fight the opioid epidemic and combat human trafficking—two issues that don't break along party lines. And while Strickland has strong union support overall, Portman scored the surprised endorsements from the Ohio chapters of the Teamsters and the United Mine Workers of America, both of which cited his support for a pension-protection bill they want the Senate to pass.
"Rob Portman has run a much better campaign than Ted Strickland when it comes right down to it," said David Cohen, a professor of political science at the University of Akron. "He's a pretty low-key guy, and people may mistake that for a lack of energy. But it really isn't."
Ohio political veterans said Portman has simply been more visible across the state than Strickland. Both Cohen and Jerry Austin, a longtime Democratic consultant who worked for Sittenfeld, wondered if, in hindsight, the party made the right move by luring an aging star out of retirement. "I'm not sure if 2016 was the right year to bring out an old familiar name," Cohen said. Austin put it a little more directly: "Strickland is 75. He's not as active as he used to be."
Strickland's campaign, naturally, rejects that suggestion. "There's still a lot of race left to run, and there's no one who knows Ohio better or is a stronger grassroots campaigner than Ted Strickland," spokesman David Bergstein said.
He noted that Strickland only recently began running ads on television and said he would be helped by the strong field organizing and turnout operation driven by the state party and Clinton's campaign, which already had more than 100 offices in Ohio.
"Ted's going to do what he does best," Bergstein said. "Campaign vigorously across Ohio, talking about the central contrast in this race—he's fighting for working people because that where he comes from and that's who he cares about, while Senator Portman is looking out for his rich and powerful friends."
Democrats are hoping that Strickland's new round of advertising will tighten the race by a couple of points in the next few weeks and force the national party to return with reinforcements. Even a skeptic like Austin said the obituaries for Strickland's campaign were premature; he surmised that the Democratic groups' decision to redirect money was a "rope-a-dope" strategy aimed at getting Republicans to pull down their own attack ads. "Strickland's behind, but I wouldn't throw in the towel just yet," he said. Strickland's remaining hopes are now undeniably tied to Clinton's, and she'll have to stretch her current advantage of about three points for him to have any shot at defeating Portman.
The silver lining for Democrats is that a Strickland defeat might not cost them the Senate, just as a Clinton loss in the Buckeye State might not cost her the presidency. Trump's unpopularity has expanded the party's opportunities in both campaigns, and Democrats are, in one respect, fortunate that they now seem to have the luxury of abandoning one of their top recruits in favor of stronger contenders elsewhere. It's a scenario that was hard to imagine just a few months ago, but in a campaign full of the unexpected, the fizzling Ohio Senate race is just one more surprise.
---
* This article originally misstated that Rob Portman served as chairman of the House Budget Committee. We regret the error.