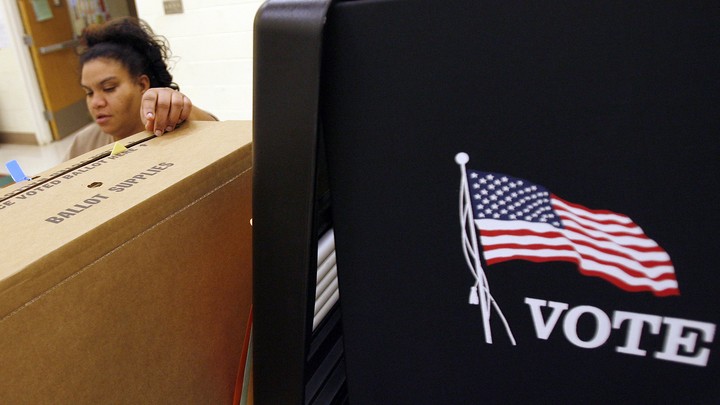 Ohio can't summarily kick tens of thousands of voters off its rolls simply for not having voted recently and not returning a postcard, the Sixth Circuit Court of Appeals said on Friday.
The decision comes just 46 days before the election day, and as tens of thousands of Buckeye State voters have already requested early ballots. But the decision could still be appealed, as one judge noted in his partial dissent.
Ohio has seen a couple high-profile fights over voting laws this year, disputes that have particular importance because the state is a crucial swing state in every presidential election. In this case, Secretary of State Jon Husted, a Republican, decided to remove voters from the state's rolls if they had not voted for six years. The state sent a mailing to these voters asking them to reply if they were still living in their locations and voting, but the mailers neither stated that a reply was mandatory nor made it clear that failing to reply could result in removal from rolls. "If this is [a] really important thing to you in your life, voting, you probably would have done so within a six-year period," Husted said.
Moves such as these tend to disproportionately affect voters in urban areas, who are more likely to move frequently. That in turns means a disproportionate impact on poorer and blacker voters—who happen to be more likely to vote Democratic. Homeless advocates said the purges unfairly targeted those without a stable address.
Voting advocates sued Husted, saying the purge violated the National Voting Rights Act and asking for either an injunction to block the removal or else a requirement to count provisional ballots from people who were removed. They lost in federal district court, but the appeals court decision today concluded that the lower court was mistaken. By a 2-1 ruling, the three-judge panel said that the plaintiff's claims were not made irrelevant when Husted mailed out a second notice with more information, and it ruled that Ohio had to inform people moving out of state about how to register in their new residence.
Judge Eric Clay, a Bill Clinton appointee, and Judge Julia Gibbons, a George W. Bush appointee, ruled in favor of the plaintiffs. Judge Eugene Siler, a George H.W. Bush appointee, dissented in part and concurred in part.
Assuming the ruling is not overturned by a higher court, it's hard to know what effect it might have on the election. As a Cincinnati Enquirer investigation found, no one really knows how many voters have actually been purged.
In a separate case, Husted was sued for eliminating "Golden Week," a stretch in which Ohioans could both register to vote and cast an early ballot. A district court ruled against Husted in that case, but in August a different Sixth Circuit panel ruled that Husted was within his rights to eliminate it.
We want to hear what you think about this article. Submit a letter to the editor or write to letters@theatlantic.com.