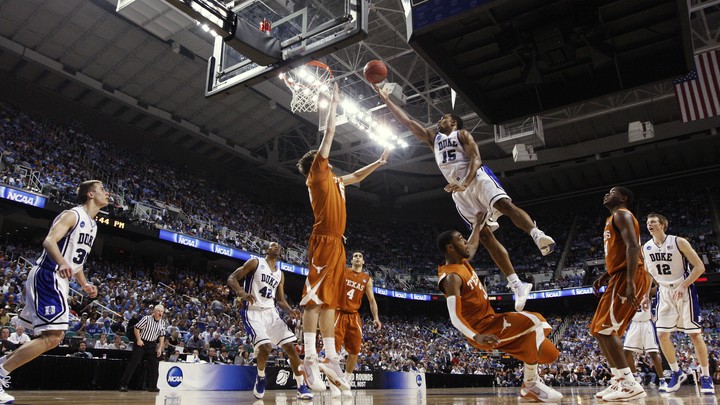 DURHAM, N.C.—When March Madness rolls around, North Carolina is madder than most states. But Duke and UNC fans will have to look out of state for their fix in the annual college basketball tournament this year.
The NCAA announced Monday night that it is pulling all of its championship events from the Old North State in response to HB2, the controversial "bathroom bill" passed last March. The move covers not just the first and second rounds of the basketball tournament, scheduled for Greensboro, but several other events. The new locations are not yet determined.
"Fairness is about more than the opportunity to participate in college sports, or even compete for championships," NCAA President Mark Emmert said in a statement. "We believe in providing a safe and respectful environment at our events and are committed to providing the best experience possible for college athletes, fans and everyone taking part in our championships."
HB2 was passed hurriedly during a special one-day session in March. Most of the attention has focused on the bill's transgender-restroom conditions: It requires that transgender people use the bathroom corresponding to the sex on their birth certificates, rather than their gender identity, in public facilities, including schools. The bill's backers say this is essential to avoid sexual abuse in bathrooms and locker rooms, while its opponents note that sexual abuse by transgender people is practically unheard of, while attacks against transgender people are common. The law also preempted local laws that bar discrimination against LGBT people, as well as barring local minimum-wage laws.
In its statement, the NCAA pointed to the non-discrimination clause as a reason why North Carolina's law is different from laws in other states. It also cited legal protections for state workers who refuse to serve LGBT people and the fact some states have banned non-essential travel to North Carolina in response to the law. Some North Carolina schools have already seen games canceled over those bans.
The NCAA is not the first organization to react against HB2. In sports parlance, in fact, the boycott is a bit of a buzzer beater. In the immediate aftermath of HB2's passage, several big-name musicians, including Bruce Springsteen, canceled concerts, while some major corporations canceled or froze expansion in the state. Convention bureaus report a drop in business as well, and the NBA in July decided to relocate its 2017 All-Star Game from Charlotte to New Orleans. Estimates of the total cost of the law to North Carolina's economy are as high as $5 billion per year.
The NCAA's announcement comes at an inopportune time for Governor Pat McCrory, a Republican who is up for reelection. Republicans in the General Assembly convened the special session to pass the law in March over McCrory's objections, but he quickly signed the bill and has become its most prominent defender. It has become a millstone around his neck. Recent polling shows that HB2 is unpopular and that voters believe it has been bad for the state.
McCrory, in turn, has trailed Democrat Roy Cooper, the current state attorney general, in every recent poll. Even as he defends the law, McCrory has said Cooper—an outspoken opponent of the law—is somehow to blame for the law, and has also lashed out at the business community, saying the state chamber of commerce helped write the legislation, which the chamber denies. The governor won election in 2012 as a pro-business moderate but has taken up a range of social-conservative stands, partly due to pressure from Republicans in the General Assembly.
McCrory did not immediately comment on the NCAA move, but the North Carolina Republican Party did release a blistering statement. Spokewoman Kami Mueller pointed out that the NCAA has its own problems to deal with—"I wish the NCAA was this concerned about the women who were raped at Baylor"—but also calling the decision "an assault to female athletes across the nation." She wrote:
This is so absurd it's almost comical. I genuinely look forward to the NCAA merging all men's and women's teams together as singular, unified, unisex teams. Under the NCAA's logic, colleges should make cheerleaders and football players share bathrooms, showers and hotel rooms.
Attempts to forge a compromise on HB2 have thus far failed, with conservatives in the General Assembly unwilling to budge and Democrats saying nothing short of full repeal is acceptable. A provision in the bill that stripped the right to sue for violations of state non-discrimination law, apparently removed in error, was later restored.
A range of plaintiffs, including the U.S. Department of Justice and the state ACLU, have sued North Carolina over the law, alleging violations of Title IX and the Constitution's rights to equal protection and due process. A federal judge last month ruled that the University of North Carolina could not enforce HB2 on its campuses pending resolution of the lawsuit, noting that the plaintiffs had shown they were likely to succeed in proving the law violated Title IX.
---
Related Videos
We want to hear what you think about this article. Submit a letter to the editor or write to letters@theatlantic.com.