Native Soil
Thousands of indigenous Hawaiians have a claim to publicly trusted lands. But to keep any property, they first have to pass a blood test.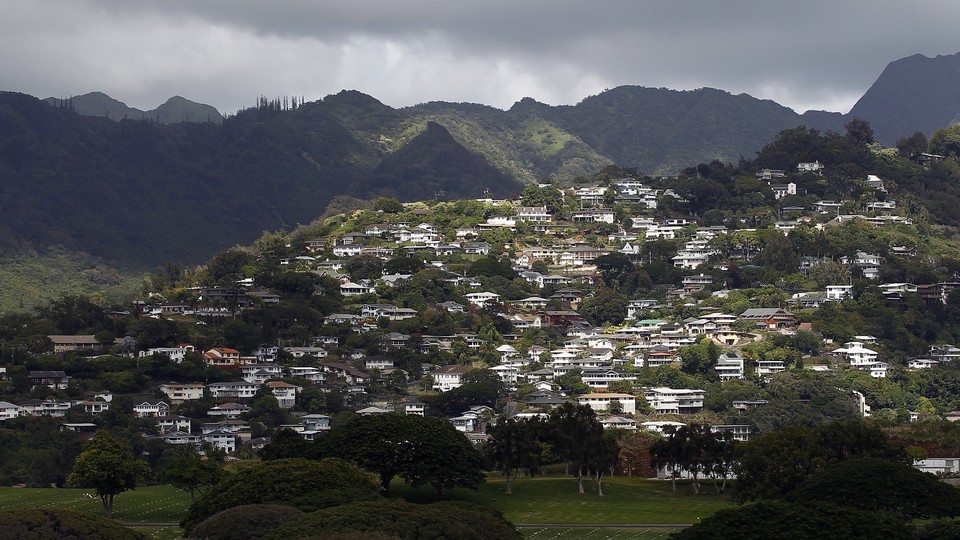 Natasha Boteilho lives in Oahu's arid Waianae Valley on a jot of land held in trust for native Hawaiians. Here on Hawaii's most densely populated island—where the highest per-capita homeless population in the United States continues to swell and the average price of a single-family home is three-quarters of a million dollars—that's no small thing. The turquoise waters that lap against golden beaches lie next to jammed highways. Even the wildlife is exploding: A cacophonous feral-chicken epidemic provides the background noise to islanders' daily lives.
Boteilho's property was originally awarded to her grandfather by virtue of a federal law enacted in 1920 to stabilize a Hawaiian race left withering and landless after a century of colonization. Boteilho's mother took over the land lease next, and then, in 2011, the homestead was passed on to her. A stay-at-home mother of three girls, the 39-year-old Boteilho resides with her husband and children in the three-bedroom house her grandfather built at the base of an eroded shield volcano.
But this is where Boteilho's familial succession will end. None of Boteilho's daughters—ages 2, 5, and 10—are eligible to inherit the land their great-grandfather settled in 1951. Simply put: They don't have enough Hawaiian blood. "If I passed away tomorrow, my children would not be able to get my house," Boteilho said. "That scares me."
When Congress passed the Hawaiian Homes Commission Act of 1920, the native Hawaiian race was quickly vanishing. The legislation was a reaction to the large numbers of Hawaiians who had been forced off their lands when white businessmen moved to the islands during the early 1800s. The foreigners built sprawling pineapple and sugarcane plantations and imported a new working class to tend to them. The Hawaiians, meanwhile, receded to crowded urban zones where extrinsic diseases, for which they had no immunity, hacked away at their numbers. In 1778, when white men first set foot on the Hawaiian Islands, there were an estimated 683,000 full-blooded Hawaiians living there, according to the Pew Research Center. By 1919, that population was just 22,600. The Hawaiian Homes Commission Act attempted to combat the decline by creating a 200,000-acre land trust to serve as neighborhoods, farms, and ranches for those who could prove at least 50 percent Hawaiian ancestry.
"The Hawaiian race is passing," testified Prince Jonah Kuhio Kalaniana'ole before the U.S. House of Representatives in 1920. "And if conditions continue to exist as they do today, this splendid race of people, my people, will pass from the face of the Earth." A born royal and a delegate to Congress, Kuhio was the visionary sponsor of the law that established Hawaiian homesteading. Despite his fight for a lower blood quantum, the law specifies that Hawaiians are eligible to apply for 99-year land leases at $1 per year on the condition that they prove they are at least half-blooded Hawaiians. The law further stipulates that a homestead lease can be passed on to a leaseholder's child or grandchild—so long as that heir can prove at least 25 percent Hawaiian ancestry.
But that was nearly 100 years ago. Today, incentivizing a race of people to preserve bloodlines by offering them free property seems, well, anachronistic. It is also likely in part why, on Friday, the U.S. Department of the Interior announced a pathway for the Native Hawaiian community to create its own unified government, one that could initiate a discrete relationship with the U.S. federal government. "The United States has a long-standing policy of supporting self-governance for native peoples," said Interior Secretary Sally Jewell. "Yet, the benefits of the government-to-government relationship have long been denied to native Hawaiians, one of our nation's largest indigenous communities." The native Hawaiian population is in fact on the upswing, nearing 300,000. But that figure includes mixed-race residents, which makes it all the more unclear as to how—or when—any sovereign Hawaiian leadership that does arise would affect the land-trusts issue.
In the meantime, as the homestead communities age, the land leases are passing into the hands of the third and fourth generations, and some families are finding that a slow dilution of the Hawaiian blood pool means they must face the impending forfeiture of the land they have called home for decades. Fewer and fewer homesteading descendants have the minimum 25 percent Hawaiian-blood requirement to keep the land within their family lineages. Those folks have just two options: They can sell any improvements made to the property, such as a house, to the state agency that manages the trust lands, or they can sell them to any half-blooded Hawaiian. In either case, thousands of would-be homesteaders in the post-millennial generation will have to move.
"My grandson will have to go look for where to live," said Robin Danner, a homestead leaseholder and the chairwoman of the Sovereign Councils of the Hawaiian Homelands Assembly. "That is not what Kuhio intended." The assembly, whose membership includes more than 30 homestead neighborhood associations, is campaigning for a policy change that would reduce the blood-quantum requirement for succession to one-32nd, the same percentage that Kuhio originally championed. Easing the qualifications, proponents say, would ensure that future generations of Hawaiians aren't cut off from one of their people's most valuable benefits: land. Not to mention, an all-but-free place to live in one of the nation's most expensive housing markets.
"When you take the land back, you haven't just done a disservice to that one person who now has to move and find another place to live; you've done a disservice to the entire lineage," Danner said. "You have wiped out an entire line. For thousands of indigenous people, this is their place on the planet and now they're getting unhooked."
Manulele Clarke, who couldn't afford to build a house when she received a three-acre homestead 30 years ago, raised her daughter on the land in a worn-out camper trailer. Today, the property has two structures: a proper home for Clarke and one for Clarke's daughter and granddaughter. Clarke is proud of her progress, but she worries that her granddaughter, whose ancestral heritage is too low to qualify for inheritance, won't benefit from it. "She's 7 now, and before you know it, she will be 17," Clarke says. "If anything should happen to my daughter and me, she would not be able to live in the house where she was raised." Instead, Clarke fears her granddaughter could be left to sleep on beaches. It's a predicament all too common in Hawaii, where a scarcity of well-paying jobs and developable lands has bred an affordable-living crisis. "My granddaughter is the future," Clarke said, "and if something doesn't change, the future will be homeless."
Of course, not all Hawaiians are in favor of reducing the metrics for successive homesteading—even among indigenous Hawaiians. There are 10,000 homestead leaseholders across the state, but there are 29,000 frustrated Hawaiians on a waiting list. Worse: There are thousands of acres of trust lands sitting vacant. The state won't issue leases in these areas because there are no roads, no water infrastructure, and no electricity hookups—for which the government says, there is no money. What's more, in addition to waiting indefinitely for idle land, all of the waitlisted have an at least 50 percent blood quantum. They, unsurprisingly, argue that they should retain priority over the descendants of leaseholders whose bloodlines have thinned to the point of disqualification. In February, Hawaiian lawmakers did consider a bill to reduce the blood requirement for homesteaders. But the bill failed. (Such a policy change would have also required congressional approval—and no one has any real idea of what mainland politicians would make of the whole situation.)
Still, Danner is encouraged that the issue is being debated at all—especially by legislators. She is optimistic that reform will come before her 8-year-old grandson, and the grandchildren of so many other leaseholders, are forced to find new homes. "When the federal government gave out homesteads to populate places like Nebraska, can you imagine if they said that, when you die, you have to give it back?" Danner said. "That's just untenable. It was untenable for the immigrants who built the Midwest, and its untenable for us nonimmigrants who maintained and cared for Hawaii for a millennia."