Mike Pence's Rough Day at the Capitol
The Indiana governor tried to rally conservatives behind Donald Trump. He encountered plenty of resistance.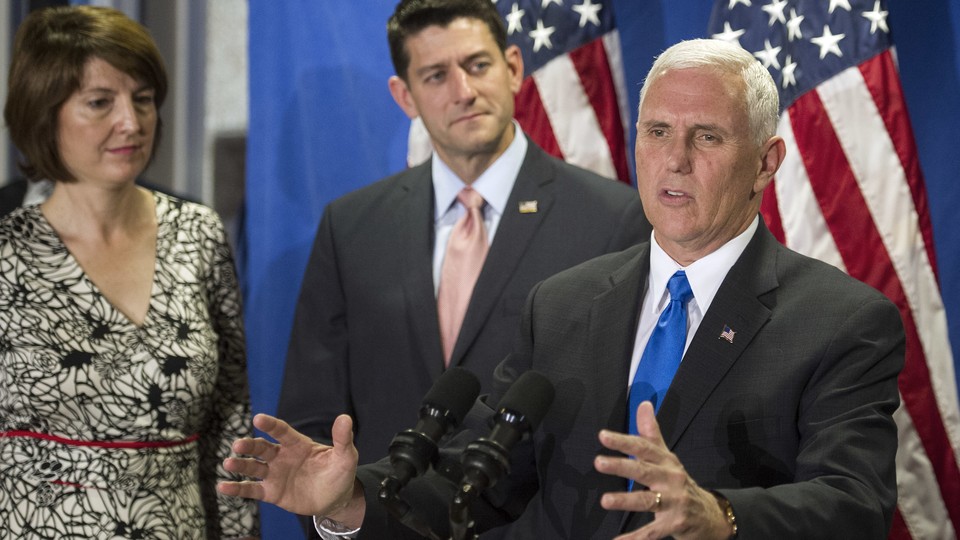 Governor Mike Pence returned to Capitol Hill on Tuesday with one clear goal in mind: to tap into the deep reservoir of good will he had amassed in 12 years as a conservative congressman and rally Republican lawmakers behind Donald Trump, a man many of them have yet to embrace and some downright abhor.
The homecoming—as Pence described it—did not go entirely swimmingly.
During a meeting with House Republicans in which the Indiana governor sought to humanize Trump, Representative Jeff Fortenberry of Nebraska told Pence that his young daughter had said to him, "Daddy, Donald Trump hates women," The New York Times reported. "That's just not true," Pence replied.
In the afternoon, Pence went over to the Senate and met with Mike Lee, a staunch conservative from Utah who has been a vocal critic of Trump. Typically, these confabs end with an everything-is-peachy statement from the two politicians emphasizing their shared priorities. Not this one. Instead, Lee's spokesman, Conn Carroll, let it be known to reporters that the senator had told Pence that "Republicans must identify David Duke's racism as deplorable." That came a few hours after Pence had again hemmed and hawed about the issue in a press conference, refusing to associate the racist Duke with the word Hillary Clinton had used to describe half of Trump's supporters. Rather than a meeting between allies, Lee apparently treated his meeting with Pence as President Obama might describe a meet-up with Vladimir Putin.
Speaking of Putin, Pence got an earful about the Russian autocrat from Senator John McCain, who wondered why Trump was cozying up to a "thug and a butcher," according to the Times. Pence's meeting with Senator Ted Cruz didn't yield any similar leaks, but nor did it earn a coveted but belated endorsement from Trump's former rival.
Pence remains a highly popular figure among conservatives on Capitol Hill. He drew hearty praise from Speaker Paul Ryan, an ally during their years together in the House, and from Senate Majority Leader Mitch McConnell. But Pence is not the problem for conservatives. If you polled elected Republicans in Congress, he would draw near unanimous support if he was the party's nominee at the top of the ticket. But on Tuesday, this polite, unassuming governor had the tall order of speaking, and vouching for Donald Trump. And Pence quickly discovered that with some Republican hold-outs, good will is not necessarily transferable.