Can Melania Trump Win Her Libel Lawsuit?
The Republican presidential nominee's wife has sued a blogger and a prominent British tabloid over stories alleging she was a sex worker.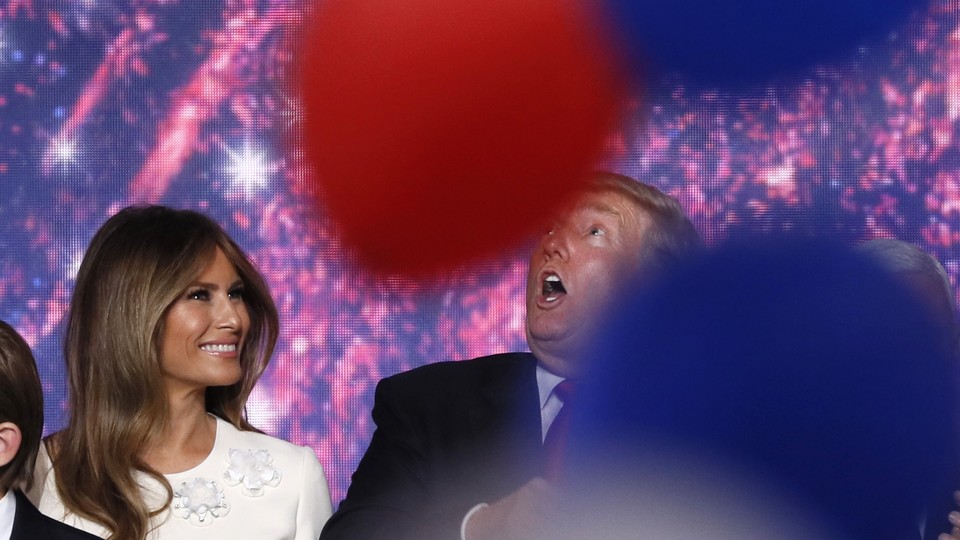 In February, Republican presidential candidate Donald Trump told supporters the U.S. "ought to open up the libel laws" against publications who write "purposely negative and horrible and false articles." This week, his wife set out to test those legal boundaries.
Melania Trump filed a defamation lawsuit against a Maryland-based blogger and a popular British tabloid in Maryland state court Thursday, accusing them of publishing what her lawyer described as "false and tremendously damaging" rumors about her, including a claim she was a sex worker in the 1990s.
At the center of her complaint are a series of eyebrow-raising allegations about her past that were separately published last month by Webster Tarpley, a political blogger, and the Daily Mail, a major London-based tabloid. First, in an August 2 post, Tarpley quoted unnamed sources and "unconfimed" reports that described Melania Trump as "suffering from a nervous breakdown" after she plagiarized a portion of a 2008 Michelle Obama speech during the Republican National Convention. Also fueling her rumored breakdown, Tarpley claimed, were "possible revelations" she worked as a "luxury escort in the 1990s" before meeting her husband.
Two weeks after Tarpley's post, the Daily Mail published an article on August 19 about what it described as "troubling questions" about the "VERY racy past of Donald Trump's Slovenian wife." Those questions revolved around claims it attributed to Slovenian magazine and an unauthorized biographer, including allegations a modeling agency for which Melania Trump reportedly worked in the 1990s actually operated as an escort agency for high-profile clients.
Several news organizations picked up on the rumors after the Mail's article was published, only to retreat from them after Melania Trump's lawyer, veteran Hollywood litigator Charles Harder, raised the specter of legal action. "She understands that news media have certain leeway in a presidential campaign, but outright lying about her in this way exceeds all bounds of appropriate news reporting and human decency," Harder said in a statement.
Through her lawyers and in the lawsuit itself, Melania Trump unequivocally denied both Tarpley's and the Daily Mail's claims. "[She] did legitimate and legal modeling work for legitimate business entities," her lawsuit said. "[She] was not an escort or prostitute. [She] did not have an apoplectic fit, apoplectic tantrum, nervous breakdown or mental breakdown, nor is she terrified or obsessed by fear about revelations from her past."
Melania Trump's lawsuit describes both publishers' conduct as "despicable, abhorrent, intentional, malicious, and oppressive." But the legal battle will hinge on a specific descriptor her lawsuit used to describe Tarpley and the Daily Mail's actions: "actual malice," which basically means that the publishers knew, or should have known, that something they published was false.
That unremarkable two-word phrase essentially shields American journalism from legal repercussions for publishing statements that could be considered libel in other countries. Drawing upon earlier uses by some state courts, the actual-malice test entered the nation's constitutional consciousness when the U.S. Supreme Court first applied it in New York Times Co. v. Sullivan in 1964.
Sullivan is often described as a landmark case in First Amendment jurisprudence. But it is also a civil-rights case of sorts. L.B. Sullivan, a city commissioner in Montgomery, Alabama, filed the lawsuit against the New York Times and four local black clergy for publishing a political ad drafted by the clergymen. Titled "Heed Our Rising Voices," the ad condemned an "unprecedented wave of terror" against black civil-rights protesters in the South.
In its recitation of actual Southern discord, the ad falsely claimed Montgomery police had padlocked a local university's dining hall during a student protest to "starve them into submission." It then also said "the Southern violators" had "bombed [Martin Luther King, Jr.'s] home almost killing his wife and child."  Sullivan, who oversaw the Montgomery police at the time, and other locals read the ad as counting him among the "Southern violators," thereby implying he had also attempted to kill King's family. He sued, claiming libel, and won $500,000 in damages from a local all-white jury. The Times appealed the ruling to the Supreme Court, which sided with the newspaper and clergy.
Writing for the Court, Justice William Brennan noted that factual errors were "inevitable in free debate." He also placed the Sullivan case in the context of a "profound national commitment to the principle that debate on public issues should be uninhibited, robust, and wide-open, and that it may well include vehement, caustic, and sometimes unpleasantly sharp attacks on government and public officials." To that end, he wrote, the First and Fourteenth Amendments demand the high threshold of "actual malice" for libel lawsuits by high-profile figures. "(Although Sullivan focused on elected officials, the justices later also applied the standard to cases brought by public figures like Melania Trump.)
When does a publishing a false statement count as "actual malice"? The Court has avoided handing down a precise, inflexible definition of it, but Brennan defined the standard at the time as "knowledge that it was false or with reckless disregard of whether it was false or not." Notably, negligence or carelessness by publishers isn't enough to meet the standard. In Sullivan, for example, the Times' advertising department did not bother to fact-check the ad's content against its own reporting because it was submitted in the name of A. Philip Randolph, a widely respected civil-rights leader.
In the short term, the ruling largely protected journalists and civil-rights activists from vindictive libel lawsuits by segregationist officials as Jim Crow crumbled. "New York Times Co. v. Sullivan is one of those rare cases—perhaps especially rare in the field of First Amendment law—in which the heroes are heroes, the villains are villains, and everyone can be characterized as one or the other," Justice Elena Kagan, then a University of Chicago law professor, wrote in 1993. In the four decades since it was handed down, Sullivan also protected American journalists from the risk that an errant mistake or "inevitable falsehood," as Brennan put it, could lead to legal and financial ruin.
Such ruin is still possible for major publications. In 2012, Gawker.com, a punchy, irreverent blog on politics, media, and gossip, published excerpts of a surreptitious sex tape of Hulk Hogan, who retaliated with a multimillion-dollar invasion-of-privacy lawsuit. A Florida jury sided with the retired pro wrestler in March, awarding him $140 million in damages and effectively bankrupting parent company Gawker Media. The company's collection of blogs was auctioned off to Univision for $135 million in August and Gawker.com itself ceased publishing.
Two months after the verdict, Forbes revealed that Peter Thiel, a Silicon Valley billionaire and a supporter of Donald Trump's presidential campaign, had secretly bankrolled a legal campaign against the media company, including Hogan's lawsuit. Thiel's antagonism dated back to 2007 when a Gawker.com writer outed him as gay, but he also expressed loftier principles after his role was revealed. "A story that violates privacy and serves no public interest should never be published," he wrote in August. Leading Hogan's legal team was Charles Harder, Melania Trump's lawyer.