How Donald Trump Exploited Charity for Personal Gain
The billionaire used the Donald J. Trump Foundation to mislead the public—and to funnel cash to an elected prosecutor poised to investigate Trump University.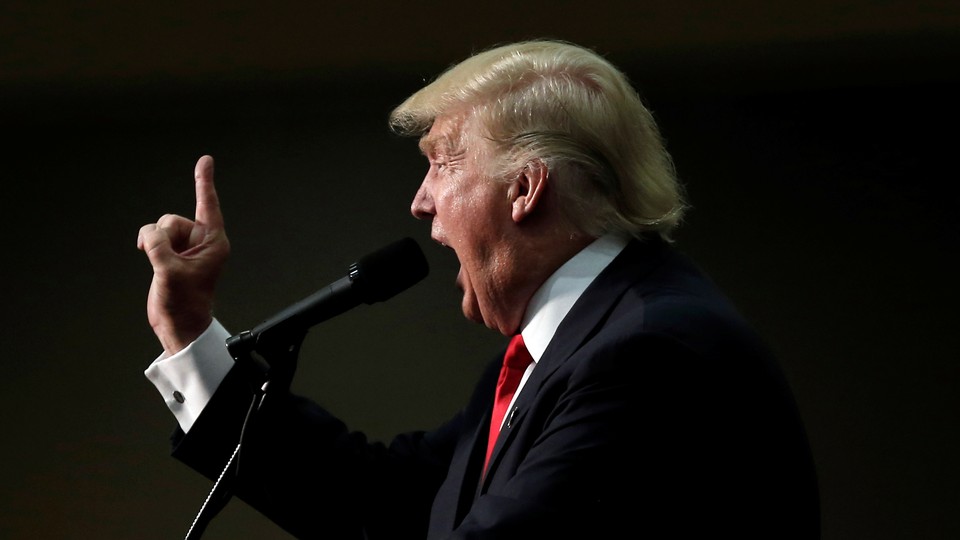 Last May, Donald Trump evaded questions about his charitable giving in a way that couldn't help but raise the suspicions of most everyone privy to the exchange. Trump, of course, cultivates an image of extravagant generosity. "You said you're an ardent philanthropist. You said you've given more than $100 million to charity over the last five years," The Washington Post's Drew Hartwell challenged the billionaire celebrity during an interview. "But when you look into the money that was given to the Donald J. Trump Foundation," he added, "you haven't donated any actual money."
This election, The Bill, Hillary, and Chelsea Clinton Foundation has generated a lot of negative press for the Democratic nominee, who has faced criticism for the large donations it accepted from foreign governments while she was secretary of state. This created obvious conflicts of interest. And the Clintons use their foundation to employ loyalists in their orbit during their time outside of government. On the upside, their foundation's initiatives have helped many in the U.S., where it works to improve physical education and nutrition for school children, and millions abroad, where it provides cheaper AIDS medication and better seeds to the poor. Charity Navigator and Charity Watch give it good overall marks.
The Donald J. Trump Foundation is a different beast, as he highlighted when explaining why he doesn't fund it. "If I give money through the foundation, then every charity looks at me and says, Could you do that? Could you give me this?" he said, explaining that he doesn't "consider the foundation to be a major part of my giving."
That answer raises a few obvious questions:
Does loudly proclaiming that you gave away $100 million over five years, but not through a foundation, somehow stop people from seeking your money?

If you're averse to using your charitable foundation for charitable giving, why maintain it?

Who were the recipients of the $100 million you claim to have given?
Trump was asked that last question and remained cagey:
Donald Trump: I give mostly to a lot of different groups.

Drew Harwell: Can you give us any names? One name, two names.

Trump: No, I don't want to. No, I don't want to because––

Harwell: Dollar amounts at times? What— ?

Trump: No. I'd like to keep it private. But the foundation is not my primary form of giving. It's a form, but it's––

Harwell: What became of that $3 million you said you raised for vets but you haven't given away yet?

Trump: The money for the vets? I have given a lot of money to the vets. I gave a lot.
At the time, the whole interview made me suspicious.
Some make a spectacle of their charitable giving. Others give without ever letting on. There are even people who eagerly talked about a particular charitable organization they support, in hopes of raising awareness or because they're so involved in the work, but prefer to donate quietly, in keeping with the counsel of scripture.
What I have never encountered is someone positively eager to brag loudly about the sums that they donate, but totally unwilling to name any organization they support or people who they have helped. Trump strikes me as an especially unlikely man to possess that attribute. If a hypothetical charity wrote him to say his donation of mosquito nets saved 100 lives, he seems like the type who would inflate the number tenfold and talk about his huge win over malaria, which many people say is terrible, not the type to never tell anyone about the people his generosity helped.
Still, I didn't write that months ago when the interview was published because, for all my suspicions, I couldn't prove Trump is the sort who wants to be seen as more generous than he is (an impression that was bolstered when he failed to make good on pledges to donate to veterans' charities until he was hounded by the media to do so); or that he was hiding a discrediting secret associated with his charity.
Now, thanks to reporters who shared skepticism of Trump's rhetoric and spent months uncovering what he has been trying to hide, both suspicions can be substantiated:
Donald Trump used his foundation to appear more generous than his giving warranted.
And Trump used his charitable foundation to funnel money to a suspicious cause, breaking tax laws and appearing to engage in serious political corruption.
It remains theoretically possible, if highly improbable, that the GOP nominee has also hidden massive amounts of charitable giving that months of investigation by reporters has failed to turn up. Regardless, what they have found in their search is damning. And the national press has failed to adequately press the candidate on his behavior.
A Notepad of Gifts Not Given
No one has been trying harder to substantiate Donald Trump's claims about his own generosity than David Fahrenthold of the Washington Post. Fahrenthold began by identifying charities with close ties to the billionaire. "Some got money from the Trump Foundation. In other cases, Trump had a personal connection to the charity or its leaders . Some were charities that DonorSearch database records indicated he might have given to. A variety of other reasons included media mentions, gala attendance, or involvement with Trump's TV show 'Celebrity Apprentice,'" the article explained. "So far, The Post's search has turned up little. Between 2008 and this May — when Trump made good on a pledge to give $1 million to a veterans' group — its search has identified just one personal gift from Trump's own pocket."
Along the way, Fahrenthold documented his work for readers, showing them his ever-expanding list of charities and the ones that definitely never got money from the billionaire.
Here's a photo of his reporter's notepad: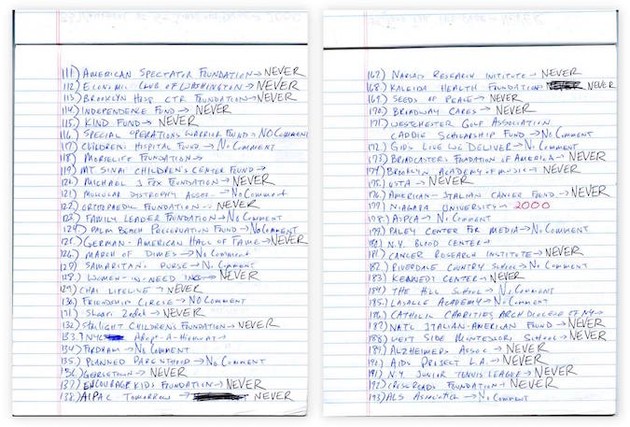 He's used those images and regular Twitter updates to crowdsource new leads to investigate:
What emerged in the course of this reporting was a highly unusual attribute of the Donald J. Trump Foundation: For years, it's been giving away other people's money in Trump's name, sometimes in ways that seem to funnel money into Trump's pocket.
For example: Trump once approached a New Jersey charity called the Charles Evans Foundation and asked them to donate to the Donald J. Trump Foundation, citing efforts to raise funds for the Palm Beach Police Foundation. "The Evans Foundation said yes," Fahrenthold reported. "In 2009 and 2010, it gave a total of $150,000 to the Donald J. Trump Foundation, a small charity that the Republican presidential nominee founded in 1987. Then, Trump's foundation turned around and made donations to the police group in South Florida. In those years, the Trump Foundation's gifts totaled $150,000. Trump had effectively turned the Evans Foundation's gifts into his own gifts, without adding any money of his own."
How could Trump have made money on the deal? The Florida police group gave Trump an award for his giving (which was actually Trump giving them money he got from someone else). Trump dressed up in a tuxedo to accept the honor that he didn't deserve. And "on the night that he won the Palm Tree Award for his philanthropy, Trump may have actually made money," Fahrenthold reports. "The gala was held at his Mar-a-Lago Club in Palm Beach, and the police foundation paid to rent the room. It's unclear how much was paid in 2010, but the police foundation reported in its tax filings that it rented Mar-a-Lago in 2014 for $276,463."
For Trump, that wasn't a one-time transgression. There were other occasions when he courted public esteem for charitable giving, but actually used foundation money:
The Trump Foundation … even gives in situations in which Trump publicly put himself on the hook for a donation—as when he promised a gift 'out of my wallet' on NBC's 'The Celebrity Apprentice,'" The Post investigation concluded. "The Trump Foundation paid off most of those on-air promises. A TV production company paid others. The Post could find no instance in which a celebrity's charity got a gift from Trump's own wallet. Another time, Trump went on TV's "Extra" for a contest called 'Trump pays your bills!' A professional spray-tanner won.

The Trump Foundation paid her bills.
Remember, the Trump Foundation doesn't use Trump's money. In other words, the masses watching on television were egregiously misled about Trump's generosity.
That's the sort of guy he is.
Law-Breaking at the Trump Foundation
The gulf between the charitable giving for which Trump claims credit and what really comes out of his pocket would be discrediting even if that were all there is to this story. But Trump didn't just use his foundation to make himself look better than he deserved. He also used it to funnel money to a government official charged with deciding whether to investigate Trump University for defrauding customers.
Pam Bondi is the attorney general of Florida. While deciding whether to open an investigation into Trump University, a for-profit institution that persuaded working class strivers to run up massive credit-card debt in the over-credulous pursuit of success, Bondi apparently solicited a campaign contribution from Donald Trump. As Fortune notes, "The story of how a Bondi PAC received a big check from Trump Tower just days before the AG declined to probe Trump U, how the money arrived as an illegal gift from, of all sources, Trump's charitable foundation, and the remarkable string of coincidences the Trump camp claims led to an innocent error, forms one of the most intriguing, ongoing subplots of the presidential campaign."
It would be bad enough if Trump, who has bragged repeatedly about giving to politicians so that they're indebted to him, had given $25,000 to Bondi from his personal account.
But he didn't just funnel money to an elected official who was deciding whether to investigate him for criminal misbehavior. He used money that was supposed to go to charity! As the Washington Post explained, "The donation, made by the Donald J. Trump Foundation, violated federal rules that prohibit charities from donating to political candidates." Wouldn't the IRS catch on as soon as it saw the public donation?
As it happened, the "charitable gift" was misreported by the Trump organization. Here is how Fortune summed up the excuses offered by the billionaire's staff:
At Trump Tower, the staff sprung into damage control. A staff that prides itself on rarely apologizing admitted to a remarkable series of errors. In interviews, the Trump braintrust—Allen Weisselberg, CFO of the Trump Organization and treasurer of the Foundation, and other Trump executives—gave an intricate explanation of how they occurred. Shortly after Bondi asked Trump for a contribution, they said, a request for payment arrived at Trump's headquarters in September, 2013. The clerk who received the RFP didn't recognize the name And Justice For All, and mistook it for a charity. He was under a standing order to verify that charities requesting donations were bona fide by checking their names in an official registry.

The clerk found a charity of the same name in Wichita, Kansas, and wrote a $25,000 check from the Trump Foundation to that And Justice for All. But the funds didn't go to the Kansas group that provides people with disabilities with legal assistance. Instead, the check went to the pro-Bondi PAC in Tampa. The Trump staff was unable to explain why, if the money was intended for the Wichita charity, it was mailed to a different address in Florida.

...When the Donald J. Trump Foundation filed its annual report with the IRS (called a form 990), it reported the $25,000 gift to still another charity named Justice for All (no "And" in its name) based in Utah. This organization that trains anti-abortion activists also received no funding from the Trump Foundation. The Trump brass blamed this error on the Foundation's accountant. "From what I'm told they made a typographical mistake on the return," explained Weisselberg, who added that these types of things happen "all the time."

...Trump personally paid a $2,500 penalty, equivalent to 10% of the illegal donation, to the IRS. The PAC supporting Bondi, obviously embarrassed, mailed a $25,000 refund to the Foundation. Trump declined to cash the check, and instead reimbursed the Foundation for the full $25,000 from his own funds. Hence, the pro-Bondi PAC kept the money.
To believe that these were innocent mistakes strains credulity past the breaking point. This has all the appearance of political corruption and attempts to cover up that corruption. Why hasn't Trump faced tougher questions about this incredible series of events?
The Need for More Investigation
Beyond the inexcusable behavior that has already been documented, there are a lot of mysteries and irregularities that remain to be unraveled, many involving donations that the Trump Foundation claims to have made but that the relevant charities never got.
Did that money flow to a non-charitable purpose instead? Since the board of the Trump foundation consists of Donald, Ivanka, Eric, and Donald Trump, Jr., it's hard to imagine that any overseers would catch and report dubious or illegal behavior.
Trump's demonstrated willingness to misuse charitable funds for his own advantage is yet another reason why his refusal to release his personal tax returns is suspicious and unacceptable. One wonders how much he deducts from his tax bill as donations and whether that sum ever made its way to charitable organizations.
On Monday, the Trump campaign again made grandiose claims about Trump's charitable giving, pegging the figure at "tens of millions" of dollars over his lifetime, rather than $100 million in the last five years. Even as the new figure suggests the old figure was a lie, there is no substantiation for the "tens of millions" claim. As the article notes, "The Post has identified less than $9 million in gifts to charity from Trump's pocket over his lifetime, including the $5.3 million he gave to his foundation before the last gift in 2008. In addition, Trump's foundation has taken in about $9 million from other donors, and given away most of it."
Given the Post's figures, the way that Trump used foundation funds for illegitimate purposes, the good publicity he gained for giving away money that wasn't even his, his habit of renting out event space to charities gifted by his foundation, and the unknown personal deductions he has claimed over the years, it seems well within the realm of possibility that Donald Trump has benefitted himself via the basket of things he calls charity more than he has benefitted other people.
If Trump is being truthful about his wealth, he could've easily afforded to be as generous as he publicly represents himself to be without any negative affect on his lifestyle. Yet he chose to do things in the way that would help fewer people and do less good, per the old saying: Give a man a fish, he eats for a day. Give a man someone else's fish, then accept an award for your generosity while renting out a room at Mar-a-Lago Club for six figures, and you, Melania, Ivanka, Don Jr., and Eric eat caviar forever.