Hillary Did What She Needed to Do
If undecided voters were looking for an excuse to come around to Clinton's corner, they may have found it on Monday night.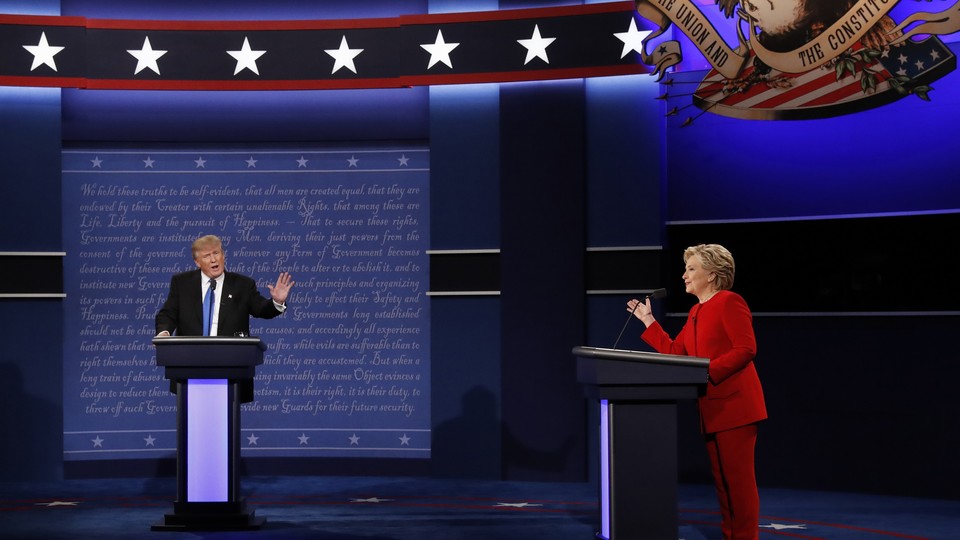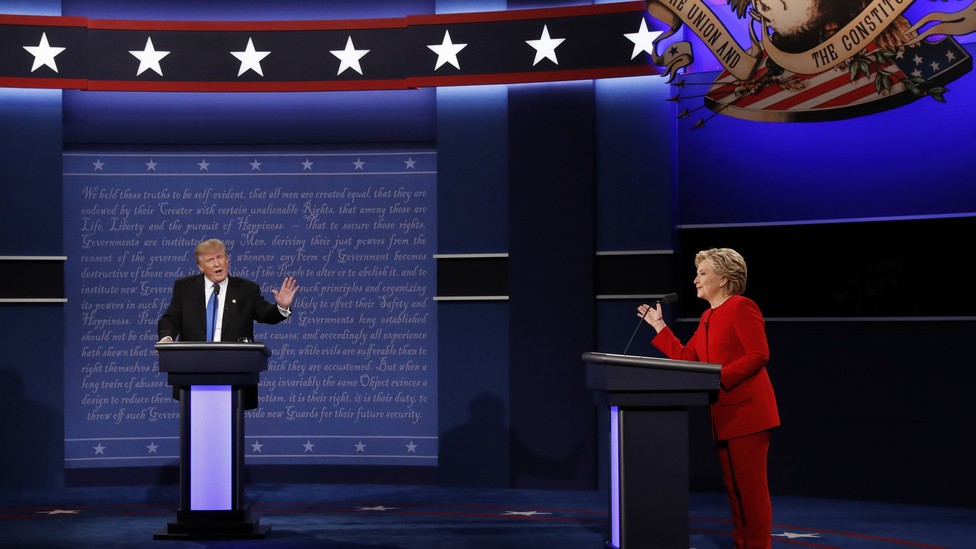 Donald Trump sniffled and sucked down water. He bragged about not paying federal taxes—"That makes me smarter." He bragged about bragging about profiting from the housing crisis—"That's called business, by the way." He lost his cool and maybe the race, taking bait coolly served by Hillary Clinton.
If her objective was to tweak Trump's temper, avoid a major mistake, and calmly cloak herself in the presidency, Clinton checked all three boxes in the first 30 minutes of their first debate.
It may not matter: Trump is the candidate of change and disruption at a time when voters crave the freshly shaken. But the former secretary of state made the strongest case possible for the status quo, arguing that while voters want change in the worst way, Trump's way would be the worst.
She all but questioned his sanity. "I have the feeling that by the end of the evening, I'm going to be blamed for everything that's ever happened," an exasperated Clinton interjected after Trump dissected her tax and trade policies.
"Why not?" Trump shot back.
Clinton told her rival to "just join the debate by saying more crazy things."
Conventional wisdom would compare Clinton-Trump to the 1980 Carter-Reagan campaign, with Trump reprising the role of an underestimated, caricatured Ronald Reagan who both exceeded expectations and, for many voters, crossed the threshold of presidential viability in his first debate against the status quo candidate, incumbent Jimmy Carter.
But conventional wisdom may be wrong. It may be Clinton, not Trump, who stands to gain from wavering voters looking for 11th-hour reassurance. All the flexibility in pre-debate polling was linked to Clinton, coalescing around her during her highest moments and nudging toward a third-party candidate or the uncommitted category during her lows. That might suggest that a winner's share of persuadable voters—undecided voters—have already decided they can't vote for Trump. They also may be leery about helping Trump by voting third party or not voting at all.
This is a small, disaffected group of Americans. According to an NBC/Wall Street Journal poll, here's the favorability rating among undecided voters in a two-way race: Clinton 13 percent positive, 64 percent negative; Trump 5 percent positive, 81 percent negative.
These voters may be looking for a reason or an excuse to vote, albeit reluctantly, for Clinton.
If undecided voters are looking for cultural permission to vote for Clinton, Trump gave it to them.
He looked uncomfortable on stage, perhaps suffering from a cold that had him sniffing audibly—a tick that recalled the 2000 debate in which Democratic nominee Al Gore's sighs dominated almost everything said by him or his rival, George W. Bush.
He gulped from a water glass like Florida Senator Marco Rubio, "Little Marco," the GOP presidential candidate Trump mocked for his famously unquenchable thirst.
He exaggerated, dissembled, and lied. Trump repeated the absolutely false claim that he opposed the war in Iraq before the fighting. He disowned a series of sexist comments without apologizing for them.
He frequently interrupted Clinton, leaning over his lectern and gripping it like a toddler on a toboggan, careening between impatient and outrageous outbursts.
He exposed Clinton's mendacity on trade and ridiculed her vacuous answer on the email scandal, but Trump did little else to pull undecided voters into his column.
When Clinton accurately noted that Trump started his business with millions of dollars from his father, Trump blurted, "Small loan." Trump said he alone created "the greatest assets in the world" and, in a condescending show of deference, addressed Clinton showily. "In all fairness to Secretary Clinton," he said, pausing to ask, "Is that OK?"
She nodded.
"I want you to be very happy," Trump said with a forced grin, "it's very important to me."
When the Democratic nominee cited Trump as an example of someone who wanted the markets to fail, claiming that in 2006 he cheered a real estate crisis so that he could buy property more cheaply, Trump interrupted, "That's called business, by the way."
Undecided voters might not appreciate that view. Many lost their homes in what he blithely calls business.
Clinton encouraged Americans to go to her website to read her campaign's efforts to correct Trump's misstatements. Trump said, yes, people should go to her website to see how she had made her plan to fight ISIS public, which he somehow believes is a national-security threat.
"At least I have a plan," Clinton replied.
"You're telling the enemy everything you want to do," Trump said, sputtering and stretching for the right words before spewing a word salad. "No wonder you've been fighting ISIS your entire adult life."
What does that mean?
It got worse. When Clinton attacked Trump for refusing to release his tax returns, she managed to squeeze out four possible reasons why he is breaking decades of precedent—he's not as rich as he says, he's not as charitable as he says, he's deeply in debt to foreign banks, and he pays no federal taxes—before Trump seemed to confirm he's not a taxpayer. "That makes me smart," he said.
Not smart enough to avoid Clinton's bait. By the time Trump declared toward the end of the debate, "I have a much better temperament than Hillary Clinton," the studio audience laughed.
Undecided voters get the last laugh.