Hillary Is Acting Like a Winner
In North Carolina, the Democratic candidate basked in her debate victory. As for her supporters, they're feeling better, but they're not ready to exhale.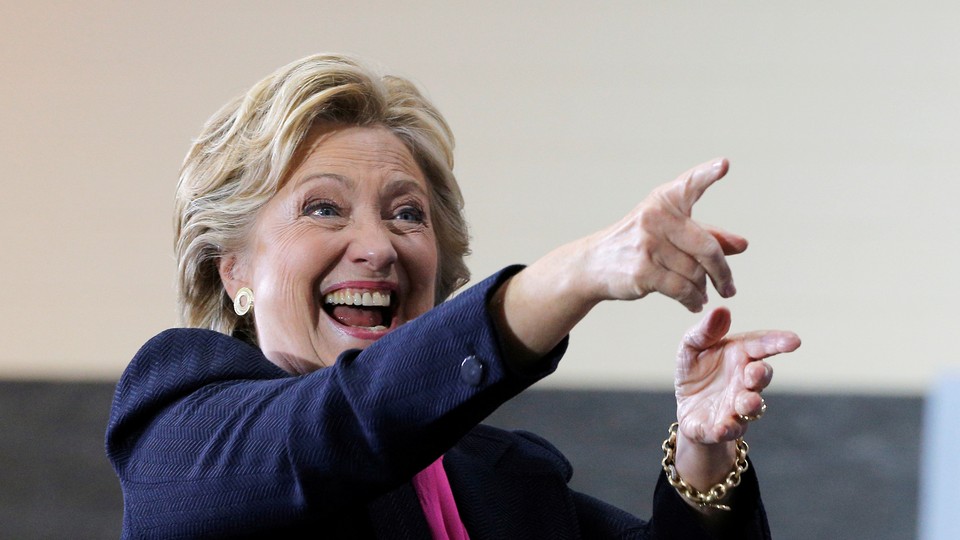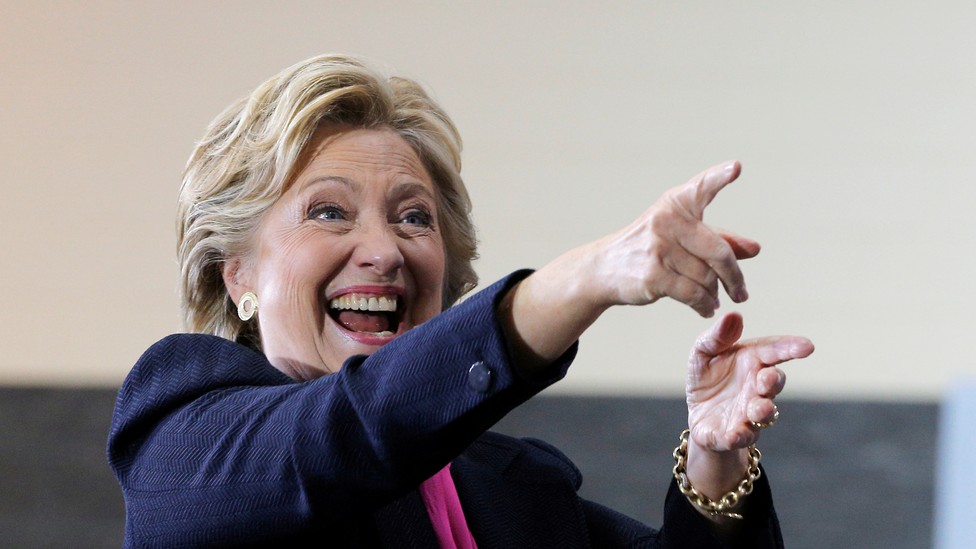 RALEIGH, N.C.— "Did anybody see that debate last night? Ooooh yes," Hillary Clinton said, her first words after striding confidently out on stage at Wake Technical Community College Tuesday afternoon.
As a capacity crowd cheered, she added, "One down, two to go."
Celebration and relief added to the thick humidity of late summer at Clinton's event in North Carolina. Post-debate analysis is in that awkward in-between state, after the pundits have rendered their verdicts and before high-quality polling has measured the nation's response. But the Democratic nominee seemed sure that she was the victor.
It was Clinton's first event after the first presidential debate Monday evening in Hempstead, New York. One sign of her confidence coming out of that encounter: As I approached the rally, a man asked for a hand loading a heavy box into his car. He was the teleprompter man, he said, but when he arrived in Raleigh, he'd been told that Clinton had decided to do without the prompter. He was turning around and heading back to Washington, D.C.
The campaign said more than 1,600 people attended the event, 200 of them squeezing into an overflow room. Waiting to file into a gymnasium, many Clinton supporters said they scored the night a clear win for Clinton. Two weeks ago in Greensboro, N.C., many voters said they weren't rattled by tightening polls. But the worry had arrived in Raleigh, and the supporters I spoke with seemed calmed but not ready to let their guards down.
One group of six women, black and white, were chatting excitedly about the results.
"She is presidential and she will be the president," declared Allison Fenderson.
"He has no respect for women," added Stephanie Watson.
"He constantly feels the need to tell us how smart he is. Hillary didn't need to tell us. She demonstrated that," said Ella Frantz.
Emily McNair said Trump's answers had been incoherent. "I turned to my friend and said, what did he say?" But she added, "I'm still scared to death."
Jonathan Carnes, an attorney in Raleigh, was nervous, though he said he was skeptical of polls, which he thought were oversampling older and more conservative voters. As to the debate, "There was a lot of juxtaposition between the candidates. She emanated calmness."
Carnes thought that would play well with undecided voters—including some of his colleagues, with whom he sometimes debates. A Boston transplant, he said he was used to arguing politics more stridently with friends than was customary in the south.
Further back in the line were Jane Ann Hughes, Fran Venezia, and Freda Cole, a trio of retired principals from Wake County. Of Trump's performance in the debate, Venezia said, "We recognize juvenile behavior when we see it. He was like the students outside our offices."
I asked whether they felt more confident then they had 24 hours earlier. "I hope America feels more confident than yesterday," Cole said.
"It just concerns me that so many people think he would make a good president. He's dangerous. He scares me," Hughes said.
Joe Haigler, also of Wake County, said he thought Clinton's performance would connect well with middle-class and younger voters. My colleague Ron Brownstein wrote recently that weakness among Millennial voters could cost Clinton the election. I went off in search of a few.
Carlos Franco and Kayla Williams must have been the only folks at the rally who hadn't watched the debate, they sheepishly admitted. Franco was working. Williams was getting a new phone.
"I don't like Hillary, but I don't want Trump," Williams said, echoing a common theme among Millennial voters. But she was planning to get out. "He's never voted," she said, pointing at Franco. "Get on him. You're gonna vote this year. If you don't vote, you have no right to talk about anything."
"I don't have a right to talk about anything?" Franco asked, protesting that he was only 19 and wasn't legally allowed to vote in the last election. (A wispy mustache confirmed his defense.) He thought he'd probably vote this time around. "I was with Bernie. He was my man," he said. "Then he endorsed Hillary and I said I got to go with her. If Bernie says you're cool, you're cool."
Several Duke students, eager Hillary backers, had cut class to come to the rally. They said they were "terrified" before the debate, but were feeling at least a little better now. But the apathy was real.
"I spent three hours talking to my boyfriend about this. I was like, 'You need to vote.' Our lives depend on it. He's a Latino man and I'm a Middle Eastern woman," said Mellie Bonanno. "He's an engineer[ing student]. He thinks it's not his area. He's wrong. The next eight years of our lives, we will leave college, get jobs, go to graduate school."
Early surveys suggest that the debate did help Clinton. The Democratic firm Public Policy Polling found that 47 percent of young voters felt the debate made them more likely to vote for Clinton, with 10 percent saying less likely. A study by the University of Missouri found a 10 percent jump in college students' likelihood of voting Clinton.
Clinton seemed loose and happy on the stage at Wake Tech. She brought up the debate multiple times, and she reprised some of her attack lines. For instance, she mentioned that one of her guests had been entrepreneur Mark Cuban, "who is a real billionaire by the way."
She hit Trump for his seeming admission that he had paid no income taxes.
"I'm going to leave it to the fact-checkers to go through all of Donald Trump's claims. There was a lot of work for fact-checkers last night," she said. "He actually bragged about gaming the system to get out of paying his fair share of taxes. I think there's a strong probability he hasn't paid federal taxes a lot of years."
She also noted having baited Trump into confirming that he'd rooted for the housing crash, saying, "That's business." "I gotta tell you, what kind of person believes that?" Clinton asked.
On the stump, though, Clinton tends to present a kinder, gentler vision these days. These moments don't always make it through into national news stories. In North Carolina, where she has visited frequently, she always talks at length about the importance of education, from early childhood on through secondary schooling and then to college education, which she says she will make debt-free if elected. She argues for paid family leave, equal pay for women, and less expensive child care. Clinton always talks about the Children's Health Insurance Program, which she helped spearhead in the 1990s during his husband Bill Clinton's administration.
She also spoke, as she often does, about her mother, Dorothy Rodham, who suffered a challenging childhood.
"When my mother was in first grade, she never had any food," Clinton said. "That first-grade teacher noticed that and began to bring extra food, but without embarrassing her. She would say, 'You know, Dorothy, I brought extra food. Would you like this sandwich? Would you like this milk?' It wasn't until my mother was older that she realized that teacher fed her for that school year."
How long Clinton's comfort and ease lasts, and how long the sense of relief among her supporters persists, will depend in large part on what effect the debate has on her polling. During Monday's rally, she told the crowd, "We are a country of second chances, and third and fourth chances for people willing to work for them."
It could have been a statement of pride in her own bounce back after the 2008 race, or perhaps a reference to her recent illness and polling troubles. But it also serves as a warning about the capacity for a Trump comeback in the second debate. In this election, neither side will be able to relax until the votes counted.