Just Why Does Hillary Clinton Want to Be President?
Returning to the trail in North Carolina after a bout with pneumonia, the Democrat sought to calm worries about not just her health but her campaign.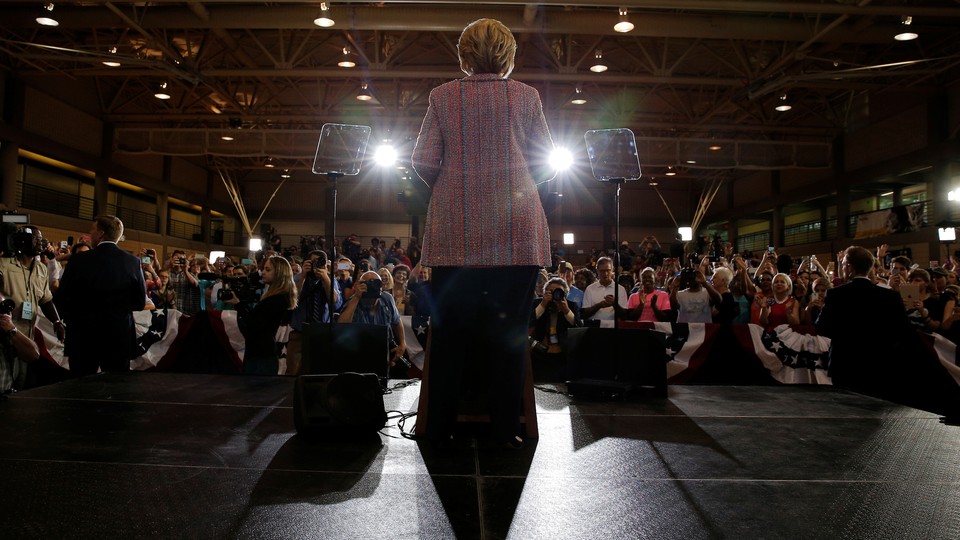 GREENSBORO, N.C.—Hillary Clinton is back on her feet. Now, what does she stand for?
After a few days recuperating from what her doctor characterized as a mild bout of pneumonia, the Democratic presidential nominee was at the University of North Carolina at Greensboro on Thursday afternoon, returning to the campaign trail and seeking to rebuild her dwindling lead over Republican Donald Trump. Against that backdrop, Clinton seemed to be looking to reset not just her health, but her the whole campaign.
For her first rally back, Clinton took the stage not to the familiar strains of "Fight Song" but instead with James Brown's "I Feel Good" blaring. She addressed her illness at the outset of her 25-minute speech, saying she had wanted to power through but eventually recognized the need to take a break—and found it refreshing.
"It turns out having a few days to myself was actually a gift. I talked with some old friends. I spent time with our very sweet dogs. I did some thinking," she said. "The campaign trail doesn't really encourage reflection. It's important to sit with your thoughts every now and then, and that did help me reconnect with what this whole campaign is about."
It's a good question: Just what is this whole campaign about? In a statement ahead of the speech, the Clinton campaign's communications director Jennifer Palmieri said, "Our campaign readily admits that running against a candidate as controversial as Donald Trump means it is harder to be heard on what you aspire for the country's future and it is incumbent on us to work harder to make sure voters hear that vision." Palmieri's statement seemed like an acknowledgement not just of Clinton's recent eroding lead but of a fundamental problem that has plagued her since the start of the campaign. It's always been a little tough to tell what the underlying motivation for Clinton's candidacy actually was.
For every candidate, that tends to boil down to because I want to be president, but they have to find some way to sheath that in selflessness. For Clinton, one answer is experience and technocratic competence, a message that is not especially inspiring. It's also undermined by questions about her management of the State Department, raised by her email scandal.
But Clinton received a gift in the candidacy of Donald Trump, which gave her a new motivating force: stopping Trump. Her standing has reached its highest points when Trump looks worst—for example, when, after a Democratic National Convention focused on criticizing him, he chose to play into her hands by picking a fight with Gold Star parents Khizr and Ghazala Khan.
Lately, however, he hasn't been as potent a helper. It's tough to say quite why that is. Her own illness and email questions have helped distract attention from Trump. He has managed to avoid a Khan-level gaffe, though he hasn't stopped saying outlandish things. (On Thursday, Trump refused to say whether he believed Barack Obama was born in the United States.) Maybe the press and the electorate have been somewhat desensitized by months of Trump. Whatever the reason or reasons, Palmieri's statement seemed to point to the need for a fresh, affirmative case for a Clinton presidency.
There was no sweeping new message on display in Greensboro, though there were several thrusts —perhaps fitting for a candidate who, while quipping that "When it comes to public service, I'm better at the service part than the public part," humblebragged that she had 38 separate policies laid out on her website.
Speaking to an audience of more than 1,400—hundreds more didn't make it inside before she kicked off her speech, a few minutes early—Clinton sought to connect her own illness with the struggles of everyday Americans.
"When I'm under the weather I can afford to take a few days off. Millions of Americans can't. They either go to work sick or they lose a paycheck," she said. "Life events like these are catastrophic for some families, but mere bumps in the road for others …. That right there, that's why I got into this race."
Clinton also spoke at length about young people, broadly defined. She noted that she began her career focused on children's legal rights and situated her fight for the 1997 Children's Health Insurance Program in that history. In her current platform, she pointed to her proposal for debt-free college education and her concerns about national security and climate change as youth-oriented. There's likely some strategy behind this. Clinton is facing worrying numbers among younger voters, and she's enlisting Bernie Sanders and Elizabeth Warren to take to the trail in her support in the coming days, in a bid to win them over.
For the most part, Clinton avoided discussing Trump, except obliquely. "I have this old-fashioned notion that if you're running for president, you should say what you're going to do, how you're going to get it done, and how you're going to pay for it," she said. She also portrayed Trump as a loose cannon unfit to command the troops, and gently mocked his appearance on Dr. Oz's television show.
An observer who attended the speech without any idea of the background of the race might have gotten the sense that Clinton was losing, not holding on to a lead that, while diminished, she has enjoyed for months. Some of her statements had the bittersweet valediction one expects from a candidate who sees his demise in sight and is determined to meet it with dignity.
"I'm going to close my campaign the way I have began my career, and the way I will serve as your president should you give me that great honor, focused on opportunities for kids and fairness for families," she said.
Later, after the speech, Clinton briefly answered questions from the press. Predictably, if frustratingly for Clinton, the first question was about polling. "I've always said this was going to be a tough race, whether I was up, down, it doesn't matter," she said. "I'm very proud of the campaign that we have put together. I feel that we are in a strong position going into these last weeks." (Other questions focused on a ceasefire in Syria, why she didn't talk about her diagnosis sooner, and when she told running mate Tim Kaine, which she declined to say.)
Clinton also asked backers not to listen too much to, well, articles like this one. "In these final days, let's try to tune out all the chatter and the nonstop analysis that doesn't often have much to do with what the next president has to do," she said. As many national-level Democrats either panic about the polls or blame the press for covering Clinton too harshly, many attendees at the rally were like Gabby Smith, a UNCG student who said she was "just trying to be calm." No one I spoke with brought up her health scare unprompted, and none of them evinced any worry about her fitness to be president.
Libby Genova, of Greensboro, said she was expecting the debates to prove pivotal. "It's way too soon to pay attention to the polls," she told me. "Donald Trump is very good at getting media coverage. It's why he won the primary. Good or bad, he gets a lot of media, but I don't think going off message to get headlines is a good idea."
What was the message, though? Genova paused only very slightly before reaching for Clinton's slogan. "We're strong together," she said.
Several attendees told me they thought the recent turbulence was just the normal churn of the campaign season. "I'm always worried about the polls. I watch the polls every day. Typically do go up and down," said Joe Gamble of Reidsville, though he added that she might do well to "maybe come out a little more forcefully against Trump." "But not lower herself to Trump's level," Suzanne Thompson chimed in.
Many Clinton supporters feel her struggle to find a pithy way to sell herself is mostly a symptom of what they like about her. "She doesn't play to the way the media is covering this election. It's been reduced to smaller than a soundbite," said Larry Lavender, a professor of interdisciplinary arts at UNCG. "Her flaw is she actually has ideas."
There remains a certain amount of disbelief about Trump's success. Simon Windecker attended the rally even though he can't cast a ballot in November: He's a German spending a semester studying at UNCG. Windecker, a political science student, pronounced the race "crazy, mostly because of the Republican candidate. I don't think someone like that would be a candidate in Germany. Generally you have to know something about politics," he said. And what if the calm among the Clinton supporters was misguided, Clinton can't find a winning message, and Trump does win the election? For Windecker, there was always the end of the semester:"I would be glad to leave the country in December."