Hillary Clinton's Appearance on Between Two Ferns Wasn't Brave
The target of the most brutal mockery wasn't the Democratic nominee. It was her critics.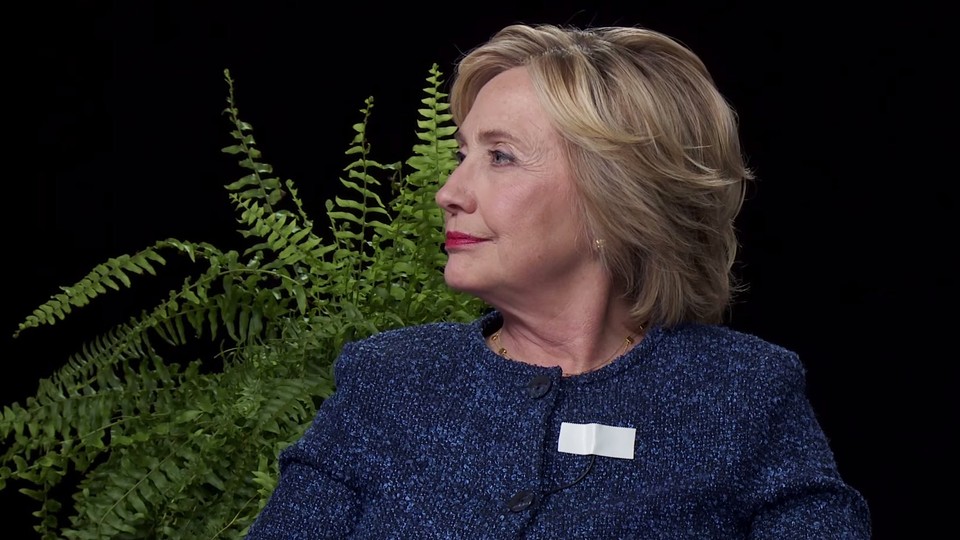 Hillary Clinton won rave reviews for her interview with comedian Zach Galifianakis on the satirical talk show Between Two Ferns.
The Verge called the interview "bold." The Wall Street Journal said Clinton took a "comedy risk." Scott Aukerman, one of the show's co-creators told Newsweek: "We were genuinely surprised when she was willing to just, like, be roasted like that." Esquire made it sound like Clinton faced off against an adversary, writing: Clinton "is not taking any of Galifianakis' shit."
There's no question Clinton handled herself well. She showed she has a sense of humor, and can make a joke too, often responding to questions with mocking rejoinders of her own. But Clinton's decision to sit for the interview was not brave, it wasn't that risky, and she wasn't really being roasted. The guest of honor at a comedy roast is subjected to jokes at his or her expense, but the most brutal mockery during Clinton's interview was reserved for her critics.
Take the exchange over guns: Galifianakis jokes that Clinton told him she "wanted to take away everyone's guns," before the camera started rolling. The comedian offers up a parody not of Clinton's stance on gun control, but rather of conservatives who fear it. The joke skewers Clinton's detractors, not Clinton.
At the end of the interview, Galifianakis asks Clinton "What's the best way to reach you, email?" before hitting a button that obnoxiously plays AOL's "You've got mail!" alert. The subtext is that anyone who hasn't moved on by now from Clinton's emails, who just won't stop talking about them, who actually thinks the controversy even matters, is just as obnoxious.
There are moments during the interview where Clinton is mocked, but even then Galifianakis quickly turns the focus away from the Democratic nominee.
At one point, the host brings up the fact that Clinton's daughter Chelsea is friends with Donald Trump's daughter Ivanka, and notes that the Democratic nominee even attended her Republican presidential rival's wedding. The set up serves as a reminder that Clinton and Trump, and their families, are members of a powerful elite in America, a status that threatens to make the candidates' assurances that they feel the pain of the working class ring hollow. But instead of lingering on the ties that bind Clinton and Trump, Galifianakis pivots, ensuring that the punchline is actually Trump and not Clinton.
"Does Ivanka ever call Chelsea?," Galifianakis asks, adding: "You know, to talk about boys, that might have crushes on her?" He pauses then says, "You know, like her dad?"
When the subject of Trump's wedding comes up, Galifianakis asks Clinton "Did he write his own vows?," before adding: "And did Michelle Obama write Melania's?" The message is clear: Clinton may be an insider worthy of some mockery, but the true joke is Trump and anyone who associates with him.
At another point during the interview, Galifianakis makes fun of the way Clinton dresses. "I'd love to meet the person who makes your pantsuits," he says, adding "because for Halloween, I wanted to go as a librarian from outer space." The implication is that anyone who makes a joke about something as superficial and sexist as what Clinton wears is the real idiot.
Clinton pulled off an effective performance, but that doesn't make the decision to appear on the show brave, courageous or even all that risky. The show's intensely awkward humor is a departure from the interviews the candidate typically does. But the famously media-averse candidate would not have done the interview if she didn't expect the outcome would be good. Clinton was virtually guaranteed to endear herself to a younger audience who could be expected to react like many critics did: surprised and delighted.
Clinton could expect the interview would go well, in part because President Obama appeared on the show in 2014, a performance that also won rave reviews (though it did generate some criticism from detractors). Esquire called the interview "as funny, uncomfortable, and as awesome as you would imagine." In fact, Obama's appearance on the show is where Clinton seems to have gotten the idea. "It was actually her idea, strangely enough," Aukerman told Politico. "She told her team she wanted to do it and that she really liked the one with President Obama." It's not strange at all. It makes perfect sense.
Obama has a reputation for being at ease with comedy that Clinton lacks. But if anything that meant Clinton had an even lower comedic bar to clear and more to gain by appearing on Between Two Ferns. Politico reports the interview was "mostly improvised" and "most of the questions Galifianakis asked Clinton had not been cleared with the candidate or with Clinton's team."
Still, even if Clinton hadn't come up with jokes of her own on the spot, and all she did was respond to questions with looks of confusion or discomfort, it's virtually guaranteed she would have gotten kudos for being a good sport.
The biggest payoff for Clinton, a politician often caricatured as stiff and overly serious, was always going to be the simple fact that she agreed to participate in the show in the first place.
Appearing on Between Two Ferns may have subjected Clinton to awkward humor, but that doesn't mean the experience was actually uncomfortable for the Democratic presidential candidate. Especially not when the target of the most brutal mockery was not actually Clinton.