Voters to Debate Organizers: Let Gary Johnson In
A new online poll shows most voters want to see the Libertarian Party nominee at the first general-election competition.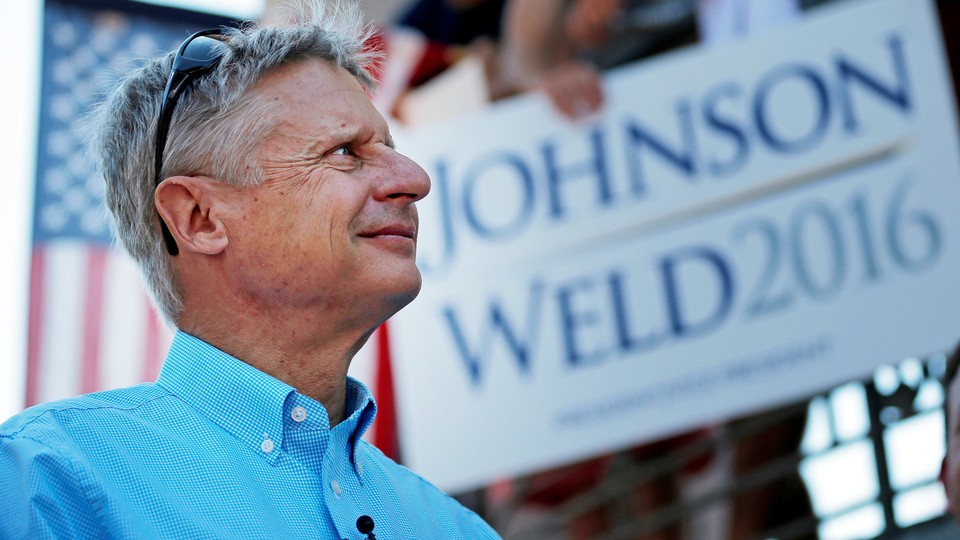 NEWS BRIEF Libertarian Party nominee Gary Johnson desperately wants to be on the presidential debate stage this month—and recent polling suggests many Americans want to see him there, too.
A new Morning Consult survey shows that the majority of voters the firm polled, 52 percent, support an appearance from the former two-term governor of New Mexico at the first general-election contest, slated for September 26. It's a small victory for Johnson: Though it's unlikely the organization sponsoring the debate will actually let him in, these findings fuel his argument that there's voter appetite for seeing a new face on stage.
Johnson and his Green Party counterpart, Jill Stein, are the most viable third-party candidates this cycle, and they are in the midst of a public campaign specifically to make the debates. They need these events to raise their profiles among voters, and to try to prove they can take on major-party nominees Hillary Clinton and Donald Trump. Johnson and Stein are held back, though, by a debate-qualifying rule instituted by the Commission on Presidential Debates: They must average 15 percent support across multiple national polls.
As it stands, neither third-party candidate qualifies under that criterion—Johnson averages 10 percent support, with Stein around 4 percent. But both can now claim significant support from voters when it comes to seeing them onstage. According to the new survey, 49 percent of Democrats, 48 percent of Republicans, and 58 percent of Independents support a Johnson showing at New York's Hofstra University, which will host the first competition this fall. Stein's numbers are slightly lower, with support from 47 percent of Democrats, 42 percent of Republicans, and 52 percent of Independents.
The poll has a limitation: It was conducted only online, a survey method that's still in its infancy. But that probably won't matter to Johnson, Stein, and their backers as they continue advocating for inclusion. And that's not just because the numbers themselves are favorable: A recent live-interview poll from Quinnipiac University backs up the online survey's pro-Johnson takeaway. It found that 62 percent of likely voters think Johnson should be included in this fall's debates. "If the CPD's purpose is to provide an opportunity for voters to see the candidates they are considering on the level playing field of the debate stage, then the CPD should listen to those voters," Joe Hunter, Johnson's communications director, told me via email in reaction to the recent surveys. (David Bradley, Atlantic Media's chairman, publicly supports opening up debates to more candidates.)
Another new finding from Morning Consult lends some weight to third-party candidates' pitch to be included: Though voters are fairly split on how much the debate will matter to their vote, most surveyed—66 percent—are either "very" or "somewhat" likely to watch the first debate. Johnson and Stein can argue that their quest to compete has support among seemingly engaged voters. And if they can convince enough of these Americans they deserve a national stage, perhaps the commission will come around to changing its rules—if not this year, then four years from now.