In Search of Donald Trump's New York Campaign
The Republican says he desperately wants to win his home state—but there's scant evidence he's actually trying.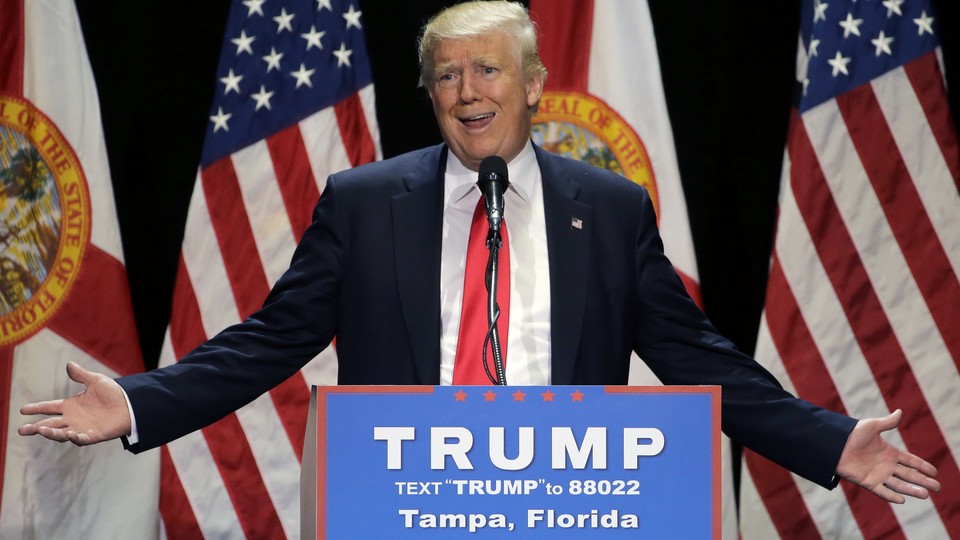 NEW YORK—Earlier this month, Donald Trump stood in front of a midtown Manhattan ballroom crowded with supporters and repeated something that, in the context of his race for president, was as shocking as any of his more outlandish policy proposals.
"Just so you understand, we are going to play New York," Trump said. "We're not just doing this for fun. We're going to play New York."
It was a public commitment to invest the time, energy, and resources necessary to win a state that has not voted for a Republican presidential candidate in 32 years, that hasn't been competitive on the national level in nearly as long, that has twice elected Hillary Clinton to the Senate with large majorities, and where the most recent poll showed Trump losing by 24 points.
It is customary for presidential candidates to signal their enthusiasm for winning any state in which they're speaking, no matter how red or blue the tilt. It's usually harmless, and it fires up the crowd. Hillary Clinton might easily make a similar pledge about Texas if she found herself at, say, a fund-raiser in Austin—and not just because the polls there are far closer than they are in deep-blue New York.
Yet Trump didn't limit himself to a passing moment of bravado. He made clear—or tried to, anyway—that this wasn't idle chatter. He returned to his commitment to compete in New York again and again. For a candidate not known for his attention to detail, Trump spoke at length about the upstate economy and the loss of population in the last decade, and he repeatedly criticized Andrew Cuomo over ads the state was running to boost tourism. It almost sounded like he was running for governor as much as president.
Trump knew the room doubted him. "I am being 100 percent serious," he said. "Everybody would say, 'Oh, don't bother with New York because Republicans don't win New York.' I don't think that we're going to be in that position. I think we're going to win New York. I think we're going to do great in New York."
And a few minutes later: "We are going to play so hard. We are going to play so hard and win. We are going to win this state. It's going to shock people."
As voters have learned repeatedly in the last year, just because Donald Trump says something once, twice, or a hundred times doesn't make it true. Are his claims about contesting New York, like so many other Trump assurances, just more competitive bluster and machismo? Or is he really doing this? Is he actually expending resources on a home-state Hail Mary at a time when his better-funded opponent is pouring tens of millions of dollars into the battlegrounds that will determine the presidency?
He just might be.
* * *
"You can never underestimate the personal factor with Donald Trump," Representative Peter King told me in a recent phone interview.
The Long Island Republican was discussing Trump's near-obsession with winning his home state, and though King was careful not to contradict his candidate, it was clear that Trump was more optimistic about his chances than he was. "A lot of it here is, he considers himself the ultimate New Yorker," King said.
That much was clear from Trump's speech in Manhattan, where he was accepting the nomination of New York's Conservative Party, which is an important player in local elections and has become the state's largest "third party" in the last several years. Trump and Clinton both now claim the Empire State as home, and both have based their national headquarters in New York City—hers in Brooklyn, and his at Trump Tower.
Yet the Queens native who made it big in Manhattan has seemed offended by the idea that Clinton, a transplant from Illinois by way of Arkansas, could call herself a New Yorker in the same way as he could. "She's not a New Yorker," Trump reminded the conservatives, before boasting about his big lead in Arkansas. "I will say this: You'll never get more of a New Yorker for president than you're getting with me."
If nothing else, Trump's interest in winning New York is more than a simple applause line for local supporters. He has directed his campaign to come up with a game plan, and his campaign has, in turn, reached out to supporters like King to talk about implementing it. King said he got calls in early September from officials at Trump's Manhattan headquarters who spoke about opening offices and asked him for recommendations on staffers to hire.
"Paid employees they're talking about," King told me. Fred Dicker, the prominent (and now-former) columnist for the New York Post, reported that the Trump campaign was soon to announce that it would open 10 operation centers in the state to conduct phone banking, direct mail, and other get-out-the-vote efforts. But three weeks later, that news has yet to come.
Other senior Trump backers in New York offered similar assurances: Plans have been approved, they said, and Trump's commitment to competing in the state is real. But exactly what those plans are remains a mystery, an electoral version of Trump's infamous "secret" strategy to defeat the Islamic State. "I will confirm that Donald Trump has instructed me as his state chairman to win New York state. And I will confirm that we have a pathway to do that," said Carl Paladino, who ran a Trump-like campaign as the GOP nominee for governor in 2010, which he lost to Cuomo by 30 points. "What I can't tell you is what our plan is, because that would be telling Hillary Clinton what our plan is."
Paladino did, however, provide some insight into the campaign's thinking about the state. The key to victory, he said, is winning crossover Democrats and independents in upstate New York and Long Island. Those are the so-called Reagan Democrats whose political views are similar to working-class voters in Pennsylvania and Ohio, where Trump is more competitive. Paladino and King cited polling that showed Trump running close to Clinton in Long Island and in traditionally Democratic counties upstate. A Siena College poll conducted for Newsday and released last week found Trump leading by four in Long Island's two counties, and Paladino pointed to a survey conducted for a local race that showed Clinton and Trump running neck-and-neck in Cheektowaga, an upstate suburb of Buffalo where Democrats strongly outnumber Republicans.
"If you traveled to upstate New York, you'd see three signs on the highway and in front of people's houses," said Mike Long, chairman of the Conservative Party. "One of the signs is 'House for Sale.' Another sign is no to the Safe Act, that's the law that was passed by Cuomo [to expand gun restrictions]. And the other signs are Trump signs."
Yet winning upstate and even Long Island only gets you so far. To win the Empire State, Trump would need the millions of Democratic voters in and around New York City to sit out the election. Paladino said Trump would win Staten Island, the most conservative of the five boroughs that is home to many of the city's cops and firefighters. And he said Trump is "running very well" in parts of Queens and Brooklyn—enough to overcome what he predicted would be a weak turnout of liberals for Clinton in the city's Democratic strongholds.
That is Trump's path to victory. As a strategy, it resembles a football team trying for a last-second touchdown with five lateral passes on the final play. Democrats find Trump's excitement about New York more amusing than anything else. "He may do better in areas of upstate New York," said Representative Steve Israel, the Long Island Democrat, "but I don't see even a puddle of support for him in my district." Israel said he had seen no sign of Trump campaign activity on Long Island, joking if there were any organizers, "they are all in the Witness Protection Program."
* * *
The biggest objection to Trump making a run in New York is that he is already trailing Clinton in fundraising by a significant margin, and diverting resources that could go to more competitive states like Pennsylvania, Ohio, and Florida would be tantamount to political malpractice. If Trump were spending unlimited sums of his own money, he could compete in New York without much controversy. But he isn't doing that, and taking his efforts in the state seriously requires—at this point—a belief in things unseen.
When I asked Ed Cox, the chairman of the New York Republican Party, what Trump's campaign in the state would look like, he said it would be "a low-budget, grassroots, volunteering kind of campaign." That worked for Ronald Reagan in 1984, the last time a Republican has carried the state. (Reagan won 49 out of 50 states that year.)
The best argument Cox made was to point out that, unlike GOP presidential campaigns of the recent past, Trump built up an infrastructure in the state when he won the April primary in decisive fashion. Noting how expensive advertising is in New York City, Cox said it wouldn't benefit Trump to spend much money on the campaign—a philosophy that Trump has applied with surprising success nationwide.
Paladino said he is "getting money" for his effort in New York and that Trump had given him everything he's asked for. But he, too, downplayed, the importance of spending. "Listen, he's dead-even with Clinton, and she's gone out and spent hundreds of millions of dollars, and he's spent diddly-shit so far," he said. "So you tell me what spending means."
Even without a lot of spending or ads, a successful campaign generally still needs foot soldiers and an organized field effort to get out the vote. For that, Cox directed me to Queens, where the Republican National Committee earlier this year opened an office with a paid staffer to train volunteers in minority outreach, part of a nationwide effort called the Republican Leadership Initiative. Trump met with the staffer, Pierry Benjamin, during an event last month. It was originally scheduled to take place at the Queens office but was moved at the last minute to Trump Tower.
The Queens outfit is an unmarked storefront in the Ridgewood neighborhood, about a mile from the county Republican headquarters. Underneath an awning that advertises the grand opening of "Family Deli" is a spare office with several maps on the wall. When I made an unannounced visit on a weekday afternoon in mid-September, the office wasn't exactly a hub of activity. The front door was locked, and inside several rows of folding tables and chairs were empty except for Benjamin, who sat in the back working with a TV playing CNN in the background. There were no visible Trump signs or anything besides a placard for a local GOP candidate. Benjamin wouldn't speak to me on the record without the permission of the RNC, which later declined to make him available.
The RNC is running most of Trump's ground game in the battleground states, but it is not apparently doing so in New York. "I never even talked to the RNC," Paladino said. "I don't know anything about the RNC. They do what they do and I do what I'm doing."
"They're not here. We have our own crews all across the state," he added. Paladino said Trump did plan to hold rallies in the state beyond his frequent appearances in Trump Tower and media events in Manhattan. But again, he wouldn't get into specifics. Trump had been advertised as attending a rally after Monday night's debate at Hofstra University, but he didn't show up.
Just six weeks before the election, it's hard to tell whether Trump's coterie of New York allies are mounting an actual campaign in the state or merely indulging on his behalf an obsession they know to be misguided. When Trump spoke to the Conservative Party a few weeks ago, he singled out Cox and dropped a hint that perhaps the GOP chairman had reminded him to keep his eyes on the real swing-state prizes. "We're going to play it, Ed," he said of New York. "We're also going to do those others that you told me to do." That, however, was merely a brief aside. Soon, Trump was reminiscing about his landslide win in the primary. And if you listened closely, you could hear why he so desperately wants, against both the odds and his better judgment, to make New York competitive in November. "It's always bad, never good," Trump said, "when you lose your state, and lose it badly."