Donald Trump's Immigration Speech Backfires Among Hispanic Republicans
Some members of the nominee's Hispanic Advisory Council will reportedly step down after being disillusioned by his immigration speech.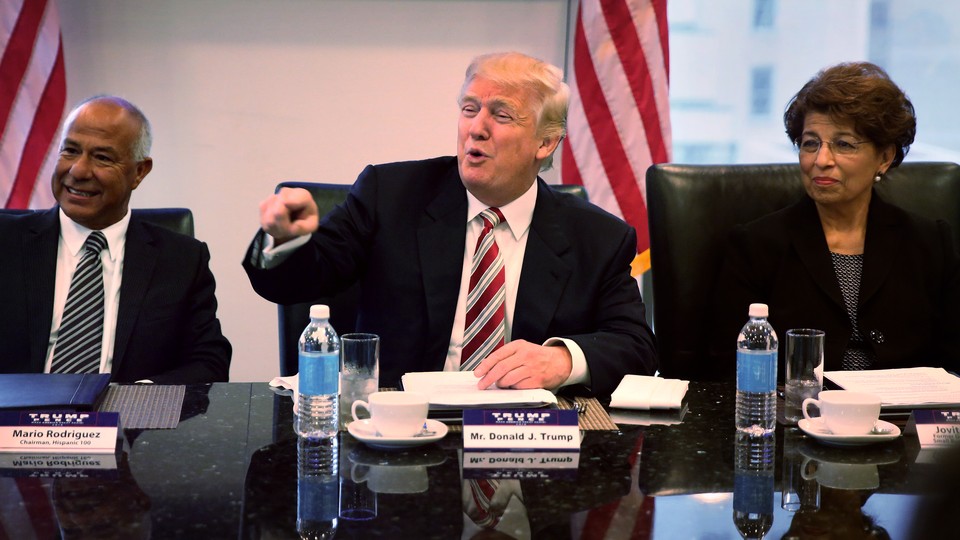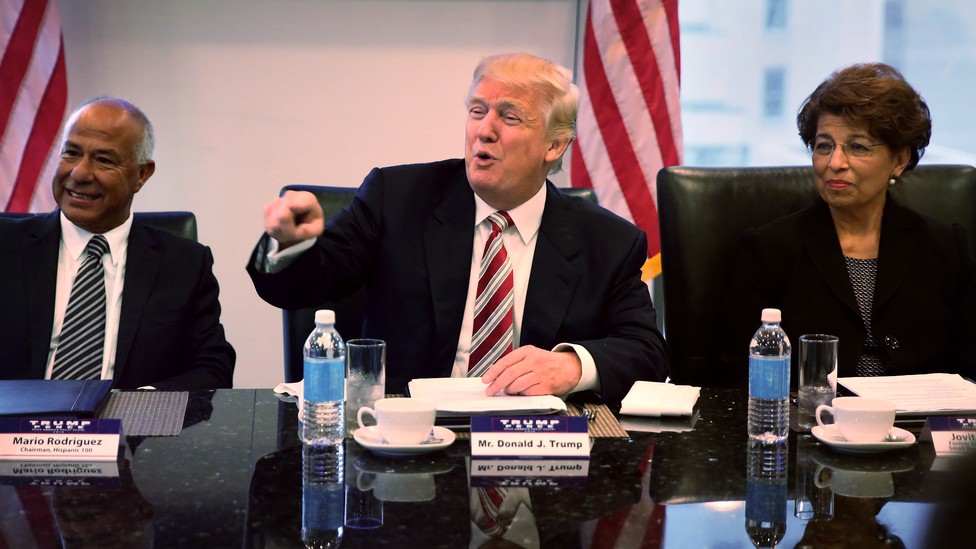 Updated on September 2, 2016 at 8:50 a.m.
Donald Trump's hard turn on immigration in a speech in Arizona on Wednesday has sparked a sense of betrayal among members of his Hispanic advisory council, who had hoped to see a more compassionate approach to immigration.
"We will build a great wall along the southern border. And Mexico will pay for the wall," Trump said. He added: "Within ICE I am going to create a new special deportation task force focused on identifying and quickly removing the most dangerous criminal illegal immigrants in America who have evaded justice just like Hillary Clinton has evaded justice, OK?"
Former Trump Hispanic Adviser and a member of the council Jacob Monty resigned shortly after the Arizona speech. "I couldn't be part of the charade," he told me Thursday night, adding "I didn't want to be responsible of leading people astray."
Politico reported that Alfonso Aguilar, the president of the Latino Partnership for Conservative Principles, had not yet reached a decision about stepping down from the group, but conceded: "We feel misled." Tony Suarez, the executive vice president of the National Hispanic Christian Leadership Conference and member of Trump's Evangelical advisory board, said in an interview, "I have more questions than I do answers," in light of Wednesday's speech, but plans to stay on the board. As of Thursday night, two of the 23 members of the Hispanic advisory council had resigned.
Late last month Trump met with his new National Hispanic Advisory Council to solicit advice from Hispanic leaders. During the gathering the Republican nominee signaled that he might soften his approach on immigration. "When we got an opportunity to meet with him, he showed up prepared, he asked all the right questions," Monty said Thursday. He added: "The guy that appeared last night was not the Trump I met on August 20." But days later, the initiative appears to have flopped, with several members of the council venting frustrations with the nominee and reportedly reconsidering their involvement with the group.
The news comes only a day after Trump made a last-minute trip to Mexico to meet with the country's president, Enrique Peña Nieto. Trump's harsh stance on immigration, a cornerstone of his presidential campaign, wavered in recent days, creating confusion about his position altogether. Trump and Peña Nieto's news conference in Mexico City on Wednesday did little to remedy that. For one, neither of the two men elaborated on who would pay for the border wall. "We didn't discuss it," Trump said, when asked––but Peña Nieto later said in a statement that he told Trump Mexico would not pay for the wall. Trump has long said that Mexico would foot the bill.
Despite what appeared to be a cordial meeting, Trump reverted back to his regular immigration points in Arizona Wednesday night: Mexico would pay for the wall, pledged mass deportations, and said there would be "no amnesty."
Leslie Sanchez reported a number of Trump's Hispanic advisory board planned to step down on Thursday:
Suarez said that members of the Hispanic advisory board felt "really disappointed." "They're not at a place that they can continue (to support Trump) and I respect it," he said. "They don't see any hope after yesterday's speech."
The resignation rumors are only the latest sign of the Republican Party's troubles with outreach to Latinos. The head of Hispanic media relations at the Republican National Committee, Ruth Guerra, resigned earlier this year because, according to The New York Times, she felt "uncomfortable" working for Trump. And in Florida, Wadi Gaitan, who led the communications department for the state's Republican party, stepped down to join the LIBRE Initiative.
Trump's divisive rhetoric about Hispanics and immigration poses a conundrum for Hispanic Republicans, who may support a more hawkish border stance but are finding it difficult to grapple with Trump's rhetoric about the Hispanic community.
The Republican nominee has struggled to woo minority voters time and time again—an impediment to the GOP which pledged in its 2012 autopsy report to put more emphasis on Hispanic voters. Polling shows 24 percent of Hispanic registered voters support Trump, leaving him slightly behind Mitt Romney's 27 percent support in 2012. This could hurt Trump most in battleground states like Florida, which has an increasingly diverse electorate.
To be sure, immigration is one of the top issues concerning Hispanic voters, among jobs and the economy and education. But rather than reaching out to Latino voters, Trump's approach to immigration has left his Latino supporters so insulted that many of them are no longer willing to back his campaign.