The Different Ways Fox, MSNBC, and CNN Recapped Monday's Debate
They were given the same 120 minutes. But each network presented them its own way.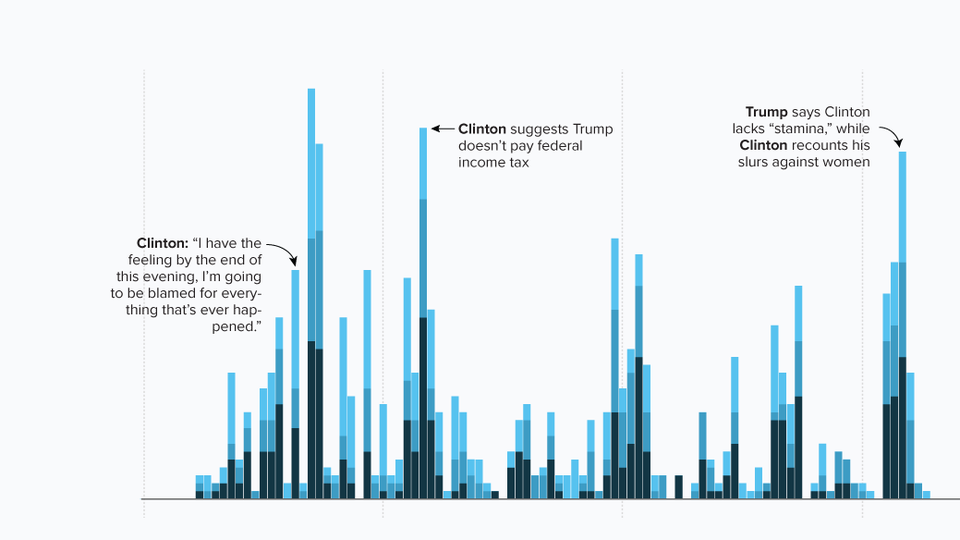 A presidential debate never really ends. For weeks—until the next matchup—cable news keeps the top clips on rotation, replaying the zingers and goof-ups. (I expect to see Hillary Clinton's Shaq-like shoulder shimmy about a zillion times before this election concludes.) And what's wrong with that? A debate is America's rare chance to compare the candidates head-to-head. Each appearance is worth chewing over.
But if cable-news recaps constitute part of our collective short-term political memory, it's interesting to see which clips they choose to spotlight—and how their choices vary by network.
For months, the Political TV Ad Archive, a project of the Internet Archive, has faithfully logged when campaign commercials air in key media markets. How they manage to track them is pretty neat: Their software builds an audio fingerprint of each campaign advertisement, then listens for that distinctive waveform on live broadcasts. Using the same technology, the group launched a side project this week, monitoring how clips from Monday's debate have reappeared on the major news networks.
Daniel Schultz, the project's senior engineer, ran the numbers for the 24 hours following the debate, focusing on CNN, MSNBC, and Fox News. Because some clips overlap, these minute-by-minute counts might be off by one or two replays, but they hold up for the purposes of comparing the networks.
All three networks prominently featured Clinton's wavering explanation of why she reversed her support for the Trans-Pacific Partnership. But the rest of the recaps were a bit different.
Fox News tended to focus on Donald Trump, devoting more airtime to his stronger moments at the early end of the debate. One of their most-played clips features a Trump zinger against Clinton about 20 minutes in:
Trump: Hillary, I just ask you this, you've been doing this for 30 years. Why are you just thinking about these solutions right now? For 30 years, you've been doing it and now you're just starting to think of solutions. I will bring back jobs. You can't bring back jobs.

Clinton: Well, actually, I have thought about this for quite a bit.

Trump: Yeah, for 30 years.
Fox News was far more likely than the other networks to replay this clip, where Trump calls out Clinton for posting online the broad strokes of her strategy against ISIS. "I don't think General Douglas MacArthur would like that too much," he said. "No wonder you've been fighting ISIS your entire adult life."
MSNBC, long considered a liberal counterbalance to Fox News, gave more weight to Clinton's applause lines. One of their most-aired clips featured the Democratic nominee's response to Trump's jab about how she took a few days off from the campaign trail for debate practice. "I think Donald just criticized me for preparing for this debate. And yes, I did," she said. "And you know what else I prepared for? I prepared to be president. And I think that's a good thing."
Also frequently replayed was Trump's take on Clinton's "stamina," along with the former secretary of state's rejoinder that she'd like to see the New York magnate travel as often as she did for her job. MSNBC frequently followed that clip with Clinton's lengthier counterattack, which came later in the debate and introduced viewers to Alicia Machado, the former pageant queen targeted by Trump for her weight. "He tried to switch from looks to 'stamina,' but this is a man who has called women 'pigs,' 'slobs,' and 'dogs,'" Clinton said.
And then there's CNN, the putative neutral party, which sometimes bends itself to the point of ridiculousness to appear unbiased. Their clips focused more on the debate's "fact-checking" moments, when one candidate would challenge the premise of the other's argument. Their top clip featured Trump's repeated interruptions of Clinton's (correct) assertion that he supported the war in Iraq in 2002. (CNN also frequently replayed moderator Lester Holt's back-and-forth with Trump over the same issue. )
Clinton: I hope the fact-checkers are turning up the volume and really working hard. Donald supported the invasion of Iraq.

Trump: Wrong.

Clinton: That is absolutely—

Trump: Wrong.

Clinton: —proved over and over again.

Trump: Wrong.
I've written before about how Republicans and Democrats pursue news sources that confirm their own beliefs—and yet still have a common trust in the so-called mainstream media. Even so, how a voter remembers Monday's debate could depend on which channel they switched on afterward. I hesitate to pigeonhole journalistic outfits. But Fox News largely showed Trump triumphant, while MSNBC savored Clinton's quips. Sometimes they agreed: The fact that all networks gave such priority to the Trans-Pacific Partnership shows Clinton's shifting position on trade is an issue that cuts across ideology. But so far, the recaps mostly split along three lines: "Trump good," "Clinton smart," and "Everyone is interrupting."