Congress Avoids a Pre-Election Shutdown
Lawmakers stopped bickering long enough to keep the government operating for another 10 weeks and approve long-awaited aid to combat the Zika virus.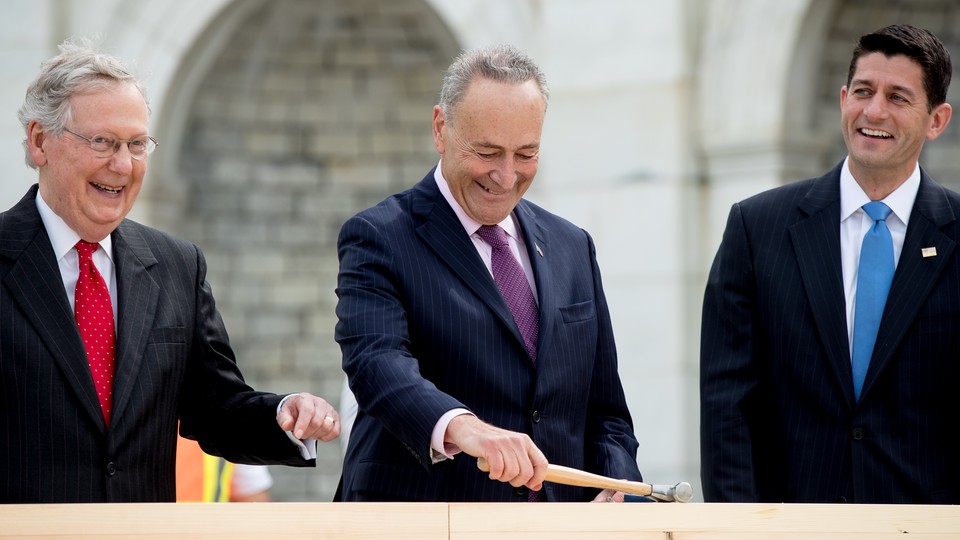 Updated on September 28 at 9:55 p.m.
NEWS BRIEF Congress on Wednesday approved funds to keep the federal government open through Election Day and provided assistance for combatting the Zika virus. But the people of Flint, Michigan, will have to wait another few months for their aid to arrive.
Money for Flint had been the latest obstacle holding up the must-pass temporary spending bill. That is, until Democrats relented in exchange for a commitment from Republicans that the city plagued by lead-poisoned water would receive $170 million through separate legislation Congress will finalize in its lame-duck session in December. With the deal struck, lawmakers were set to leave Washington and return to the campaign trail after the House passed the stopgap government-funding bill late Wednesday evening.
In all, the monthlong fall session was not Congress's finest hour. Members of the House and Senate were expected to do the bare minimum—keep the government open for another 10 weeks—before going home to their districts. And with 48 hours to spare, they did so. Barely.
Yet in the short time they were in the Capitol, party leaders bickered over Planned Parenthood, funding for Zika, and whether the families of Flint—represented by Democrats—were more deserving of immediate help than were the families of flood-ravaged Louisiana, who are represented mostly by Republicans. Democrats won an early round when Republicans dropped a provision from the spending bill that would have prevented any of the $1.1 billion in Zika money from being funneled to a Planned Parenthood affiliate in Puerto Rico. But they balked when GOP leaders inserted funds for Louisiana but refused to include long-overdue help for Flint in the same bill. In the cases of both Zika and Flint, Congress was approving money months after public-health officials warned lawmakers about the growing crises.
Conservatives were disappointed by the entire episode, having watched House Speaker Paul Ryan and Senate Majority Leader Mitch McConnell accede to Democratic demands that the temporary spending bill fund the government only until December 9. The short time frame means Congress will likely negotiate a full-year spending plan in the lame-duck session, which conservatives fear will lead to a costlier budget jammed through the House and Senate right before the holidays. In making their demands, Democrats were taking advantage of the GOP's desire not to be blamed for a government shutdown just weeks before the November election.
"Congress may be patting itself on the back for averting a shutdown, but it has simply postponed the budget crisis until yet another lame duck," FreedomWorks, the conservative activist group, said in a statement. "We will stand with lawmakers who fight to ensure a lame-duck appropriations bill doesn't again become a 'Trojan horse' for some of President Obama and Harry Reid's top priorities such as providing billions in tax carve outs for special interests, bailing out Obamacare on behalf of insurance company lobbyists, reviving corporate welfare at the Export-Import Bank, and saddling taxpayers with higher spending."
In a statement as the Senate voted Wednesday, the White House said Obama would sign the stopgap bill while voicing disappointment that Congress has yet to agree to fund the government for the entire fiscal year.