The Curse of Hillary Clinton's Ambition
Some voters seem to believe the Democratic nominee cares too much about winning.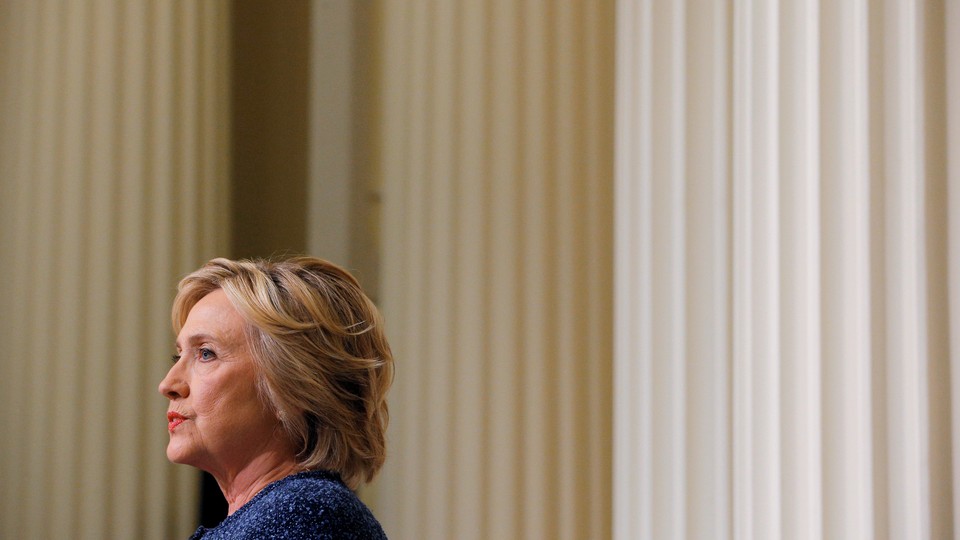 Hillary Clinton can't be trusted because she'll do anything to win. That's what several participants in a focus group of thirty undecided voters moderated by Republican strategist Frank Luntz on Friday in Alexandria, Virginia, seemed to believe. At least some of the group of Democratic, Republican and Independent-leaning voters felt the first woman to win the presidential nomination of a major U.S. political party was too ambitious.
"She's lied again and again and again in the pursuit of power," one man warned. "This has been her entire life's work, it seems like, has been building up to this moment, so she doesn't have any shots left."
"She wants it so much she'll say anything, she'll do anything," a woman chimed in, adding: "the people behind her will say anything or do anything. Do I want those kind of people in power? Oh, please no."
It's no secret a lot of Americans don't trust the Democratic nominee. It's harder to say exactly why. High-profile controversies, including Clinton's decision to use a private email server and refusal to release transcripts of her Wall Street speeches, may leave the impression that she has a habit of concealing things. But some voters also seem to distrust Clinton because they believe she wants to win at any cost.
It's hard not to see that perception as evidence of a double standard. Research indicates that women in leadership positions tend to be evaluated more negatively than men. A 2010 study on backlash against female politicians found that "participants experienced feelings of moral outrage" such as contempt, anger, and disgust when women politicians were described as power-seeking. In contrast, "when participants saw male politicians as power-seeking, they also saw them as having greater agency (i.e., being more assertive, stronger, and tougher) and greater competence."
It's difficult to differentiate or untangle lurking sexism from general distrust among voters of the political establishment. Clinton is also a political insider at a time when voters have very little trust in government.
A number of participants in the focus group rated Donald Trump as more trustworthy than Clinton. Trump also leads Clinton on the question of trust in some national polls. That's remarkable considering that the honesty of the candidates is not an abstract question, and evidence suggest that Clinton is in fact more trustworthy. According to PolitiFact, only fifteen percent of Trump's statements are true or mostly true, compared to fifty percent of Clinton's statements.
"They all thought that she wanted to win more, which means that she'll say and do anything to get elected, which means that the problem of integrity is even higher with her than it is for him," Luntz, the moderator of the AARP-sponsored focus group, commented.
Both candidates should be held accountable for lies and any misleading statements they make. But there seems to be a disconnect when it comes to voter perception of honesty and Trump's track record of false statements.
"She probably is held to a higher standard than Trump," one woman speculated when the focus group was asked whether Clinton is treated unfairly as a woman. "He's allowed to say whatever, and make things up as he goes along in a way that's not permitted to her." Though, it didn't sound like there was much sympathy. "Whether she is [treated unfairly] or not," the woman added, "that's the game."
At one point, participants were asked for a word to describe each candidate. Many of the adjectives applied to Clinton reflected her trust deficit. Untruthful. Untrustworthy. Slimy. Liar. Deceitful. One man called her a "man-eater."
When asked to elaborate, he seemed to equate her political power with a kind of mercenary quality. "Look at how she's dealt with men in power around the world. She takes no prisoners," he said. "For those who are going to get in her way, she's going to cut their liver out, serve their heart, with no regard. I'm dead serious."
Another man explicitly applied different standards to Trump and Clinton in evaluating honesty. "Clinton has a responsibility to be honest because she was an elected official," he said, "whereas Trump just had his organization." It's true that Clinton and Trump are making a pitch to voters based on very different track records. It seems odd, however, to suggest that simply because Trump doesn't have experience in politics he does not have a responsibility to be truthful, especially as a presidential candidate.
Of course, no matter how low an opinion undecided voters have of Clinton that doesn't mean they like the alternative any better. Plenty of revulsion was expressed toward Trump at the event. Crazy. Unstable. Arrogant. Megalomaniac. Self-centered. Bigoted. Hateful. All those words were used by participants to describe Trump.
One woman voiced frustration that Trump hasn't done more to reach out to undecided voters, suggesting he has spent too much time catering to die-hard conservative voters instead. "I don't see any movement by him to try to change, to create a different image for people that are uncertain," she lamented. "He's got the people in line who are going to vote for him no matter what, [but] he's not talking to me."
Many voters came across as jaded. When shown an ad showing children watching offensive statements made by Trump, a number of  participants started to laugh. That reaction is a far cry from the shocked outrage the ad-makers intended. "They have absolutely no trust in politics, no faith in politicians, and the belief that the system is so broken [means] that you can do an ad like that and it is just [seen as] ridiculous," Luntz said.
Yet fear of a Trump presidency ultimately seemed to outweigh complaints over Clinton for many undecided voters in the room. "I think about the day after the election, if I were to wake up ... how am I going to feel," one woman said, her voice registering concern. "If he's president, I'm going to feel scared. [It'll be] the great unknown. If she's president, it'll be like well, here we go again, business as usual. I think I could live with that better than the alternative."
The perception that Clinton is overly ambitious may threaten her standing in the eyes of some voters, but that doesn't mean it will sink her candidacy. None of this is happening in a vacuum, either. Clinton faces off  against a candidate who is also historically unpopular.
If Clinton is elected, it will be interesting to see if voters change their minds about how much they trust her.  But if she loses, voters' perception of her ambition may be part of the reason why.