Can Clinton Win the Kids Back?
New polling shows the Democratic nominee is losing support among millennials to third-party candidates. So she's turning to Bernie Sanders and Elizabeth Warren for help.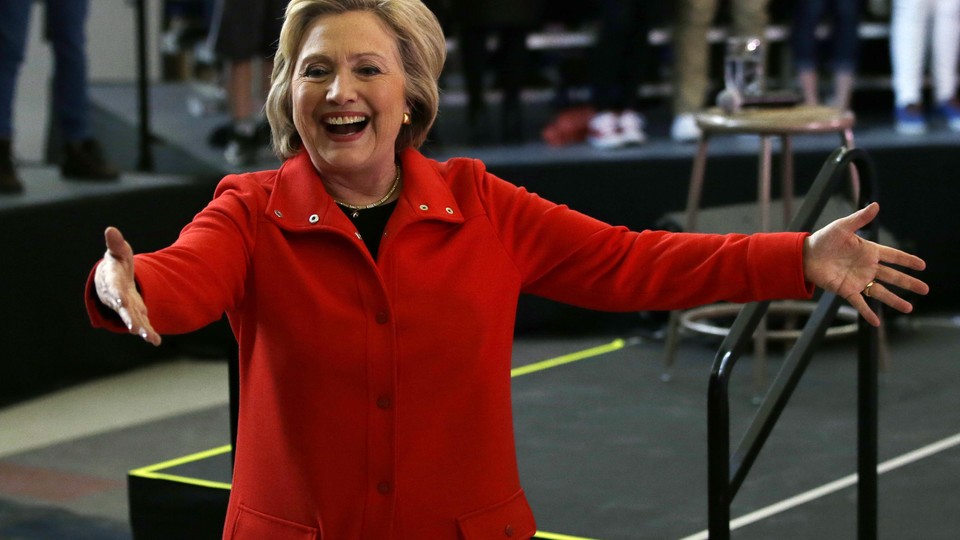 Updated on September 15 at 5:04 p.m.
Hillary Clinton, the 68-year-old Democratic nominee for president, has a problem with young voters, and she's turning to the big guns for help: 75-year-old Bernie Sanders and 67-year-old Elizabeth Warren.
The Clinton campaign is sending those two liberal senior citizens on a college tour of Ohio this weekend in a bid to whip up enthusiasm for the Democratic ticket among millennials. The timing of the barnstorming announcement could hardly have been coincidental: In the last day, two major polls have found that more than one-third of voters under the age of 30 plan to vote for either Libertarian Party nominee Gary Johnson or the Green Party's Jill Stein instead of either Clinton or Trump in November.
A defection by millennials of that size could be devastating for Clinton; in 2012, President Obama won 60 percent of voters under the age of 30, and the bloc provided a crucial advantage in his four-point victory over Mitt Romney. In a Quinnipiac University poll released Wednesday, Clinton earned support from just 31 percent of voters under the age of 35 in a four-way race. It's not like millennials are suddenly flocking to Trump. They plainly loathe him. Three in five have a "strongly unfavorable" view of him, three in four say he would divide rather than unite the country, and four in five millennials say Trump is not a candidate they can relate to. So yes, younger voters clearly prefer Clinton to Trump, but what they really want is someone else. Clinton carries that bloc by more than 20 points in a head-to-head matchup, but her support peels away when younger voters are given the option of supporting Johnson or Stein.
That drop-off might not translate into actual votes for the two long-shot candidates, who are themselves both in their mid-60s and have stumbled with controversial or ignorant statements in the past several weeks. In an election season dominated by sexa- and septuagenarians, there are no obvious choices for younger voters to rally around, as they did with Obama in 2008. The most popular candidate in 2016 for younger voters was the oldest, Sanders, who trounced Clinton among millennials in the primaries with his forceful demands for populist change, single-payer health care, and tuition-free college. Younger Republicans like Marco Rubio and Ted Cruz fell short in their bids this year, and Clinton passed over younger Democrats like Cory Booker and Julián Castro in favor of Tim Kaine, who is 58.
What the surge in millennial support for Johnson and Stein might portend is a big dip in turnout by younger Americans, who already vote in much lower numbers than their older peers. Historically, support for third-party candidates drops as an election gets closer, and neither Johnson nor Stein is expected to earn a spot in the presidential debates. The same polls showing strong support for their candidacies also show that a plurality or, in Stein's case, a majority of millennials don't know much about them. For Clinton, however, the prospect of millennials staying home in November is equally as big of a concern. As Ronald Brownstein detailed in August, the generation of Americans born between 1981 and 2000 makes up an ever larger share of the electorate and has increased by 40 percent in key battleground states just since 2012.
Enter Sanders and Warren. They might not be any younger than Clinton, but their liberalism and critique of establishment politicians have galvanized millennials, and particularly college-aged voters, like no one else in the party—Obama included. The Clinton campaign didn't mince words about what it is sending them to Ohio to do. In five separate events across the state, the senators "will emphasize Clinton's plans to support millennials, including making free community college and debt-free college available to all Americans, protecting access to health care for young Americans, reforming our immigration system and supporting DREAMers and their families, raising the minimum wage and protecting our climate." Clinton will address young voters directly in a speech Monday in Philadelphia that, her campaign said, will "lay out the stakes of the election for millennial voters." And for a younger voice, the Clinton campaign said it will be sending 36-year-old Chelsea Clinton to Ohio next week.
Why Ohio? Besides being a perennial battleground and a must-win for Trump, the Buckeye State is one that has looked particularly shaky for Clinton in recent days. Two respected polls released this week have shown Trump opening up a five-point lead with likely voters, and a survey released Thursday by Suffolk University had him winning by three. The key liability for Clinton is depressed Democratic enthusiasm. She performed better among registered voters than the smaller group of Ohioans who were most likely to vote. That's a reversal of the dynamic that both state and national surveys found in the weeks after the Democratic National Convention, when Clinton led comfortably.
Clinton is banking on a superior turnout operation to give her an edge in battleground states over Trump. That is particularly crucial for younger supporters who have less of a history of voting. But before her campaign can worry about getting millennials to the polls, it has to get them to want to vote for her. That's where Sanders and Warren come in. They might not be young themselves, but just like the generation they are targeting, it took them a while to warm to Clinton. And as the recent set of polling has demonstrated, persuading millennials to end their Hillary holdout could make all the difference come November.