Where Did All the Campaign Spending Go?
The amount spent on the 2016 election is almost impossible to comprehend. But it pales in comparison to 2012.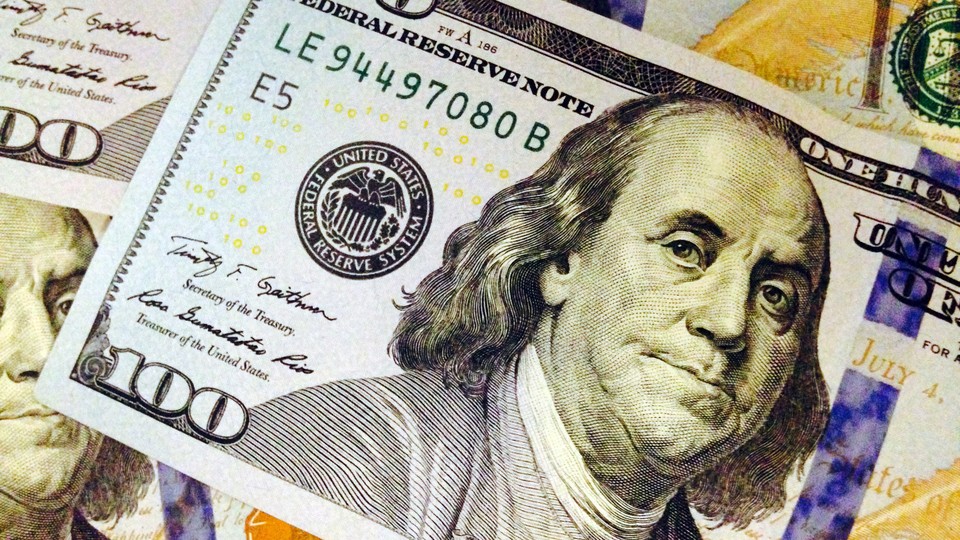 Both Hillary Clinton and Donald Trump have raised gobs of money. 'Gobs' are an understatement, of course: Both candidates now have enough contributions to make one of those fantastically expensive superhero movies. But in one specific way, their spending doesn't measure up.
Take the August operating expenses for each campaign. (That includes salaries, postage, rent—everything that isn't a donation to another candidate or a payment on a loan.) Then, shrink it down to the amount they spent in just five seconds: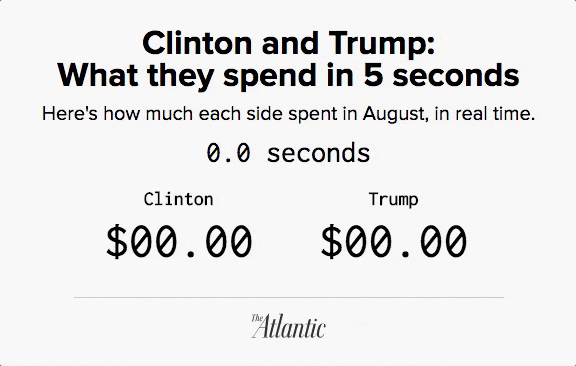 Trump stomped on the accelerator in August, debuting his first campaign commercial and beefing up online advertising. Even so, Clinton won out by $36.73, or an extra $19 million over the entire month. That's not surprising: The Clinton campaign fields a staff of hundreds, while some of Trump's employees work in offices of nailed-together drywall. But as the primaries showed, Trump doesn't need to outspend his opponents to be successful.
The Republican National Committee might view it differently. The RNC, stuck providing whatever on-the-ground infrastructure the Trump campaign's organization lacks, dedicated 80 percent of its spending in August to operational expenses. The Democratic National Committee, meanwhile, sent the majority of its cash back to state committees. Clinton's side now spends $110.55 every five seconds, versus Trump's $82.69.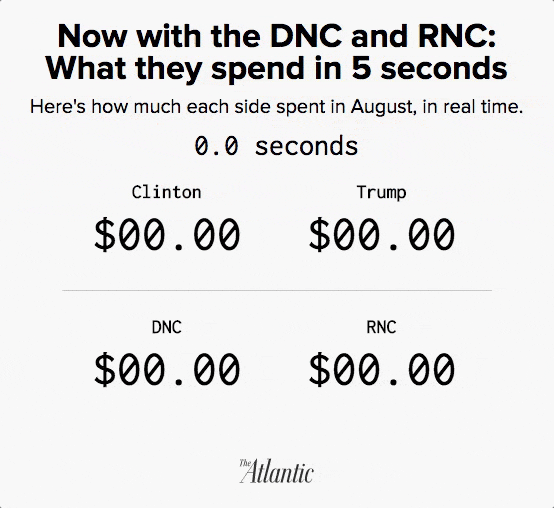 This doesn't factor in super PACs, which spent $5.4 million ($10.06 every five seconds) supporting Clinton and $3.9 million ($7.35) supporting Trump in August. It also doesn't account for the myriad joint fundraising committees funneling money to the campaigns and national committees; they don't officially file their paperwork until October, but what they've transferred to the candidates so far should be reflected in existing filings.
But as large as these numbers look, they're puny compared to what Barack Obama and Mitt Romney spent in 2012.
What's up with the gap? For Democrats, television advertising. While Clinton has aired more ads than Trump, she has spent less than Obama For America, which dropped $65 million on media buys in August 2012. For perspective, that's more than the Clinton campaign spent in August—on everything. Recent research from the Wesleyan Media Project backs this up: It shows that Clinton aired 27,500 fewer ads between August 15 and September 19 than Obama did during the same period in 2012. Of course, the situations are different: Obama ran against a candidate who would match him dollar-for-dollar on the airwaves. Clinton is not.
The difference between Trump and Romney is less clear-cut. Trump's payroll is one-fifth the size of Romney's, and he spent next to nothing on direct mail marketing in August, while Romney dropped $12 million. Trump paid "strategy consultants" less than $100,000 over the course of the month; Romney spent more than $1 million. And yet, Trump is more than a percentage point closer to his opponent in the polls than his Republican counterpart was in 2012.
Most campaigns eventually default to an arms race against their opponent, said Michael Franz, the co-director of the Wesleyan Media Project. They made an ad buy in Toledo?! We gotta buy more!! But this year, Trump seems content to spend relatively little. Clinton has eased off the gas accordingly. The sky-high totals seen in 2012 just don't seem worth it this year. (Maybe they weren't even necessary to begin with.)
"It doesn't take as much to pummel Trump, ad for ad, given his relatively minimal spending," Franz said. "And there might be a sense among the campaigns that the purchase of those additional ads are not worth it, considering the preconceived knowledge about the candidates."
Clinton will likely continue to spend a record amount of money, and raise even more. Trump, however, isn't expected to follow. While his take may still seem formidable, his success through relative frugality is a dash of cold water. America is perhaps in no danger of losing its long, expensive presidential campaigns. But at the very least, this year shows  the cost of running for president doesn't always have to go up.