The Long Life of Bridgegate
Federal prosecutors alleged during Day 1 of a federal trial that Chris Christie knew his aides had shut down lanes of the George Washington Bridge in 2013.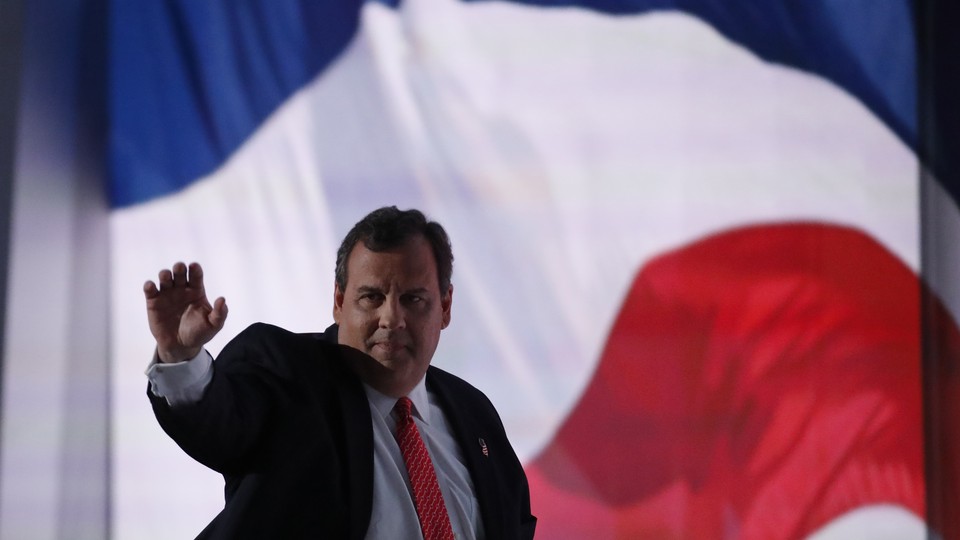 Updated on September 19 at 5:43 p.m. ET
Voicing the long-held suspicions of Chris Christie's detractors, federal prosecutors alleged Monday that the New Jersey governor was well aware his aides had shut down parts of George Washington Bridge in 2013 in an act of political retribution against a small-town mayor—because they'd told him so directly on the third day of the lane closings.
"During those few minutes they had alone with the governor, they bragged about the fact there were traffic problems in Fort Lee and Mayor Sokolich was not getting his calls returned," a prosecutor told jurors at a Newark federal courthouse, referring to a September 11, 2013 conversation between the governor and two associates. Sokolich, a Democrat, had refused to endorse Christie in his reelection campaign that year, and Christie allies allegedly decided to seek revenge by manufacturing a traffic snarl.
Prosecutors' allegations came during opening statements for the trial of two in Christie's orbit: Bridget Kelly, his former deputy chief of staff, and Bill Baroni, whom he appointed to the Port Authority. They were indicted on conspiracy charges more than a year ago. Another Christie appointee, David Wildstein, is the government's "star witness" in the trial, which started Monday, The Record reports. Wildstein and Baroni were the ones who allegedly told Christie face-to-face about the lane closures, during a ceremony in memoriam of the 2001 terrorist attacks. NJ Advance Media reports that Wildstein will testify about that conversation sometime during the trial, which is expected to last roughly six weeks. Asked for comment, the governor's office pointed to previous Christie statements that contradict prosecutors' claims about when he learned of his associates' involvement.
As the trial proceeds, the stakes for Christie are serious, but not as grave as they could have been: If the governor had had his way, he'd have learned about these latest revelations on the presidential campaign trail, while preparing for his first ever debate against Democratic nominee Hillary Clinton.
Though the only campaign Christie could damage now is that of Donald Trump—for whom he's leading a White House transition team—the governor still poses a political danger to himself. He can't run for governor again after his term ends in 2018, but he's widely suspected to be angling for a position in a Trump administration. Christie could lose out on future opportunities if more clues regarding his awareness of the closures come out.
Monday's revelations, after all, aren't the first about Bridgegate—not even the first this summer: Last month, court filings from Baroni's legal team claimed that Christie "lied" during a December 2013 press conference when asked if his aides were involved in the closure. And earlier this month, Christie admitted in an interview with MSNBC that the scandal was probably a "factor" in the Trump campaign's decision not to pick him as Trump's running mate.
Trump hasn't forsaken Christie yet, though the two haven't appeared together publicly as frequently as they had earlier this year. And Christie's future looks uncertain regardless of whether Trump wins the presidency and gives him a high-level administration post. He'd always had a reputation as a no-nonsense brawler, but Bridgegate added a patina of ruthlessness that would be hard for the governor to clean off. The scandal will stain any next act in Christie's life—whether in or out of the political world—as well as his years in the governor's office.