John Boehner's Entirely Predictable Next Act
The former House speaker is pushing through Washington's "revolving door."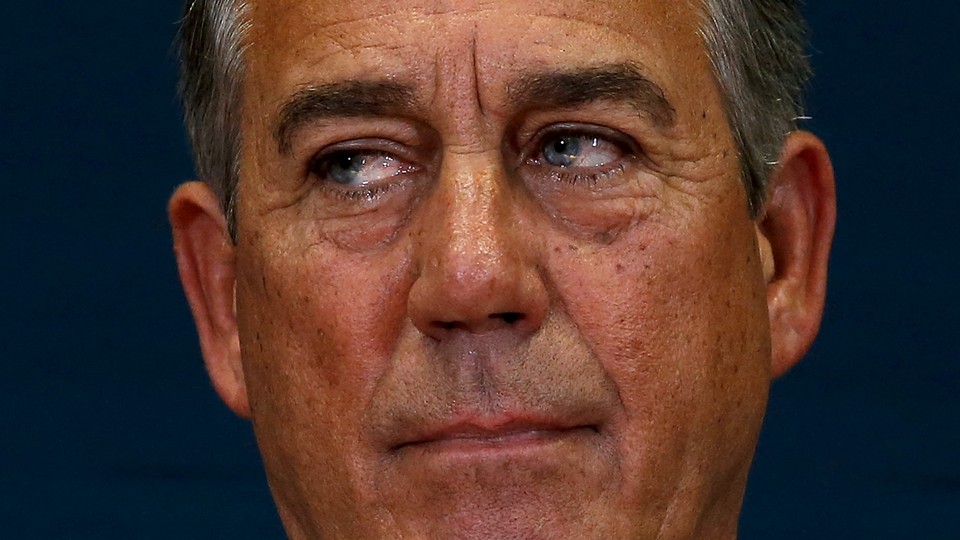 That John Boehner has joined a lobbying firm should surprise absolutely no one. Not because the former speaker of the House had ever deliberately signaled he would seek out a big-paying job upon retirement. Rather, it shouldn't be surprising because former lawmakers taking lucrative jobs is a long tradition in Washington—despite the murky ethics involved.
Whether they're kicked out after losing an election, or whether they've retired after years of service, the essence of the act is the same: These legislators use their political knowledge and personal connections to help wealthy corporations turn a profit, whether by lobbying on their behalf, advising them on policy, or otherwise helping them to get ahead in Washington.
Boehner, in fact, will be assisting two separate firms. Last week, news broke that he is joining the board of Reynolds American, Inc. If that name doesn't sound familiar, the name of one of its companies might: R.J. Reynolds, maker of Camel, Newport, and other cigarette brands. It's a fitting gig for a man who was once "the nation's highest-ranking smoker," as NPR put it this week. Boehner's spokesman was careful to note that Boehner will work on "speeding the decline in tobacco use among young people and reducing the harm caused by smoking," as if in anticipation of anti-tobacco blowback from the news; Reynolds American reports on its website that its "leading change" in the tobacco industry, in part, by focusing on consumer health.
Then, on Tuesday, Boehner revealed he's joining the influential lobbying shop Squire Patton Boggs. The law firm was founded in Cleveland—Boehner represented Ohio for more than two decades—but its lobbying arm has made it more famous around the District. Boehner has former congressional colleagues there to show him the ropes: Former seven-term congressman Jim Matheson started work at the firm in 2015, and former Senate Majority Leader Trent Lott and former Senator John Breaux are key players.
"My role with Squire Patton Boggs will give me the opportunity to engage with leaders in business and government throughout the world," Boehner said in a statement, "and help them work through the challenges they face, as part of a world-class team."
Boehner isn't becoming a lobbyist, at least not in name. He'll be a "strategic adviser," a title The Washington Post noted Tuesday is "a common designation for former legislators who take K Street jobs after leaving office but do not register to lobby."
There are many of those: Whether formally registered or not, scores of former members have joined lobbying groups, organizations with lobbying divisions, or other high-powered firms. In a 2015 report, the Sunlight Foundation and Open Secrets noted that lobbying restrictions are weak, giving lawmakers some wiggle room in which to operate: "The many loopholes limiting who can lobby whom in Washington and whether that lobbying must be disclosed to the public make a hunk of Swiss cheese look like the Berlin Wall." In fact, the liberal magazine Mother Jones once criticized Boehner for not doing enough in Congress to limit lobbyists' influence.
Members stand to make hundreds of thousands of dollars more—if not millions more—than their congressional salaries at private-sector gigs. As I reported earlier this summer, members of Congress aren't paid as much as other private-sector leaders are—most make $174,000 per year, and the House speaker is the highest paid at $223,500—and some argue they should be paid much more to avoid congressional brain drain. There's a whole vocabulary around members taking big-money gigs after office: Cynical observers call it "cashing in," while open-government reformers shame the "revolving door" of Washington. Indeed, there are members who become lobbyists or who otherwise "cash in" on their skills and connections; and then there are lobbyists or high-powered executives who've run for office themselves.
Make no mistake: Lawmakers have to make money for their families like the rest of their fellow Americans do, and they would be as attracted to a big paycheck as anyone else would. But when it comes to lobbying-related ventures, the nature of the work can seem in bad taste: Former members of Congress using their connections influence policy among their former colleagues. Even if they don't directly lobby, lawmakers can risk their reputations by seemingly leveraging their prior public service for personal gain.
It seemed only a matter of time until Boehner announced what he'd be doing next. He spent part of the summer campaigning for House Republicans, but has otherwise laid fairly low since announcing his retirement last year.
Anyone familiar with members' career trajectories could see where he might be headed, though. One Atlantic writer accurately pegged Boehner's job prospects in 2013, two years before he left Congress: "[G]iven his tight ties to the influence business—in D.C., the speaker's wide circle of friendly lobbyists is known as "Boehnerland"—it seems reasonable to suspect that he might eventually find a home in a lobbying shop or trade association."