Is This the Year Arizona Turns Blue?
Between disaffected Republicans and energized Latinos, all of 2016's cross-currents have conspired to make this formerly red state one of the cycle's most contested targets.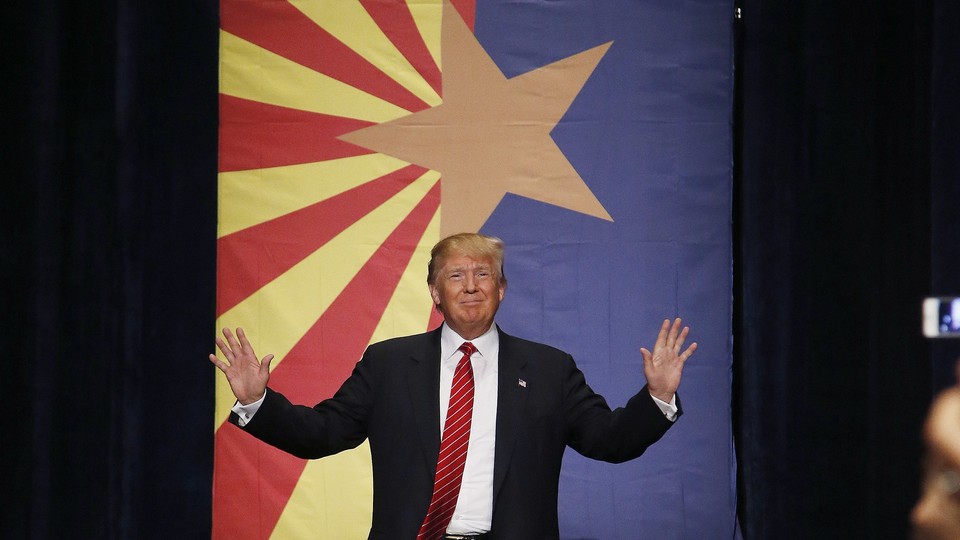 PHOENIX—The Latino activists here are working their hearts out to change this red state's political complexion. But when I bring up Hillary Clinton, Marisa Franco shakes her head.
"People don't like Hillary," Franco says with a narrow-eyed frown. The cofounder of a grassroots group called Mijente, Franco has a militant attitude and a head of black ringlets. Along with two other young Latina activists, we're chatting over tacos at a counter-service joint a few miles from downtown.
Arizona might—might—be a swing state this year, thanks in part to activists like these. But they want to make sure I understand that their work is not testament to any positive feelings toward the Democratic candidate. President Obama represents "broken promises," and Clinton would be "no change," says Alejandra Gomez, who works for a group called People United for Justice.
The activists are telling people to register and vote for one reason: to oppose Donald Trump and the Phoenix area's controversial anti-immigrant sheriff, Joe Arpaio. It is a wholly, avowedly negative campaign. Sometimes, as their canvassers go door-to-door, people will ask them whom to vote for, or whether they should vote at all. "We say, 'You have to vote to stop Trump and Arpaio. There are other people on the ballot,'" says Viri Hernandez, who is 25 and undocumented, and directs a group called the Center for Neighborhood Leadership.
That Arizona could be in play this year is testament to the oddity of 2016. Clinton held narrow leads in a few polls taken in the state over the summer, though Trump has led in most polls, and his lead has grown locally as well as nationally in recent weeks. Still, one polling average puts his lead at just 2 percentage points—in a state Mitt Romney won by 10 in 2012.
"The numbers say it is a swing state, even though it shouldn't be," a Trump campaign official acknowledged to me, adding that the Republican's team is monitoring it closely. Clinton's campaign, meanwhile, has spent six figures on an ongoing flight of television ads, and Democrats claim to have 170 staffers in the field. If this is not a swing state, both presidential campaigns are wasting an awful lot of resources on it.
Whatever happens in Arizona in November, the state stands as a microcosm and test of this year's cross-cutting political currents: the changing American Southwest and rising Latino vote; the divided Republican Party; and the demographic clash highlighted by Trump's divisive campaign. What better illustration could there be of the fractured Republican Party, after all, than a single ballot that features Trump; Senator John McCain, whom Trump memorably insulted; and Arpaio, whose media-fueled immigration provocations prefigured Trump?
Franco's wallet is pasted with the slogans: "DISMANTLE ICE/DEFUND THE POLICE." She describes the state's politics as a racial and generational battle. "The browns versus the grays," she calls it—the ascendant young Latino power versus the fearful old white people, many retirees from elsewhere. "They came here from other states where they're not used to seeing Mexicans, and then they think they should be in charge, even though we were here first," she says.
It is Arpaio that the activists want most ardently to unseat, and they insist they have a chance. Arpaio, who is now 84 and has been in office since 1993, won his last reelection, in 2012, with 50.7 percent of the vote in the conservative bastion of Maricopa County, which includes Phoenix and its predominantly white suburbs.
Like Trump, Arpaio built a national reputation on outrageous, attention-getting stunts, such as forcing prisoners to wear pink underwear, work on chain gangs, and eat rotten food; some prisoners are housed in an Arpaio-built, un-air-conditioned "Tent City." Arpaio has also, like Trump, led the charge on the false claim that President Obama was not born in the United States. Just last week, he told a Tea Party group that he was undeterred by Trump's nominal reversal on the issue. "It is my duty to investigate identity theft, forged documents, especially government documents," he told the local public-radio station, KJZZ.
Federal judges have repeatedly ruled that Arpaio has abused his power as sheriff and that his jails violate inmates' rights. Courts have also repeatedly found that Arpaio's department engages in racial profiling, but Arpaio has ignored and even mocked judges' orders to change department practices. As a result, he now may face criminal contempt-of-court charges and is due in court next month, on October 11—the day before Arizona's vote-by-mail ballots are due to hit voters' mailboxes.
There's plenty of reason to be skeptical that Arpaio can be beat. It has, after all, never happened before in his long and controversial career. Maricopa County is heavily Republican, and Arpaio is a fixture of the local scene. His Democratic opponent, Paul Penzone, lost to Arpaio four years ago and remains relatively unknown. Arpaio will have practically limitless campaign funds thanks to his national popularity and fundraising prowess on the right.
"The sheriff has been elected and reelected six times, and he will be reelected in November," his campaign manager, Chad Willems, tells me. The court case is "a challenge," he acknowledges, but "our internal polling shows the sheriff in a very strong position to win."
The activists say their voter-registration and mobilization effort has been building ever since 2010, when the state legislature infamously passed a tough suite of immigration laws known as SB 1070. They can already claim some successes in targeted, small-scale efforts, such as the ouster of the bill's author, Russell Pearce, and the election of pro-immigrant city councilmembers in Phoenix. The proportion of minorities registered to vote in Maricopa has gone from 25 percent to 30 percent in the past four years, according to Gomez.
Meanwhile, Arpaio's approval rating has sunk to the lowest levels of his career—57 percent of county voters disapproved of him in a poll taken this month. Many in the business community are tired of the cost his antics inflict on the area's reputation. And then there is the outrage over Trump, which the activists say has motivated many Latinos to register and vote for the first time.
I ask Franco whether not being for any particular candidate has been an obstacle for the activists' efforts. "No," she says with a grin. "People like a piñata."
"What really moves people is voting for something they believe in," she adds. "But when you don't have that, a villain is very powerful."
A few hours later, I go out knocking on doors with three Bazta Arpaio campaigners: Bryan Martin Patiño and Jose Arellano Perez, both seniors at Cesar Chavez High School, and Ernesto Lopez, an organizer who works for the campaign. Perez is there to get extra credit in his government class; Patiño, who is undocumented, does it for the sake of his father, who got pulled over two years ago and has been in detention ever since as he awaits a judgment in his deportation appeal. Patiño can't vote, but he can move votes.
In this part of Laveen, a South Phoenix exurb, the streets are desolate and the houses are tiny and close together, stucco shacks with dirt front yards. It is only about 98 degrees, a moderate day by Arizona standards. The canvassers are targeting people who didn't vote in 2012. Some were eligible and didn't vote; others have just entered the electorate, by dint of their age or citizenship.
"Arpaio? I think his time is pretty much up—he's been there too long," says Dale Colyer Jr., a 44-year-old truck driver in a Diamondbacks T-shirt whose two young, biracial-looking children are playing in the driveway. Colyer, who appears to be white, is considering voting for Trump, who he finds "hilarious." But of Arpaio, he says, "I heard he might go to jail for that racial-profiling stuff."
The canvassers get direction on which houses to hit from their iPhones, which have an app version of the Democratic database tool VAN installed. (It's called, naturally, MiniVAN.) After each knock, they record the appropriate response—yes, no, mail ballot, not home, moved—which syncs to the cloud.
"I have seen so many families suffer from deportation, from separation," says Maria Martinez, a tired-looking 42-year-old with a pickup in the driveway. "I know kids whose older brothers are raising them because their father is gone. I know a mom who's homeless with her kids because her husband got deported for a ticket. I've seen a lot of bad things." Martinez, who has a job assembling refrigerators at the Subzero plant, says she definitely will vote against Arpaio.
Lopez is an excellent canvasser, gregarious and persistent. (The high schoolers are still learning.) He also functions as a sort of traveling social-services hotline. Offering to help with the homeless woman's husband's deportation case, he takes Martinez's number, jotting it in the margins of an anti-Arpaio flier, and promises to call. Martinez, in turn, volunteers that there may be full-time jobs opening up at the fridge plant, "for the first time in years," in case he knows anyone who is looking for work.
Some of the canvassers' targets have personal experience with Arpaio's system. "I have a brother right now that's in there," says Evangelina Garcia, 60, whose pebbled yard is dotted with cactuses. "He has cirrhosis of the liver and the doctors gave him four months to live, but Arpaio won't give him his meds." A makeshift wooden cross hangs over her door. Lopez gives her his phone number.
Arpaio's voters may feel he is protecting them from a bad element that doesn't deserve sympathy. But in this community, many feel a personal connection to Arpaio's victims. "I don't like how he's racist," says Tammy Roth, a red-haired, blue-eyed 29-year-old mother of two. The little boy and girl peer out from the doorway; dogs bark from behind a tall wooden backyard fence. "My mom's half, my kids are half—my husband is Mexican. I don't like the way he treats the inmates. Regardless of race, he's just cruel."
In a pink house with mauve trim, an old man in a red hat who speaks no English asks Lopez to help him decipher a letter from a financial-services company. As they talk about politics, Anastacio Enriquez, 78, becomes agitated. Why, he asks in Spanish, is Arpaio—such a bad person—in office in the first place?
Lopez gives a rueful shrug. Unfortunately, a lot of people in Arizona don't like Latinos, he answers. But this time maybe we can make a change.
Outside the converted house in downtown Phoenix where Grant Woods, a former two-term Republican state attorney general, keeps his office, two campaign signs are planted: One for McCain, the Republican senator and former presidential nominee; and one for Penzone, Arpaio's Democratic opponent. The signs, both blue-and-white, lean away from one another, standoffishly.
"Arpaio is an abomination as far as I'm concerned," Woods tells me, his intense, craggy face topped by a brush of gray hair. "I can't think of any reason why anyone would support the guy at this point in time. His record couldn't be any more offensive."
Woods, who's now a lobbyist and trial lawyer, once served as McCain's chief of staff, and remains a close friend and adviser to the senator. He cuts a quirky figure: One wall of his office features a moody, black-and-white photograph of a Navajo elder taken by Woods's late friend Barry Goldwater. Another features a wall-sized poster from the movie version of Les Miserables—Woods is a huge fan of the musical.
McCain has found himself in a tough spot this year. Memorably insulted last year as "not a war hero" by the draft-dodging reality-TV star who went on to take his party's nomination, McCain has continued to criticize Trump but says he will vote for "the nominee of the party." It always sounds as if he's saying it through gritted teeth.
A longtime immigration reformer who helped author 2013's Gang of Eight bill, McCain has few fans in his state's Trump-loving GOP base. But now, having beaten his right-wing primary challenger by 13 points last month, McCain faces a qualified if little-known Democratic congresswoman, Representative Ann Kirkpatrick, who's criticizing him for not rejecting Trump entirely. "He gets killed from the right; the party nominates someone who's probably his last choice; and then he gets killed from the left for not disavowing [Trump]," Woods complains. "He really can't win."
Woods doesn't mean that last part literally—like most Arizona observers I spoke to, he believes McCain will pull it out. McCain leads in the polls by margins that far outpace Trump's; as a campaigner, he's known as a hard worker who takes nothing for granted. Nonetheless, this year, McCain worries that he could be in danger if Trump galvanizes Latino voters against the GOP. "The Hispanic community is roused and angry in a way that I've never seen in 30 years," the senator told a closed-door fundraiser in April, according to audio obtained by Politico.
For decades, American Latinos who are eligible to vote have turned out in much lower proportions than white or black voters. Their share of the electorate—and the population—continues to increase, but lags its potential, largely because of immigrant communities' lack of connection to the political process. Before Trump came along, Arizona Democrats had been playing a long game, the party chairwoman, Alexis Tameron, told me—hoping their gradual efforts might pay off in 2020 or 2024.
Democrats hope—and Republicans fear—that Trump has jump-started the process. But it will take more than a wave of new minority voters to turn this red state blue, Woods points out. It will take erstwhile Republicans like him rethinking their allegiance.
Woods, a self-described moderate Republican, has been annoyed with his party for a while now. "I had enough problems with them before Trump," he tells me. "I wasn't a fan of the Bush presidency. Someone like Mike Pence," Trump's running mate, "is way too doctrinaire for me. If the party is going to be full of the across-the-board negative and hateful rhetoric of Donald Trump, I don't see why anybody would want to be a part of it."
Woods sees the state as a long shot for Clinton. "It's tough for a lot of people not to vote with their party," he says. "Not for me, though. I think she's the most qualified candidate ever, and I think she'll do a good job. I don't have any problem saying I'm going to vote for Hillary Clinton."
Woods believes Arpaio, whom he has known for three decades, will lose this time, and he frets about his party's future. "Why is it even close?" he wondered. "Maybe that's the better question. I don't know."
The back pews of the Living Word Bible Church in Mesa are not quite full by the time Mike Pence, Trump's running mate, takes the stage on Thursday night, after Pastor Jason Anderson has encouraged the assembled to "elect Jesus president of your heart." This heavily white, Christian Phoenix suburb is a bastion of conservative Mormons, but Trump's unpopularity with the Latter-Day Saints has forced the campaign to seek other venues. Instead, neatly dressed parishioners mingle with Trumpy-looking guys with camouflage pants and tattoos down the length of their arms.
Neither Trump nor Clinton's path to victory can truly be said to run through Arizona. If Trump is in trouble here, he is likely also underwater in a bunch of other states Romney won four years ago; by the same token, if Clinton is competitive here, she has probably already clinched enough electoral votes to win the election. The state leans slightly more Republican than Iowa and more Democratic than Georgia, according to FiveThirtyEight.
It's not clear why either presidential campaign would spend its resources in Arizona, yet both campaigns are doing so. The Clinton campaign has been airing television ads since last month and doesn't plan to stop. Trump hasn't spent money on ads here, but he has spent time: The nominee has visited Arizona three times, most recently for the incendiary immigration speech that followed his visit to Mexico last month. This is Pence's third visit since being named to the ticket.
When Pence, with his shiny-haired Ken-doll-come-to-life affect, begins to speak, the contrast between his friendly, square, conventional appeal and Trump's bombastic rallies could hardly be more stark. There are regular moments of cognitive dissonance. "Just about everything you need to know about Mike Pence can be summed up in the fact that I've been married to the most wonderful woman in the world for 31 years," he says. One wonders whether a similar conclusion could be drawn from the nominee's marital history.
A few minutes later, Pence recounts his ancestors' humble beginnings, with special praise for his Irish immigrant grandfather. "That young man had the courage to get on a boat and leave everything he knew behind," he says. The bravery and dignity of immigrants is not a major theme of any Trump speech I have heard.
As Pence is wrapping up, a man yells from the crowd, "What about Joe Arpaio for homeland security?" Pence chuckles noncommittally.
When the event is over and people are filing out, I ask Carol Walker, a 65-year-old former real-estate broker, what she thinks of Arpaio. "I love the guy," she gushes. Someone, she says, has to enforce the laws rather than coddling immigrants the way the federal government does. "America is giving away so much," says Walker, who wears rolled-up jeans and a thermal shirt printed with stars. "They want to come here, but do they want to work hard? I don't know." Walker says there is "no way" she will vote for McCain, who has sided with the Democrats too much for her taste.
Earlier in the day, I'd visited the state Republican Party headquarters in Phoenix, where the first thing you see when you walk in is a big, bright-red stack of Sheriff Joe yard signs. The Trump signs, which had been going like hotcakes, required assembly—they consisted of a baglike piece of flimsy plastic to be stretched across a wire frame. A small batch of McCain signs was relegated to a corner.
A 69-year-old volunteer named Don Hesselbrock, who lives in Phoenix and owns a private security company, had come in to pick up an Arpaio sign, two Trump signs, and some bumper stickers. Hesselbrock is a conservative who supported Ted Cruz in the primary, but now he was squarely behind Trump. He was not picking up a McCain sign, and I asked him why. "I'll vote for him, but I'm not a McCain guy," he said. "I'm really dismayed by these Republicans who are not getting fully behind Trump like they should."
The state party chairman, Robert Graham, came bounding out of a back room. An energetic East Coast native, Graham is all in for Trump, and is contemplating a bid for Republican National Committee chairman when Reince Priebus's term is up after the election. Graham, who has a bushy head of sandy hair and a jockish bearing, loves to tout the state GOP's outreach to minority communities, especially Latinos and Native Americans. He told me a story about bringing Latin hip-hop performers to a parade in overwhelmingly Hispanic Nogales, a draw the local Democrats couldn't compete with. "That's how you engage communities—you become part of them," he said.
I asked whether Trump has set these efforts back. "Oh, at first he for sure did," Graham said. "But now, what I've said to people is, the party's bigger than any one person. We're not just showing up trying to wave his brand." Trump, he was essentially saying, would win because Republicans had reassured Latinos—and, perhaps, Arizonans in general—that they're not all like him.