Why Democrats Keep Winning Presidential Elections
If Hillary Clinton beats Donald Trump, her party will have set a record in American politics.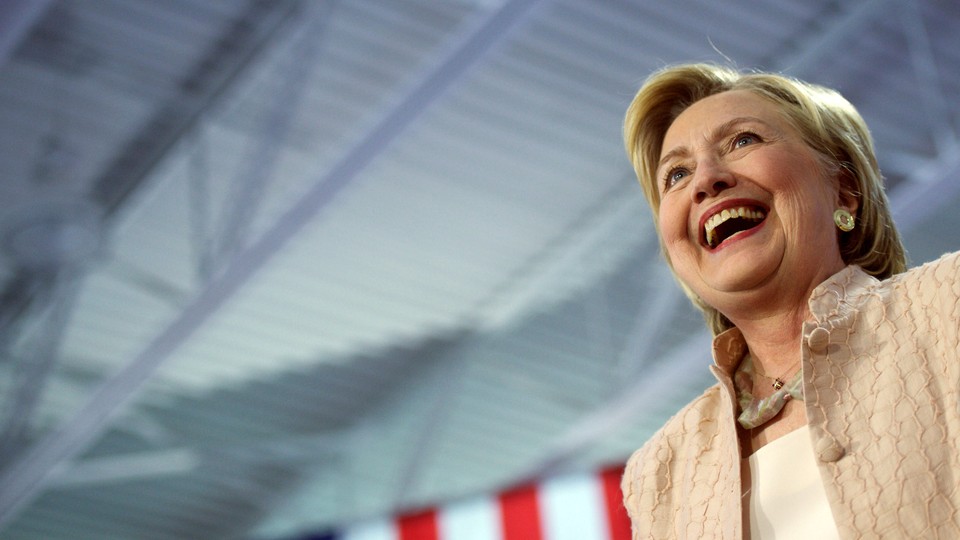 If Donald Trump can't erase Hillary Clinton's lead in the presidential race, the Republican Party will cross an ominous milestone—and confront some agonizing choices. Democrats have won the popular vote in five of the six presidential elections since 1992. (In 2000, Al Gore won the popular vote but lost the Electoral College and the White House to George W. Bush.) If Clinton maintains her consistent advantage in national and swing-state polls through Election Day, that means Democrats will have won the popular vote in six of the past seven presidential campaigns.
That's unprecedented.
Since the 1828 election of Andrew Jackson that historians consider the birth of the modern two-party system, no party has ever won the presidential popular vote six times over seven elections. Even the nation's most successful political figures have fallen short of that standard.
Throughout American history, a partisan advantage that lasts across so many presidential elections doesn't happen by accident, or simply because one side nominates more attractive candidates or develops better campaign techniques. Instead, parties have established the kind of lasting presidential edge Democrats have enjoyed since 1992 only by cementing the allegiance of critical—and usually growing—voting blocs in the electorate. "It means there is a fairly stable coalition that is aligned with the dominant party," said Emory University political scientist Alan Abramowitz.
For Republicans through the late 19th century, for instance, that meant dominating the growing, largely mainline Protestant Northern states, first as the party of Union, and later as the champion of urbanization and industrialization against the Democrats' agrarian populism.
During the Depression, Franklin Roosevelt famously fused growing Northern big-city ethnic populations, heavily evangelical white Southerners, and African Americans into his durable New Deal coalition. That lasted until Republicans, behind Richard Nixon and Ronald Reagan, sheared off many in the first two groups with cultural wedge issues like crime and abortion starting in the 1960s.
Those coalitions have produced several sustained periods of popular vote dominance—but none that would match the Democrats' current run if Clinton wins in November.
Jackson and his Democratic successors mostly controlled American politics before the Civil War, but it took them eight elections, between 1828 and 1856, to win the presidential popular vote six times. It also took Democrats eight elections, from 1932 until 1960, to win the popular vote six times with Franklin D. Roosevelt, Harry Truman, and John F. Kennedy.
With the leadership of candidates from William McKinley and Theodore Roosevelt to Herbert Hoover, Republicans achieved similar successful runs from 1896 to 1924 and 1900 to 1928. And while the GOP won the Electoral College for seven of the eight elections from 1860 to 1888, they actually carried the popular vote only five times during that period. (In both 1876 and 1888, Republicans won the Electoral College while losing the popular vote.) Republicans also won the presidential popular vote five times in six elections from 1968 to 1988, but lost the campaigns immediately before and after that, leaving them with a five of seven record over that span.
A Clinton victory would mark an unprecedented span of partisan advantage.
In some ways today's Democrats have fallen short of those precedents. In their five popular-vote victories since 1992, Democrats have captured an absolute vote majority only in President Obama's two wins. With Libertarian and Green Party candidates showing appeal, even if Clinton prevails, she might not reach 50 percent of the popular vote either. In earlier dominant runs, the winning parties captured presidential majorities more often. And importantly, Democrats haven't controlled Congress nearly as consistently as these other parties usually did during their White House streaks.
Despite those caveats, a Clinton popular-vote victory would still mark an unprecedented span of partisan advantage across seven presidential elections.
And like earlier dominant parties, Democrats have built their presidential edge since 1992 by consolidating support from growing groups in the electorate: in this case, minorities, Millennials, and whites who are college-educated, secular, or single (especially women). This "coalition of transformation" is knit together primarily by its social values—a shared embrace of the demographic and cultural changes reshaping America.
With his confrontational posture toward Muslims and undocumented immigrants, and his locker-room-style language about women, Trump has defined the GOP this year precisely in opposition to those changes. His nomination represented a triumph for the conservative voices who said the GOP didn't need to court these growing groups to recapture the White House, but instead could revive itself by increasing both turnout and its margins among the blue-collar, religiously devout, non-urban whites who are most anxious about social change.
If Trump launched a new media outlet, he could promote his racially barbed populism.
Trump's struggle to push much past 40 percent in national polls during the general-election season has exposed the limits of that "coalition of restoration." Even Trump has tacitly acknowledged those limits with his belated outreach to minority voters, and yet, even that is likely aimed mostly at reassuring the white-collar whites who, polls now show, largely view him as racially biased.
Clinton continues to struggle with questions over the Clinton Foundation and  the private email server she maintained as secretary of state, and Trump's message has  grown relatively more focused and disciplined with recent speeches on the economy and the failures of Washington.
If Trump still loses even after running a campaign focused on culturally alienated whites, it will become more irrefutable that the GOP must attract the growing groups now rejecting its presidential candidate in crushing numbers. But the primary-season appeal of Trump's nationalist message also shows how many Republican partisans will resist any effort to build a more inclusive party. If a defeated Trump launched a new media outlet with his allies, the former Fox chief Roger Ailes and Stephen Bannon of Breitbart, he could create a powerful institutional force for his racially barbed populism—immediately after an election that may reveal its electoral deficiencies.
Those dynamics send Republicans the sobering message that, as Abramowitz said, "it will be hard for them to put Trump-ism in the rear-view mirror." That's likely to remain true even if Trump steers them into a new record for electoral failure this fall.