What Happens When a Revolution Loses Its Leader?
What do crusaders for social justice do when their candidate drops out? They hold a meeting.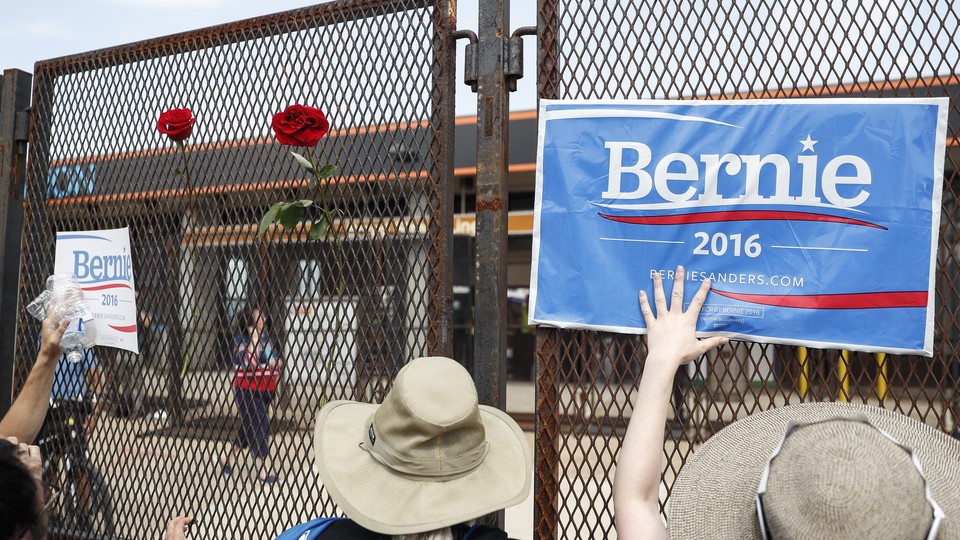 Washington, D.C.—In a church meeting hall in Northwest Washington, leaning toward each other in metal folding chairs and talking loudly over cheese pizza, a small group of Bernie Sanders supporters gathered on Tuesday to answer an urgent question: What happens next?
Posters on the bulletin board advertised domestic-violence hotlines in Spanish and English; one simply said "International Workers Solidarity." A young man named Collin handed out pamphlets for bicyclists against nuclear weapons. The crowd was diverse: Of the 30 or so attendees, half were non-white; half were women; their ages were all over the map.
Bernie Sanders's political revolution promised a new kind of government for America. It promised a solution to income inequality, justice for the poor, affordable college tuition, a strategy to combat climate change, universal healthcare, and, for most Sanders supporters, it promised hope.
One of the group's organizers, a middle-aged white man named Sam Meacham, hosted one of the first Sanders campaign meetings in the District last summer. "I thought 'Holy cow, there's a guy saying the things I've been screaming about for 25 years,'" Meacham said.
"Bernie said, 'It's about us,' not 'It's about me,'" a woman named Alicia said during group introductions. "I have never heard any politician say that."
"I love his accent," added Maxine, a young woman sitting behind her. "And Bernie recognizes that money in politics is the root of all evil!"
"I love Bernie as a person," another woman said, "without knowing him at all." Everyone laughed.
They agreed. They all said Sanders's first name softly, in reverence.
Jim McBride, from Silver Spring, Maryland, said he loved Sanders's "America" ad, the one in which colorful scenes of everyday America fly past to the tune of a Simon and Garfunkel song. "That really got me," he says. "That really crystalized him as the change candidate."
But Sanders is no longer a candidate—for change or anything else. He isn't the Democratic Party's nominee, and his name won't be on the ballot in November. What happens when a band of loyal revolutionaries loses its leader?
They hold a meeting.
* * *
"Today is not about venting our frustration about the campaign. It's not about which candidate is better or whether it's better to stay home," a young Frenchman named Raphael said solemnly. "This is about what's next."
And what's next, for this group, is translating Bernie's progressive revolution into local politics. A young, black man wearing a "Paid Sick Days for All" shirt stepped forward and introduced himself as Jeremiah Lowery. "I believe we can make D.C. one of the most progressive cities in the world!" he said, to cheers.
But first, the group set some guidelines so the brainstorming session wouldn't get out of hand, writing them down with a Sharpie marker on a piece of paper taped to the wall:
Stay focused
Stay motivated/constructive
Respectful
Open-mindedness
Continue to be inclusive
The guidelines seemed to speak more to the future of the movement than the meeting itself—the future of a movement so diverse in its membership, in its ideas, and its passions, that it barely seems able to contain them all. The meeting is spent brainstorming the future of the "Bernie family," as one man put it, with each family member wanting something different—and wanting it now.
Representatives from several local groups stood up and advocated for their particular causes. A woman asked for support for a social-insurance program giving all employees in D.C. a minimum of 12 weeks of paid medical leave; another woman explained the importance of imposing carbon fees on area businesses, a policy that would make businesses pay city residents for polluting; and a man from an organization called Justice First criticized the city's facilitation of gentrification and touted affordable housing policies.
An older man named Steve suggested everyone get on board against the Trans-Pacific Partnership, a trade agreement Sanders fought against throughout the course of his campaign. Someone else suggested that the group's first step should be finding a brick-and-mortar location to begin recruiting people.
"But what's the 'it' we're recruiting for?" a South Africa-born woman named Trish asked. "What is it that we all want to come together for?"
Hands shoot up, with each person offering a different unifying point or policy. Steve again suggested rallying against TPP. Trish never got her answer.
One thing is certain: The group won't be unifying in support of any particular presidential candidate. In fact, most people I met are still undecided as to whom they'll vote for come November—and almost no one wants it to be Hillary Clinton.
"I'm 'Never Hillary' all the way," Meacham told me, adding that he was deeply saddened when she accepted the Democratic nomination. "There are more of us out there than they think."
Eddie Chirino, the partnership coordinator at the Capitol Area Food Bank whose primary concern is addressing climate change, is considering a third-party option. "Naturally, it would be good to have a female president. I'm just not excited it's her," Chirnio said.
"The Democratic Party wants our votes, but they don't listen to our voices," Sophia Marjanovic, a member of the Lakota tribe from Montgomery County, Maryland, told me. Marjanovic has been an advocate for Sanders since he met with Native American tribal leaders in Iowa. "Bernie was listening to us, and lifting our voice." But now that Sanders has been "neutralized," she said she'll consider everyone. "Even Trump. As Native Americans, we've actually gotten stuff done through Republicans."
Bernie supporters still have three months to decide whether to get behind the Democratic nominee, pledge their allegiance to Trump or vote their consciences with a third-party candidate. But that's all secondary. For this little group of revolutionaries, there is an urgent need to keep the progressive movement alive, to define the "it" that will bring everyone together. To replace Bernie Sanders with some other unifying force.
* * *
The group pledged to get to know one another better over the next month. Some members want to make a database of their skills, others want to try to do some phone banking. At the next meeting they plan on crafting a mission statement to better define the movement.
But for now, they'll start a Google Doc.
In closing, Lowery channeled his inner Trump: "What happens next is gonna be yuuuge. You're gonna love it!" Lowery said, to much laughter. The group moved the folding chairs aside to form a circle, while Lowery led a chant: "We believe, we believe, we believe that we will win!"
Everyone clapped.