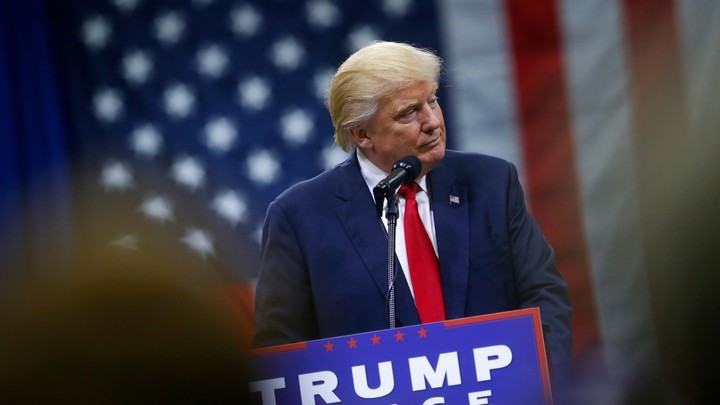 Is it going to be like this every day for the next 98 days?
Speaking on Monday in Columbus, Ohio, Donald Trump delivered a new series of head-spinning remarks. Most notably, Trump defended controversial comments he made about Ukraine and Crimea over the weekend, and he preemptively questioned the legitimacy of the elections, suggesting that the election might be "rigged."
Speaking with ABC's George Stephanopoulos over the weekend, Trump said of Russian President Vladimir Putin, "He's not going to go into Ukraine, all right?You can mark it down and you can put it down, you can take it anywhere you want." When Stephanopoulos noted that Russia had already forcibly seized Crimea, a portion of Ukraine, Trump parroted the Kremlin's line that Crimea belongs properly to Russia: "You know, the people of Crimea, from what I've heard, would rather be with Russia than where they were."
On Monday, Trump accused the media of dishonestly reporting his comments. He argued that tense was what mattered: When he said Putin is "not going to go into Ukraine," he meant that he would not go further during a Trump presidency. Trump also insisted that he was aware of Russia's annexation of Crimea.
"I know, two years ago approximately. It was taken during Obama's watch. So when I said, 'Believe me, Russia's not going into Ukraine… the person said, 'But they're already in Ukraine,'" Trump said. "I said, 'Yeah, that was two years ago.' You want to go back? You want to have World War III to get it back?"
It's the second time in a week that Trump has suggested, more or less explicitly, that he would be inclined to recognize Putin's seizure of Crimea. U.S. policy, as well as the policy of NATO and most nations, has been that the annexation was illegal and illegitimate and must be reversed. Only a handful of countries—notably Cuba, Syria, North Korea, Venezuela—have recognized it. Last week, Trump said he'd "look into" recognition. His comments today, juxtaposing legitimacy with World War III were quickly labeled "appeasement," a reference to the Allies' decision not to dispute Hitler's seizure of the Sudetenland in 1938.
Trump's stance on Russia is peculiar. For the last eight years, Republicans have argued that President Obama was naive to attempt a "reset" of relations with Russia, and have complained that he appeases international bullies. Discussing the Iran nuclear deal, Senator Tom Cotton, a hawkish Republican, told my colleague Jeffrey Goldberg, "It's unfair to Neville Chamberlain to compare him to Barack Obama." Yet the Republican nominee for president is now endorsing appeasement in Ukraine. In his many favorable comments about Putin, which he reprised Monday, he has embraced the idea of a reset (without using the word). In essence, that has left Trump arguing that Obama has been a disaster, and that he will pursue many of the same policies that Obama has. (This has also driven many GOP foreign-policy figures to near-frenzy and even to endorse Hillary Clinton, though Cotton has stuck with his endorsement of Trump.)
At another point in the rally, Trump began to question whether the election will be fair. "I'm afraid the election's gonna be rigged, I have to be honest," he said. While such accusations are hallmarks of less-developed countries, U.S. presidential candidates in the modern era have seldom or never questioned the legitimacy of results, and even Al Gore conceded the extremely close election of 2000. Polls in the last couple days have shown Clinton leading Trump.
These were not Trump's only peculiar comments of the rally. He wondered aloud about whether he should revoke credentials for The New York Times. He bragged at length about his victories in the Republican primary, even with the general election barely three months away. He went on a strange digression about how great his children's speeches at last month's Republican National Convention were. Even though that convention was in Cleveland, Trump dourly announced, "They call it the Rust Belt … because everything's rusting and rotting." And for the second time in four days, Trump tried to pick a fight with the fire marshall, bashing local officials for capping attendance at his rally. He did the same in Colorado Springs on Friday, even after firefighters freed him from a stuck elevator.
The one thing Trump did manage to avoid talking about was Khizr and Ghazala Khan. The Republican has gone out of his way to feud with the father and mother of Captain Humayun Khan, who was killed in combat with the U.S. Army, since they criticized him in a speech at the Democratic convention. By continuing to talk about a story that seems damaging to him, Trump has pumped oxygen into it like a bellows full of hot air.
Nonetheless, it was yet another bizarre, wandering campaign event. These events do very well at keeping Trump in the headlines. Whether they can vault him to a general-election win is an open question. So far, there's little evidence they're helping—and based on his worries about rigged elections, it doesn't look like Trump is confident about the results either.
We want to hear what you think about this article. Submit a letter to the editor or write to letters@theatlantic.com.