Trump Time Capsule #90: The Death of Nykea Aldridge
Editor's Note:
This article previously appeared in a different format as part of The Atlantic's Notes section, retired in 2021.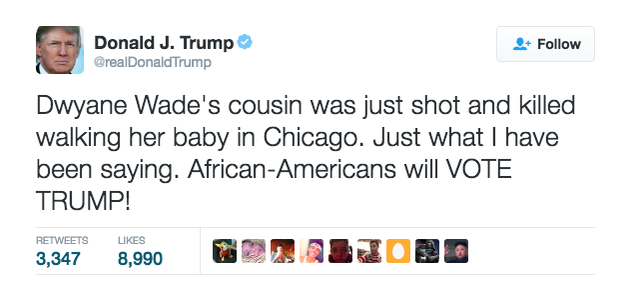 When news broke about the horrific mass shooting in Orlando ten weeks ago, Donald Trump's first reaction, as noted in Time Capsule #19, was to send out a Tweet saying "Appreciate the congrats for being right on radical Islamic terrorism."
When news broke today about the horrific fatal shooting of yet another person in Chicago, 32-year old Nykea Aldridge, mother of four and cousin of basketball star Dwyane Wade, Donald Trump's first reaction was via the Tweet shown above.
This time he didn't say "appreciate the congrats" on being right in his argument that life for African-Americans is so terrible that "what the hell do you have to lose?" by voting Trump. But his reaction was just as it had been with Orlando: bad news for someone else was significant mainly in being good news for him.
***
As outraged reaction built to Trump's callous response, he put out another Tweet about 80 minutes later. It read:
Here is the notable aspect of that follow-up message, apart from its expressing the thoughts most public figures would have begun with. The meta-info at the bottom of the message says "Twitter for iPad," thus:
Virtually all of Trump's countless previous messages have either been labelled "Twitter for Android," for the more free-swinging ones he appears to write himself; or "Twitter for iPhone," for the more policy-oriented ones that appear to come from his staff. I don't recall seeing a "Twitter for iPad" label ever before. Some could have been there, but if so they're rare. (The first message came via Twitter for iPhone, although its tone is more like that of Trump on Android.** See tech update below.)
Either Donald Trump has, in the course of this morning, suddenly turned to a new technology platform to express a more appropriate-sounding correction to his initial narcissistic reflex, or someone else has stepped in via iPad, to try to save him from himself. My money is on the latter.
Either way the point is, with 72 days until the election and the party leadership still standing firm behind its nominee, this is public behavior of a sort we have not previously seen from presidents or nominees.
***
** Tech update Thanks to several readers who pointed out that what I am calling the "first" message, the one shown at the top of this post and composed via iPhone, was actually not first. Trump's original Tweet, now deleted, had the same contents but misspelled Wade's first name as "Dwayne." It's impossible to know now, but I would bet that in fact it came via Trump's own Android—with its misspelling, and with its instant "VOTE TRUMP!" reaction to tragic news. It's the re-post, with the correct spelling of Dwyane, that was via the staff iPhone.
Thus the sequence would be:
Message #1, now lost to the ages, presumably via Trump on Android [update and via the Politiwoops archive of deleted tweets, confirmation that this first one really was from Android];
Message #2, with correct name spelling, via staff iPhone;
Message #3, "thoughts and prayers," via someone on iPad who realizes that the previous ones could look bad on their own.
Of course I would never presume to offer advice to campaigners. But why not just buy a couple more Androids for the comms team, so that all the Tweets "from" Trump wouldn't start out with such obviously different markers?