Trump Time Capsule #86: Presidential Economists Offer No Support
Editor's Note:
This article previously appeared in a different format as part of The Atlantic's Notes section, retired in 2021.
Early this month, a group of 50 national-security officials who had served in Republican administrations—Nixon, Ford, Reagan, Bush I, Bush II—released a statement opposing Donald Trump and saying that he would be "the most reckless President in American history."
A few days before that, a former head of the CIA formally endorsed Hillary Clinton, saying that Trump had become "an unwitting agent of the Russian Federation." That was a day after President Obama declared Trump "unfit" for the presidency, and a former prime minister of Sweden said Trump was "a serious threat to the security of the West."
Today Ben Leubsdorf, Eric Morath, and Josh Zumbrun of the WSJ published the results of a survey of all living former members of the president's Council of Economic Advisers, with service dating back to the time of Richard Nixon. Not one of them expressed support for Donald Trump. All of the Republicans who expressed a preference opposed him.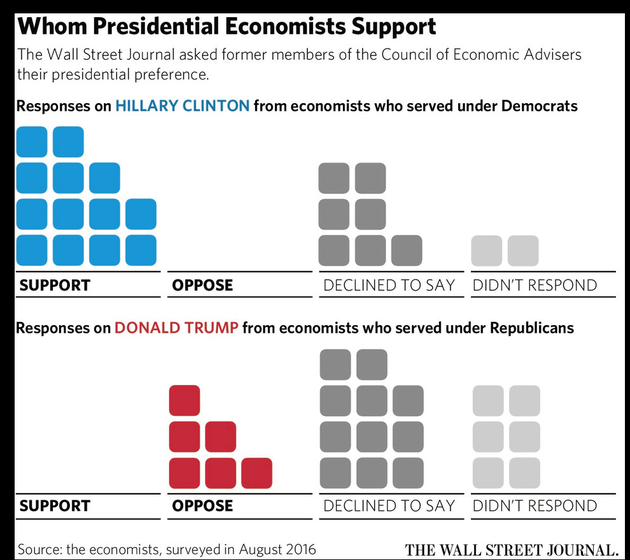 The story quoted a post by Gregory Mankiw, chairman of the CEA under George W. Bush:
"I have Republican friends who think that things couldn't be worse than doubling down on Obama policies under Hillary Clinton. And, like them, I am no fan of the left's agenda of large government and high taxes," Mr. Mankiw wrote. "But they are wrong: Things could be worse. And I fear they would be under Mr. Trump."
I'm not aware of anything like this having happened before. Noted for the record, with 74 days to go until the election, and with no tax returns or plausible health report yet on public offer.