Trump Time Capsule #82: Illness, Immigration, and TV Shows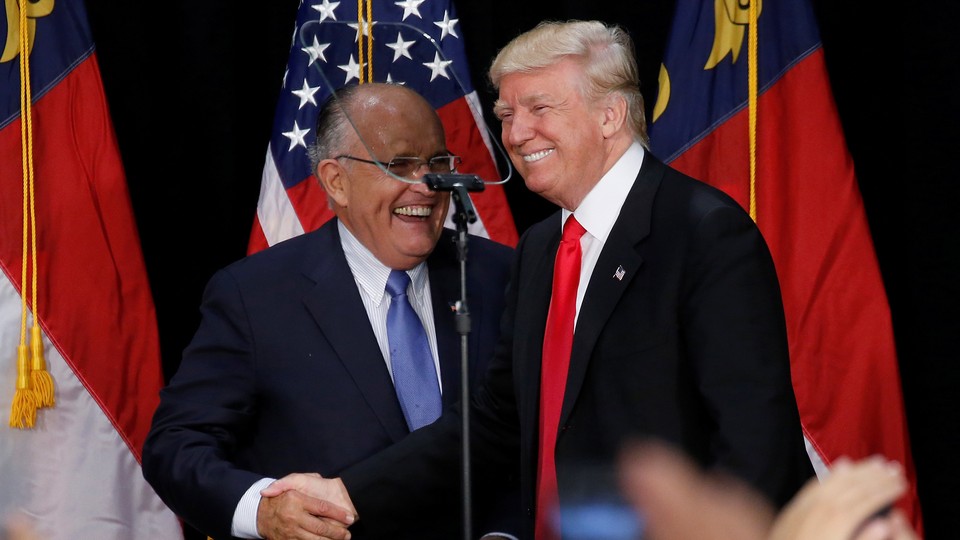 Editor's Note:
This article previously appeared in a different format as part of The Atlantic's Notes section, retired in 2021.
Reminder: The original idea behind this Time Capsule series was to record, in real time, what the American public knows and learns about Donald Trump while it is deciding whether he should become president. Mainly I've tried to stick with norm-changing events, those for which there is no obvious precedent. Here are four recent items that, to the best of my knowledge, differ from what we've ever seen from major-party nominees or their campaigns.
1) "Hillary Clinton is sick." In stump speeches Donald Trump has been saying that Hillary Clinton looks bad and has to sleep a lot. His campaign representatives Rudy Giuliani and Katrina Pierson have been much more direct, implying that Clinton either has a serious disease or is suffering cognitive damage. You can read about it in David Graham's new item here, and also here, here, here, and here. On CNN, Amy Kremer of Women Vote Trump likened the aftereffects of Clinton's concussion several years ago to traumatic brain damage for NFL players.

On the merits of such claims, Clinton's doctor, Lisa Bardack, has released a statement denying these reports and affirming her "excellent health." (As a reminder, the only health information Trump has released is the Onion-style report from last year, which states "unequivocally he will be  the healthiest individual ever elected to the presidency.")
As for the norms of campaigning: Health questions obviously have a long history in presidential politics. Franklin Roosevelt was gravely ill when he ran for a fourth term in 1944 but did his best to conceal that—as he had (with press connivance) minimized awareness of his paralysis throughout his time as president. There were whispering campaigns about Ronald Reagan's age and mental condition when he ran for re-election in 1984, about John Kennedy's ailments including Addison's disease in 1960, and of course about Thomas Eagleton's history of mental illness, which drove him from the Democratic ticket in 1972. But I'm not aware of a previous case in which senior campaign representatives came right out with public suggestions of ill health, as Trump's are doing now.
***
2. Deportation? Maybe not. Reports over the weekend suggest that Trump might be reconsidering his promise to find people without legal immigration papers and send them back home.
"Adaptability" has always been part of politics. FDR ran as a fiscal conservative in 1932 but then launched the New Deal. Woodrow Wilson ran for re-election in 1916 as the president who "kept us out of war" and then took us into war. Mike Pence and Tim Kaine, both previously in favor of the TPP trade deal, now are both against it—the same is of course true of Hillary Clinton. There are examples from almost every president or nominee.
But again I'm not aware of another case of a nominee suggesting a change on so fundamental a premise of his campaign. It is as if Abraham Lincoln, in 1860, had indicated that he was open-minded about secession, or like George McGovern in 1972 saying that maybe the Vietnam War wasn't so bad. (And to spell this out: Lincoln and McGovern were right in the views they had and stuck with. Trump's deportation plan, in my view, is wrong, but it's been the heart of his campaign.)
***
3. A new season of The Apprentice? A report by Sarah Ellison of Vanity Fair indicates that Trump talked with NBC officials, before he ran, about possibly hosting new seasons of the show from the White House. Obviously nothing like this has occurred before. Closest imaginable counterpart: if Ronald Reagan, after becoming president, had revived General Electric Theater, a TV series that he hosted in the 1950s and early 1960s.
***
4. Insecure. An actual tweet this morning from Trump.
Every president ends up resenting the press. While in office Harry Truman got so mad about a hostile Washington Post review of his daughter's piano concert that he sent a personal letter to the reviewer, Paul Hume, threatening to beat him up. (The letter is here, and it is amazing. For instance: "Some day I hope to meet you. When that happens you'll need a new nose, a lot of beefsteak for black eyes, and perhaps a supporter below!") But the Truman episode is famous because it's so unusual.
The main other illustration: During the 2000 campaign, then-nominee George W. Bush stood at a podium with running mate Dick Cheney and, not realizing the microphone was on, referred to a certain New York Times reporter as "a major league asshole." Cheney replied, "Yeah, big time." This is like what Trump keeps doing with his tweets, except that Bush and Cheney didn't think they were doing it in public, whereas Trump is deliberately sending the message to millions of followers.
It's now 77 days until the election: no tax returns or plausible health report forthcoming; official GOP leadership still standing firm with the nominee.