Trump Time Capsule #72: 'Most Reckless President in American History'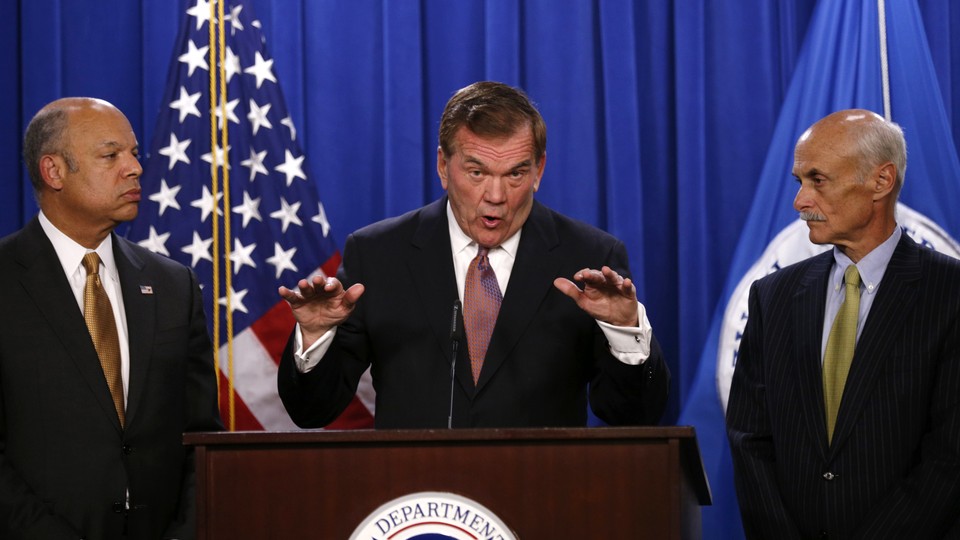 Editor's Note:
This article previously appeared in a different format as part of The Atlantic's Notes section, retired in 2021.
Noted as part of the ongoing record, the extraordinary statement signed yesterday by 50 veterans of national-security policy in Republican administrations, arguing that Donald Trump would be "a dangerous President and would put at risk our country's national security and well being." You can read the original document here, and a NYT story about it here.
Why this is extraordinary:
That it exists at all. Election-year rhetoric usually brings statements about candidates who are "wrong" or "unprepared" or "weak" or "bad choices for America" or what have you. And usually these are from people in the trenches of political warfare, not from the career policy-expert class.

This statement is not part of political-debate-as-usual. It's one more, and in its way the most dramatic, in the recent series of unusual, "this time it's different" statements of flat disqualification. Recent examples include: the comment by the incumbent president (Obama) that a nominee (Trump) is "unfit" to serve; the observation by a former CIA head that a foreign government had flattered and conned a nominee and turned him into an "unwitting agent of the Russian Federation"; and the warning from a former allied Prime Minister that a candidate presents "a serious threat to the security of the west."
                                                     
Who signed it. If you have followed the ins and outs of foreign policy over the years, you will instantly recognize most of these names, and you will also understand that they are bona fide Republicans and conservatives. Some mainly had military, diplomatic, or intelligence careers before rising to senior posts in (mainly) Republican administrations: for instance, John Negroponte, a longtime diplomat who became Director of National Intelligence under GW Bush. Some have had multiple policy positions in GOP administrations: for instance, Robert Zoellick, who became U.S. Trade Representative, Deputy Secretary of State, and then president of the World Bank under GW Bush. Others have been in and out of academia and government. Philip Zelikow, a scholar who was lead author of the 9/11 Commission Report and was State Department counselor under Condoleezza Rice (and whom I've come to know as a friend) has signed on. So has Tom Ridge, former Republican governor of Pennsylvania and first Secretary of Homeland Security under GW Bush. So has his successor at DHS, Michael Chertoff.

I could add a note about almost every person on the list, but I'll just say: in most Republican administrations, you'd expect to see lots of these same names in serious foreign-policy jobs, and many others as part of the informal brains-trust. Why does this matter? First, it means that they have some standing to speak. Second, it means that they have something to lose.

The sympathetic view of the failures by Paul Ryan, Marco Rubio, Rob Portman, and others to separate themselves from Trump is that they can't "take the risk." The people signing this latest letter are taking a quite definite personal and career risk. For the ones still interested in appointive office, the next Republican administration is their next realistic chance for a job. But they're saying: that's not worth tolerating Trump. As someone with comparable experience, but mainly with Democratic politicians, wrote me about the letter: "Their bravery in warning about Trump—at personal risk and sacrifice—deserves to be remembered and honored."
                                    
What they said. This is a very tough statement. Again, if you have followed the ins and outs of foreign policy over the years, you will understand that they are bona fide Republicans and conservatives. It's worth reading the argument, not just the signatory list, because of the clarity with which they make their case. Sample:

"He is unable or unwilling to separate truth from falsehood. He does not encourage conflicting views. He lacks self-control and acts impetuously. He cannot tolerate personal criticism. He has alarmed our closest allies with his erratic behavior. All of these are dangerous qualities in an individual who aspires to be President and Commander-in-Chief, with command of the U.S. nuclear arsenal."
***
I don't know whether this will change anyone's mind, but it is one more sign that Trump, as candidate, really is different from the array of nominees the electorate has chosen from before.
So it is offered for the record, with 90 days to go until the election, and also with: no tax returns or plausible health report yet in prospect from the Trump campaign; no response from the campaign on the origins of the pro-Russian change in the GOP platform; no response to David Fahrenthold's ongoing efforts for the Washington Post to see whether Donald Trump has ever actually made any of the charitable contributions he has publicized and promised; and on down the list.