Donald Trump Isn't Relying on Faith Alone
The Republican candidate brings on board a new religious-outreach director.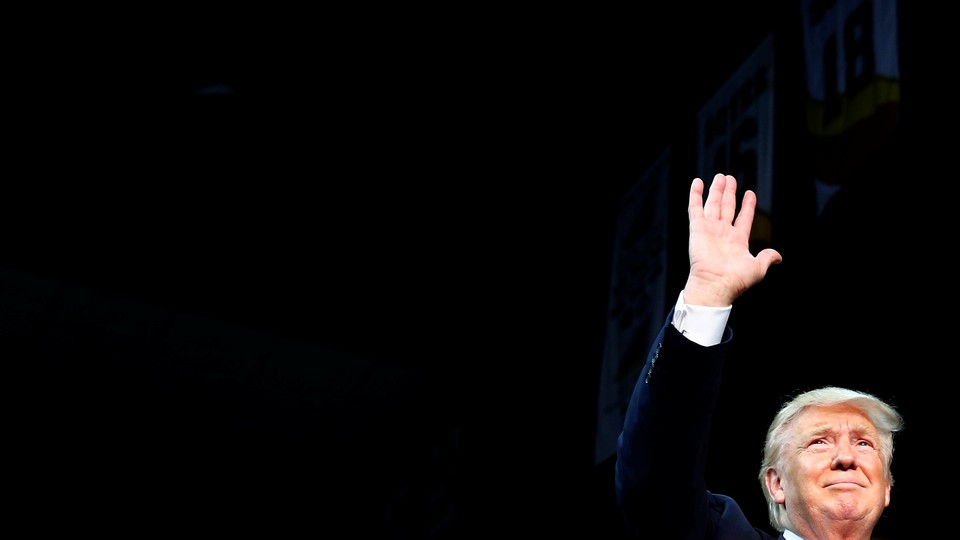 Former Alaska Governor Sarah Palin once said that God, not people, elect U.S. presidents. But as Palin's former spokeswoman Pam Pryor knows, sometimes God needs a little help.
That's why the Trump campaign announced today that it has hired Pryor to lead its faith and Christian outreach effort. According to the Trump aide Alan Cobb, she will oversee communications, social media, events, and other efforts aimed at attracting religious voters. Pryor's resume includes positions with many conservative and Christian heavy-hitters, but with Trump, she has her work cut out for her.
Typically, a religious outreach director for the Republican presidential nominee has a fairly easy job. In past elections, evangelical Protestants and Mormons have been a shoo-in. Conservative Catholics have often supported Republican candidates, as have some of their more progressive counterparts. All that staffer has had to do is host a few events and slip some religiously coded language into the candidate's speeches and the job is done.
But Trump is turning out to be a little more complicated nominee when it comes to religious voters. Trump currently has more support from white evangelicals than Mitt Romney did four years ago, but some conservative Christian leaders vocally oppose him and are encouraging their constituents to follow suit. He has less support from Catholic voters and Mormons than Romney did in 2012, and his struggles with the latter group means that even Utah may now be in play.
Trump hasn't exactly helped matters with his religious blunders on the campaign trail: placing money in a church communion plate, being unable to cite his favorite Bible verse, admitting he's never asked God for forgiveness, and committing his now-infamous "Two Corinthians" gaffe. It didn't help that he picked a fight with the pope, either.
Someone in the Trump camp must be paying attention to these struggles—Pryor appears to be an effort to fix these problems. Along with several other recent hires in what has been called a campaign shakeup, Pryor represents a push to create the infrastructure necessary to win support among religious voters.
Pryor has ties to the Church of the Nazarene, a conservative evangelical denomination whose members include the Focus on the Family founder James Dobson. Pryor's undergraduate degree is from Southern Nazarene University and she has taught at Point Loma Nazarene University in San Diego and Bethany Nazarene College in Oklahoma City.
In 1995, Republican Representative J.C. Watts of Oklahoma hired Pryor as his press secretary and later promoted her to chief of staff. Watts was a part of the 1994 Republican Revolution when the GOP won control of the House for the first time in four decades. As the sole black Republican in Congress, Watts was often a divisive figure on matters of race. Prior to delivering the Republican response to President Clinton's 1997 State of the Union address, Watts referred to some black political leaders as "race-hustling poverty pimps." Working under Watts earned Pryor recognition inside the Beltway, and in 2001, she was named one of the 100 most powerful women in D.C. by Washingtonian magazine.
Pryor's old boss is not a fan of Trump, though. "I just don't feel like Trump is speaking to me—as a believer, as an African American, as a conservative," he told The Oklahoman. Watts added, "What he's said about blacks, Hispanics, women, Muslims—you can't be a constitutionalist and ignore the Constitution."
Pryor's real catapult into the national spotlight came when she was appointed spokesperson for Sarah Palin's Political-Action Committee. A member of the Palin team referred to Pryor as Palin's "go-to girl" during the 2008 election, according to Tulsa Today. "If Sarah has a doubt about anything, she talks to Pam. If Sarah wants to do something, she talks to Pam. Pam is a solid lock in Palin's future." The goal of the PAC under Pryor was helping the former Alaskan governor "continue to be a strong voice for energy independence and reform." Her work contributed to making Governor Palin an influential voice in some conservative circles. Pryor later served as a national policy advisor to Palin, who endorsed Trump in January.
In between and during these stints, Pryor has spent time with a host of other political groups and non-profits. She has worked as a consultant for Convoy of Hope, a faith-based humanitarian organization, along with Habitat for Humanity and the Department of Labor. Pryor was formerly a senior advisor for the Republican National Committee, where she served as a liaison to the McCain presidential campaign. And she has long worked for Freedom Partners, an organization funded by the Koch brothers, the Republican billionaires who have thus far refused to support Trump.
Perhaps Pryor will follow the pitch made by her erstwhile boss, Palin, who was asked by Samantha Guthrie whether Trump is "the godly candidate that [conservative Christians] are looking for." Palin responded, "I hope voters aren't trying to find the most Christian-y, godliest candidate out there because who are we to judge one another's level of faith—our 'Christian quotient,' if you will."
Pryor's job is to convince religious Americans that Palin is right: They don't need a "Christian-y" president. If she can't succeed, not even God can help Trump come November.