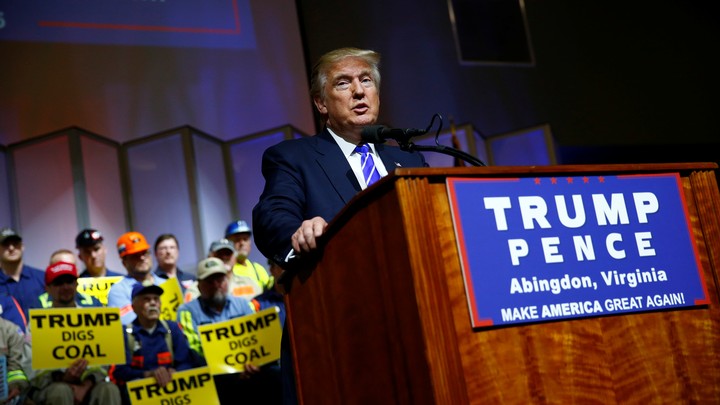 NEWS BRIEF  An uncharacteristically quiet Donald Trump didn't confront his campaign's latest controversy during a rally Wednesday—his recent off-the-cuff remarks suggesting gun-rights advocates could prevent Hillary Clinton from appointing Supreme Court justices.
But he danced around it. The political press "can take a little story that isn't a story and make it into a big deal. Happens so much," Trump said at the Abingdon, Virginia, event, calling the media part of the "rigged system" he's fighting against. "And speaking of that, remember this: We have so many things that we have to protect in this country—we have to protect our Second Amendment, which is under siege." The crowd broke into applause, Trump paused, then moved on to discussing Republican party unity.
It seemed like a clear reference to his statements on Clinton, for which he's received criticism in the press and condemnation from the political class, including from Clinton herself. My colleague David Graham reported on Trump's remarks on Tuesday:
"Hillary wants to abolish, essentially, the Second Amendment," he said. "By the way, and if she gets the pick—if she gets the pick of her judges, nothing you can do, folks. Although the Second Amendment people, maybe there is, I dunno."

The suggestion that the assassination of a presidential candidate—or the killing of Supreme Court justices, or an armed insurrection, depending on interpretation—could solve a policy dispute is a shocking new low for a campaign that has continually reset expectations. Trump's defenders often scold the media for being humorless, or taking Trump's comments too seriously. So let's preemptively dismiss that counterargument: This aside was clearly intended to be a joke. It is also entirely shocking and appalling, even in that context.
CNN reported on Wednesday that the Secret Service had spoken with Trump's campaign more than once about his comment, but Reuters reports there was no formal discussion between the two. For his part, Trump denies the claim.
In the fallout, Trump's team has offered several different defenses: Spokesman Jason Miller said in a statement to reporters Trump was referring to the "great political power" of "2nd Amendment people" who'll be "voting in record numbers" for his boss in November. Trump said the same: "There can be no other interpretation." That claim doesn't answer why Trump would be discussing what Second Amendment advocates could do to prevent appointments after Clinton is president. Spokeswoman Katrina Pierson explained that Trump was referencing voters' ability to influence senators, who need to approve Supreme Court appointments. California Representative Duncan Hunter, among Trump's first supporters in the U.S. Congress, said he's simply inarticulate, while House Speaker Paul Ryan—who hadn't yet seen video footage of Trump's comment when he was asked about it by reporters—called it a "joke gone bad."
Though he's prone to rehashing such drama, Trump didn't try to explain himself further at Wednesday's rally, where he targeted much of his remarks at the coal miners in attendance, whom he suggested would be underserved by a Clinton presidency. But in echoes of his earlier defense—whether intentional or not—he did repeatedly remind attendees that they could prevent her from getting to the White House. Backed by men in workwear holding "TRUMP DIGS COAL" signs, Trump said: "You have to get out and vote, because you know the miners, to a certain extent [are] so down" and have been treated "so badly" that "they haven't been voting." Later in his speech, he raised the stakes: "It is the last shot for the miners, that I know—that I know. … Hillary will be a horror show and I'm going to be an unbelievable positive. … The mines will be gone if she gets elected." And just before departing the stage, to the whole of his audience: "Go out and vote November 8."
We want to hear what you think about this article. Submit a letter to the editor or write to letters@theatlantic.com.