The GOP Security Experts Vs. The GOP Nominee
Donald Trump's greatest weakness right now? White-collar whites—and their doubts were just reinforced by top Republican foreign-policy officials.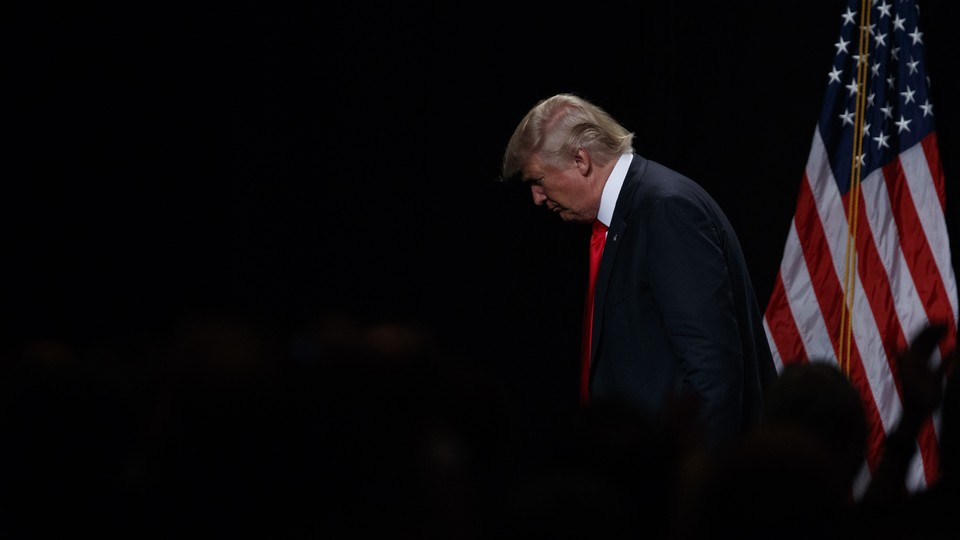 The scathing letter released Monday by 50 former top GOP national-security officials declaring that Donald Trump "lacks the character, values and experience to be President" was a missile aimed directly at the embattled Republican nominee's greatest weakness: the doubts about his qualifications for the nation's biggest job, particularly among white-collar whites.
Those misgivings about Trump's temperament, experience, judgment, and knowledge, polls show, have proved remarkably persistent throughout the 14 months of his presidential campaign. Reinforced by concerns that Trump is biased against women and minorities, and would divide the country along racial lines as president, the hesitation about Trump's qualifications go a long way toward explaining why he hasn't benefited more from the broad unease over the nation's direction and the negative views of his Democratic rival, Hillary Clinton.
Those fears loom as especially formidable hurdles in the group where Trump is most conspicuously underperforming compared with the showings of previous Republican nominees: whites holding at least a four-year college degree. And it is precisely that group that may respond most to the unequivocal rejection of Trump by so many former top GOP foreign-policy officials from the Ronald Reagan, George H.W. Bush, and George W. Bush administrations.
The flurry of post-convention polling released over the past week shows Clinton establishing a lead approaching double-digits in most national surveys and forming consistent advantages in swing states from Michigan and Pennsylvania in the Rustbelt to Virginia and Florida across the Sunbelt.
Some of Clinton's surge may recede as the afterglow of the widely praised Democratic National Convention fades. But national and battleground-state polling shows enormous internal consistency—and portrays a race whose underlying structure is solidifying. In that emerging structure, white-collar whites loom as the fulcrum between blue-collar whites still rallying around Trump and the voters of color coalescing in potentially record numbers against him.
Taken together, the surveys show Clinton pushing the boundaries of the traditional Democratic advantage among nonwhite voters. Since 1984, according to calculations by ABC pollster Gary Langer, every Democratic nominee has carried between 78 and 82 percent of the combined two-party vote among minority voters (except for John Kerry, who carried only 71 percent of them against George W. Bush in 2004).
The latest polling gives Clinton reason to hope she can breach that upper limit. In last week's NBC/Wall Street Journal survey, she led Trump among African Americans by 91 percent to 1 percent; in Sunday's ABC/Washington Post survey, her advantage was 92 percent to 2 percent. New state polls in Michigan and Virginia also put Trump's African American support at 2 percent and 1 percent respectively. In early July, NBC/WSJ/Marist Polls placed his African American support in Ohio and Pennsylvania at literally zero. Even Mitt Romney carried 6 percent of African Americans nationally against President Obama, according to exit polls.
The results among Hispanics in national surveys have oscillated more, partly because most polls survey relatively few of them (and often don't conduct interviews in Spanish). But two recent large-scale surveys of Hispanics by the Spanish-language television networks Telemundo and Univision both put Trump's support in that growing group below 20 percent. That's well below even the meager 27 percent Romney attracted in 2012 according to exit polls. Some of the latest national surveys show Clinton potentially on a path to draw as much as a combined 85 percent among voters of color.
Conversely, even with all the turbulence buffeting him, Trump still appears positioned for a strong showing among the group that has been his foundation from the start: whites without a college education, especially men. In the first national polls immediately after the Democratic National Convention, Trump's margin among blue-collar whites sagged (dropping by 13 points in the NBC/WSJ survey and by 15 points in a Marist/McClatchy poll). But Trump led among white men without college degrees by 42 points in Sunday's ABC/Washington Post poll and by 31 points in a national Monmouth University poll released Monday; his advantage among white women without a degree stood at 11 points in the former and 17 in the latter.
With Trump retaining the opportunity to match or even exceed the usual GOP edge among blue-collar whites—and while simultaneously facing the risk of an even larger-than-usual deficit among voters of color—college-educated whites represent the race's potential tipping point. Today, they are emphatically tipping away from Trump. Indeed, they represent the largest obstacle to his hopes.
No Democratic nominee in the history of polling dating back to 1952 has ever carried the majority of whites holding at least a four-year college degree. (Though Lyndon Johnson in 1964, Bill Clinton in 1992 and 1996, and President Obama in 2008 all came relatively close.) But Hillary Clinton now leads Trump among them in all of the recent national surveys; the ABC/Washington Post and NBC/Wall Street Journal polls gave her virtually identical advantages of six and seven points with them respectively. National polls aren't the only ones to show these trends: The latest polls in New Hampshire (by WBUR/MassInc) and Pennsylvania (by Franklin & Marshall College) show Clinton leading among college-educated whites by 28 and 30 points respectively. In Virginia, a CBS/YouGov survey released Sunday showed the two evenly splitting whites with four-year degrees, and Clinton routing Trump by 20 percentage points among those with post-graduate degrees.
The two major data sources on the electorate's composition differ on how much of the national vote each of these three big groups is likely to comprise. Long-term trends in the Census Bureau figures suggest that non-college whites could cast 41 percent of the vote this fall, college-educated whites 31 percent, and minorities 28 percent; the trends in the exit polls suggest it could produce a distribution of about 35/35/31. Either way, unless Trump can radically increase the share of the vote cast by blue-collar whites, he can't win the election if Clinton even stays close with college-educated white voters; if she remains ahead, she's on track for a crushing victory.
The frustrating trend for Republicans—and a reason Democrats still can't sleep entirely soundly—is that polls consistently show that many of these white-collar white voters leaning toward Clinton still harbor substantial doubts about her. In effect, Clinton's last firewall against Trump is composed of voters who also don't think very much of her.
In this week's ABC/Washington Post poll, for instance, 54 percent of college-educated whites say they view her unfavorably; just over three-fifths say she is not honest; and fully 56 percent say they are "anxious" about the idea of her as president. On the biggest issues, the survey found Trump battling Clinton to a draw: College-educated whites split almost exactly in half on which candidate would better handle the economy and gave Clinton a slim five-point edge on handling terrorism. Given that the survey was taken just after the Democratic convention, it's hardly inconceivable that Trump could restore a lead on those questions by fall.
Yet Trump faces a pair of disabling personal doubts among these white-collar whites. The first doubt blocking his path to the White House is the widespread perception that he's racially divisive. In this week's ABC/Washington Post poll, 60 percent of college-educated whites say he's biased against women and minorities; in the NBC/Wall Street Journal survey, college-whites give Clinton roughly 20-point advantages on unifying the country and handling issues relating to racial minorities and the police.
Likely even more damaging are these voters' pervasive doubts about Trump's basic fitness to execute the job. In the NBC/Wall Street Journal poll, just 24 percent of college whites describe Trump as knowledgeable and experienced—compared with 59 percent for Clinton. Just 14 percent say he has the right temperament—compared with 52 percent for Clinton. In that survey, college-educated whites give her a 15-point advantage as commander-in-chief and a 20-point edge for handling a crisis.
In the ABC/Washington Post poll, 59 percent of college whites say he is not qualified to serve as president—almost exactly the same percentage that says Clinton is qualified. In all, 72 percent of college-educated whites in that poll said the idea of Trump as president made them "anxious."
Adding to Trump's challenge: In polls, college-educated whites have been much less likely than their non-college counterparts to support several of his signature proposals, including his evolving ban on Muslim immigration and his pledge to deport all undocumented immigrants.
Trump's problems are especially pronounced among white women with college degrees. These women have leaned Democratic in most elections since 1988. (Romney actually beat Obama among them by six percentage points according to exit polls.) But Clinton's advantage in the most recent surveys dwarf those of previous nominees: While Al Gore's eight-point lead in 2000 was the biggest Democratic edge among college-educated white women in recent campaigns, Clinton leads with them by 12 points in the NBC/Wall Street Journal survey, 15 points in Marist/McClatchy, 19 points in ABC/Washington Post, and fully 30 points in the Monmouth poll. Three of those polls show Trump leading among white men with at least a four-year degree but, in each case, by margins of 11 points or fewer. That's considerably less than the Republican advantage in any election since 1980, except 1992 and 2008. (The Marist/McClatchy poll put Clinton ahead with those men.)
Those college-educated men and women may be the voters most influenced by the unsparing condemnation of Trump from a list of former GOP national-security luminaries—one that included two former secretaries of homeland security (Michael Chertoff and Tom Ridge), a former CIA director (Michael Hayden), a former director of national intelligence and deputy secretary of state (John Negroponte), a former deputy defense secretary (William Howard Taft IV), two U.S. trade representatives (Carla Hills and Robert Zoellick), virtually all of the top advisers to Condoleezza Rice when she was secretary of state, and the former top foreign-policy adviser to Senator and former GOP presidential nominee John McCain (Richard Fontaine).
Though those signing the letter did not endorse Clinton, they said they would not vote for Trump and described him as flatly unqualified in both experience and knowledge for the responsibilities of commander-in-chief. What's more, they portrayed him as fundamentally anti-intellectual: "Unlike previous Presidents who had limited experience in foreign affairs, Mr. Trump has shown no interest in educating himself," they wrote.
That may prove an especially damning judgment for white-collar voters who, more often than not, view their personal successes as grounded in their professional credentials and expertise. If there is any road to recovery for Trump, it inescapably runs through white-collar suburbs. But the coruscating letter from the GOP national-security leaders is just another of the many boulders he's facing on that path.