The Atlantic Politics & Policy Daily: Trump's Campaign Goes South
The Republican nominee met with Mexican President Enrique Peña Nieto in Mexico City.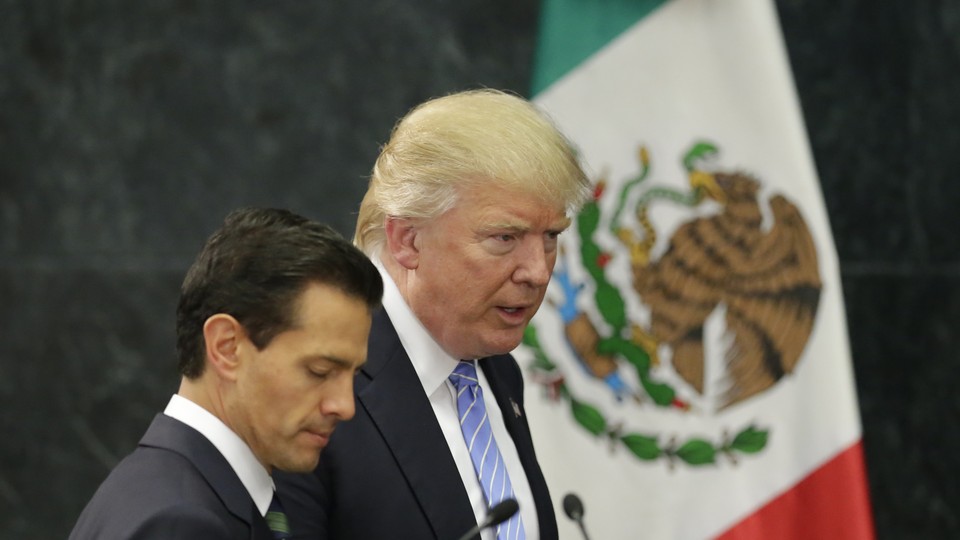 Today in 5 Lines
Donald Trump and Mexican president Enrique Peña Nieto touted the U.S.-Mexico relationship in a news conference in Mexico City, but didn't elaborate on Trump's controversial plan to separate the two countries with a border wall. Trump's next stop: Arizona, where he is expected to deliver a speech on immigration this evening. Hillary Clinton pitched American exceptionalism during a speech at the American Legion's national convention in Cincinnati. The first commercial flight between the U.S. and Cuba since 1961 touched down in Santa Clara. Florida Governor Rick Scott declared a state of emergency in several Florida counties ahead of Tropical Storm Hermine. Brazil's President Dilma Rousseff was removed from her position, after an impeachment vote.
---
Today on The Atlantic
The Inverted Politics of 2016: During an address in Cincinnati Wednesday, Hillary Clinton championed "American exceptionalism," the idea that the United States is best suited to be a world leader. The GOP has embraced this concept in the past, but Donald Trump has disavowed it. (Clare Foran)

A Lesson on Donald Trump: One challenge for college professors teaching American politics during this election season has been learning how to incorporate Trump into their curricula. Given his unusual candidacy, many find themselves recreating their syllabi from scratch. (Jason Blakely)  

Grading the University of Chicago: Conor Friedersdorf assessed the University of Chicago's decision to address trigger warnings and safe spaces in a letter to incoming students. He gives the school an "A" for effort and a "B-minus" for execution.
Follow stories throughout the day with our Politics & Policy portal.
---
Snapshot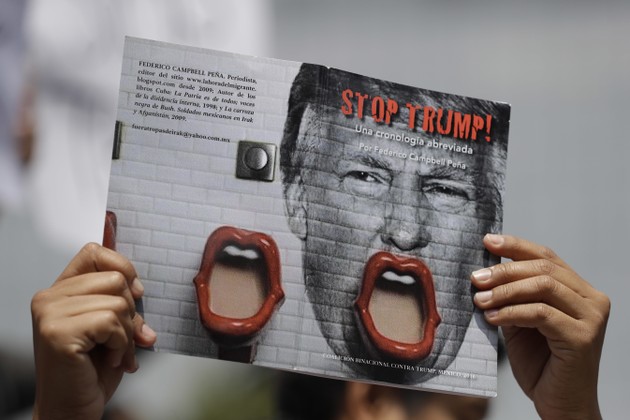 ---
What We're Reading
When a Democrat Defends Conservatism: In a recent speech, Hillary Clinton condemned the alt-right movement, a "fringe group" of right-wing extremists unified by "racialism" who support Donald Trump. The shameful thing, National Review's Jonah Goldberg says, is that Clinton did what establishment conservatives simply have not.
Is Trump Falling for Clinton's Tricks?: The Republican nominee's campaign has been spending valuable resources in Arizona and Georgia, two states that have voted Republican in recent elections. And Clinton's team is taking credit for his distraction from the battleground zones. (Gabriel Debenedetti, Politico)
Well, This Is Awkward: Donald Trump met with Mexican President Enrique Peña Nieto on Wednesday in what was sure to be an uncomfortable meeting. After all, Trump has had harsh words for the country and its people throughout the past year. Here's a roundup. (Katie Reilly, Time)
The New Flint?: In East Chicago, Indiana, residents are facing a crisis: Their soil contains up to 30 times more lead than is considered safe. Yet residents weren't informed about the soil's toxicity until just last month. (Abby Goodnough, The New York Times)
Yes, Obamacare Can Be Fixed: President Obama's universal healthcare program has run into complications recently, which include major insurers announcing plans to stop selling policies under the law. But Obamacare can still be saved, if members of Congress are willing to help. (Tim Mullaney, FiveThirtyEight)
---
Visualized
When Do Police Shoot People?: Staff at The Texas Tribune spent nearly a year investigating police shootings that occurred in Texas between 2010 and 2015. The result is a six-part story that probes into the reasons behind this use of lethal force.
---
Question of the Week
Donald Trump is preparing to face off against Hillary Clinton in a series of presidential debates this fall, and his campaign manager Kellyanne Conway has promised that, as an "unconventional" candidate, Trump will approach the debates in an unconventional way. Some reports suggest that conservative political commentator Laura Ingraham has been tapped as a stand-in for Clinton.
But who do you think could best play Clinton in Trump's debate rehearsal?
Send your answers to hello@theatlantic.com or tweet us @TheAtlPolitics, and our favorites will be featured in Friday's Politics & Policy Daily.
-Written by Elaine Godfrey (@elainejgodfrey) and Candice Norwood (@cjnorwoodwrites)