The Atlantic Politics & Policy Daily: Republican Leaders to Donald Trump—We Need to Talk
Frustration with the GOP nominee is building among party members.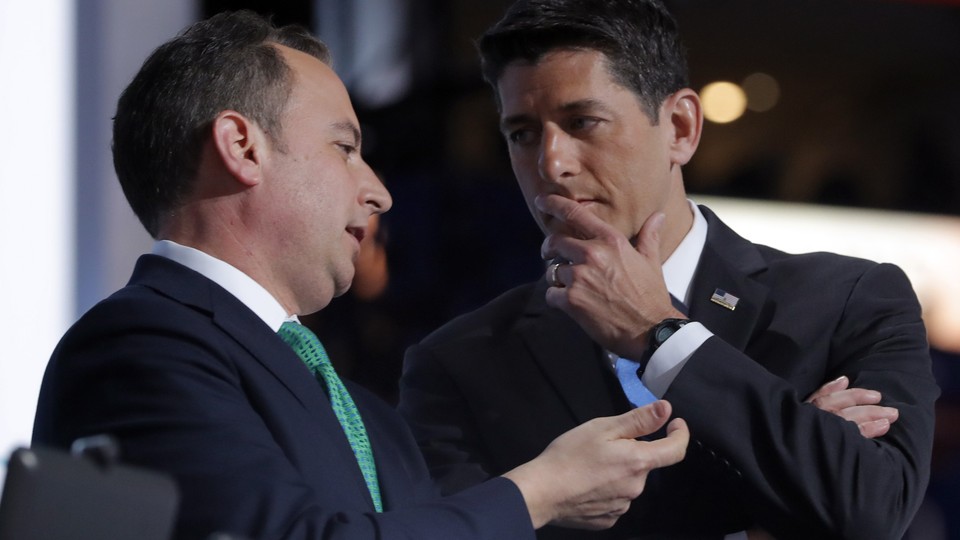 Today in 5 Lines
Republicans' frustrations are mounting against Donald Trump in light of his recent comments about the Khan family and his refusal to endorse House Speaker Paul Ryan ahead of his upcoming primary election: Mike Pence rebutted his running mate, saying he "strongly" endorses Ryan, Newt Gingrich chastised Trump for his "self-destructive" behavior, and sources told NBC News that key Republicans will soon stage an intervention with the party's nominee. Trump's campaign announced its July fundraising haul, which is just $10 million short of Hillary Clinton's totals. President Obama commuted the sentences of 214 federal inmates, the most commutations made in one day in over a century. And North Korea test-fired a missile into Japanese waters.
---
Today on The Atlantic
Started From the Top, Now He Here: Donald Trump successfully built an ardent following of supporters to buoy him throughout the primary season, but there might be limits to how far they can take him. Could the U.S. be witnessing the collapse of the Trump campaign? (David A. Graham)

The Establishment Fights Back: Tuesday night, Kansas Representative Tim Huelskamp, a member of the House Freedom Caucus, lost his primary bid—a sign that the Republican establishment might finally be staging a comeback against the Tea Party. (Molly Ball)

Just Got Paid: Massachusetts Governor Charlie Baker signed a landmark bill this week that aims to prevent employers from requiring applicants to disclose salary history. Here's how it addresses the pay gap between men and women. (Clare Foran)
Follow stories throughout the day with our Politics & Policy portal.
---
Snapshot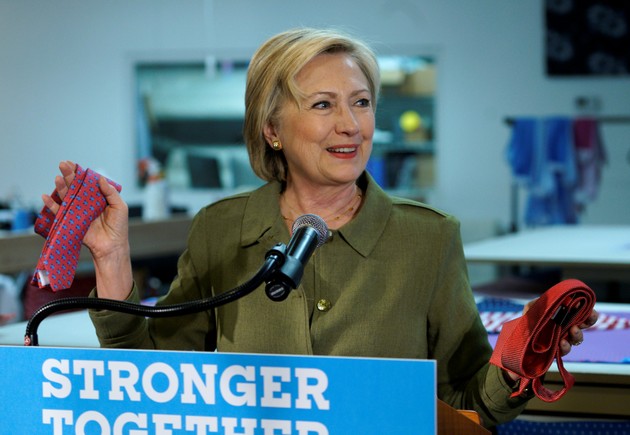 ---
What We're Reading
Switching Teams: As the CEO of Hewlett Packard Enterprise, Meg Whitman, might be the most powerful Republican in Silicon Valley. Unfortunately for Donald Trump, she has chosen to back Hillary Clinton. So how will her decision affect the Trump campaign? (Jason Abbruzzese, Mashable)
Dangerously in Love: Despite being from opposite upbringings, Donald Trump and Russian President Vladimir Putin find themselves in an unlikely bromance. The expressions of admiration may be mutual, but it's clear who stands to gain more from the relationship. (David Remnick, The New Yorker)
Proceed with Caution: The post-convention verdict is out and the Democrats fared much better than Republicans, according to polls. Still, as Hillary Clinton's numbers slowly climb, could the Democrats be feeling too optimistic? (T.A. Frank, Vanity Fair)
What Happens if Trump Loses?: The GOP nominee has cried "fraud" throughout the 2016 campaign season, warning that if he loses to Hillary Clinton in November, it'll be due to a rigged election. How would his followers react if they're convinced the race was stolen from them? (Jamelle Bouie, Slate)
She's (Not) All That: There's an enthusiasm gap among women about Hillary Clinton, Joanna Weiss writes, which has ironically been fueled by empowerment culture. Clinton, for younger women, just isn't a big deal. (Politico)
---
Visualized
Welcome to the Olympic City: The opening ceremony of the 2016 Summer Olympic Games kicks off in Rio De Janeiro, Brazil, on Friday. Get to know the city using this 360 degree camera. (Dom Phillips, The Washington Post)
---
Question of the Week
A recent poll released by Public Policy Polling shows that 5 percent of respondents would vote for Harambe, the gorilla who was shot at the Cincinnati Zoo in May after a child fell into his exhibit, over Donald Trump and Hillary Clinton for president. What other oddball candidates would you want to see throw their hat in the ring?
-Written by Elaine Godfrey (@elainejgodfrey) and Candice Norwood (@cjnorwoodwrites)